Malibu Moonshine hopes to glow in Md. Juvenile Filly
Oddly enough, Malibu Moonshine is the second horse by that name to run in Maryland in recent years. The previous Malibu Moonshine, a stakes-winning son of Malibu Moon, was trained at Laurel by Hall of Fame trainer King Leatherbury in the first part of his career and finished mid-pack in the 2005 Preakness, won by Afleet Alex.
"She always showed promise. She worked great coming up to that race," Baker said. "We had her in Saratoga and we were planning on running her there. The owner suggested because she's a Maryland-bred that we ship her to Maryland to run her, so we did that.
"She ran pretty good. She broke not great, but she didn't show her normal speed. I thought it was just a little greenness, but she sort of kicked in on the turn and won like we expected her to do," Baker said. "She overcame a lot. It was a sloppy track and she took some dirt. She got a lot of experience for a horse that's had one start. It wasn't the strongest field, but she did what she had to do."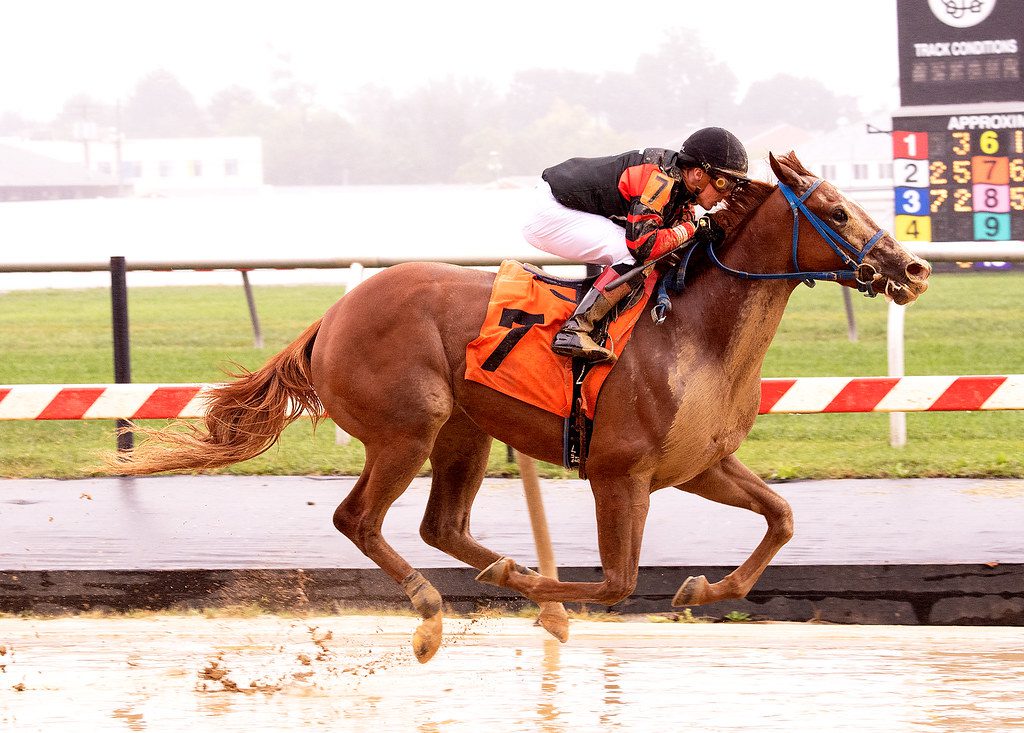 Baker planned to bring Malibu Moonshine back for the Maryland Million Lassie Oct. 22, but the chestnut filly got sick and was withdrawn the morning of the race, won by Chickieness, who returns Saturday.
"She had a little setback when she was supposed to ship for the stake. She got a temperature that morning when we came in to get her ready, so that kind of gave her a little setback going forward," Baker said. "But she's doing good. We missed a little time with her but she's good enough to get back racing, so we'll take a shot with her."
Malibu Moonshine has had three timed breezes since missing the Lassie including a bullet five-furlong move in 1:00.20 Nov. 28 over the Belmont Park training track. Angel Cruz gets the riding assignment from the rail in a field of 11.
"She's been training good. Her last few works have been pretty good," Baker said. "She always showed some potential in her works. She was a horse that we knew would be OK. She worked against some good horses and she did fine. She's a nice little filly and she's going to get better."
Chickieness, most recently third in an allowance-optional claimer won by Tappin Josie, is the only stakes winner in the field, which also includes recent debut winner Angel Art, Smart Halo show horse Gormley's Gabriela, and the second- through fourth-place finishers in the Maryland Million Lassie in Skylar's Sister, Bosserati, and Cynergy's Electra.
LATEST NEWS