Armando R over the top to win Small Stakes
Frank Vespe

November 26, 2022
When trainer Damon Dilodovico dropped a $16,000 claim slip on Armando R on behalf of owner Ronald Cuneo last November, it appeared to have been a misstep.
Armando R won the day they claimed him, burning up the last of his conditions, and then ran poorly in his first start in the new barn, finishing eighth of nine in a first-level allowance.
"Ron had been looking for a horse [to claim] forever, and [Dilodovico's son] Nicholas pointed this horse out to me," the trainer remembered. "We thought we would have that three-in-life condition to fall back on, but he ended up winning that day. Our first race with him was not all that great, but we kind of figured him out."
That last is a bit of an understatement. Fast-forward to today, when Armando R, a six-year-old Blame gelding, rallied on the outside to run down the leaders to win the $100,000 Richard W. Small Stakes at Laurel Park to earn his second consecutive stakes victory.
"This guy's just so determined," Dilodovico said. "I actually stopped watching the leaders [inside the eighth pole], because once he gets that gear, he just goes."
Bettors made Maryland Million Classic winner Ournationonparade the 7-10 favorite to extend his win streak to five, while mostly ignoring Armando R, despite his last-out win in the off-the-turf Japan Turf Cup. He went off at 10-1.
Belmont shipper Thomas Shelby grabbed the early lead and had a two-length advantage through a half-mile in 48.11 seconds with Ournationonparade his nearest pursuer. Armando R, meanwhile, was in fifth under Horacio Karamanos, more than six lengths in arrears.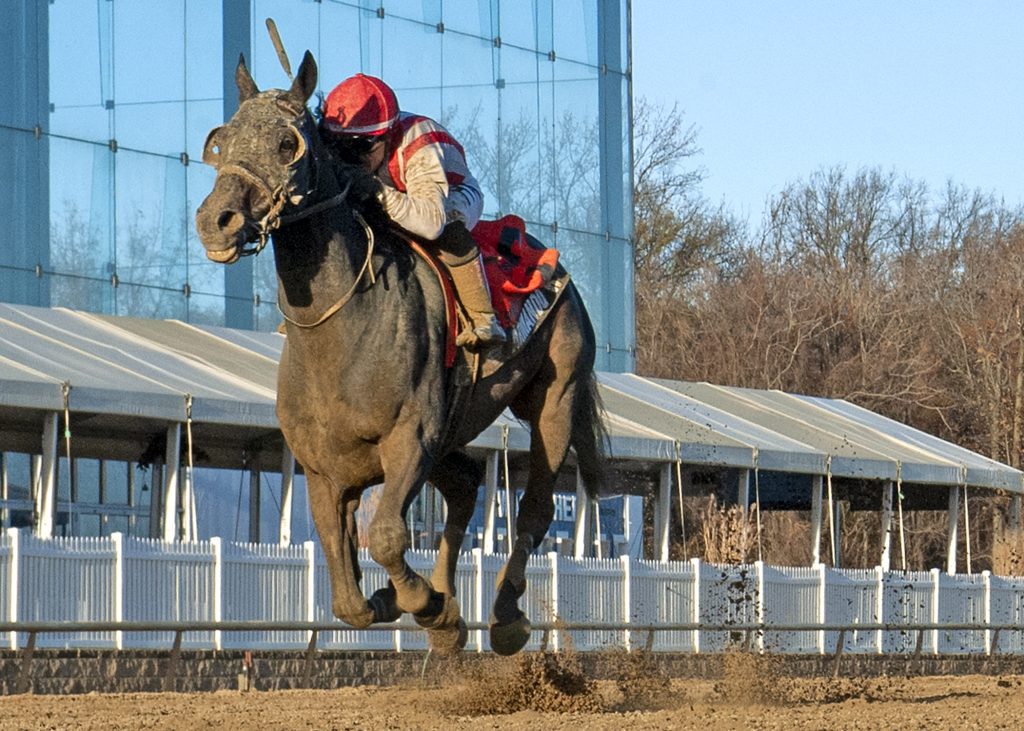 The serious running was about to begin, though, and when Ournationonparade went to the attack rounding the turn, Thomas Shelby was quick to surrender. Veteran Cordmaker, meanwhile, began to make a three-wide move.
By the head of the lane, Ournationonparade had established a tenuous advantage, with Cordmaker, making his second start off a nearly-nine-month layoff, trying hard to bridge a one-length gap.
In the lane, Armando R seemed to have too much to do, but when he found clear running on the outside, he wore down the leaders to win by a half-length in 1:50.57 for 1 ⅛ miles on a fast main track. Ournationonparade held second, a length ahead of Cordmaker, while Thomas Shelby retained fourth.
"This stretch run, it's just all him," Dilodovico said. "Horacio helps, and he comes back exhausted. This horse, he exhausts these riders."
Since switching into Dilodovico's Laurel barn, Armando R has shown a clear affinity for longer distances. His win today made him three-for-three at nine furlongs or beyond. Oddly enough, Dilodovico said that despite that, he's a horse who pretty much keeps himself fit.
"He must just have some kind of internal stamina," he said. "He's very easy to manage, because you don't have to do a whole lot with him, and he stays fit. He must have a heart as big as my head, and his whole system must be prime."
Armando R paid a solid $23.00 to win, and the exacta returned $36.40 on a one-dollar wager. He now has seven wins and $318,120 in earnings from 24 career outings.
The win continued a strong meet for Dilodovico's operation. He ends the day with 13 wins at the meet, putting him in a three-way tie for second, and his 45 starters are the fewest of any trainer with 10 or more wins.
"We're having an awesome meet," Dilodovico said. "We've been fortunate with a lot of spots, and my guys have done a good job keeping the horses healthy. A lot of them I've run back a little quicker than I normally like to, but they're just doing that well. It's kind of hard to tell the owner 'No' when the horses are telling you 'Yes.'"
NOTES With a third-place finish Cordmaker earned $10,000. That put the seven-year-old Maryland-bred past the $1 million mark. He's now made $1,000,880 for owner Hillwood Stable LLC and trainer Rodney Jenkins… A pair of stakes for three-year-olds earlier on the card also saw minor upsets. Swayin to and Fro (6.90-1) surged to a three-length score in the Safely Kept, for fillies, under jockey Grant Whitacre. That was the second stakes win for the onetime $16,000 claim, who's trained by Mario Serey for Baxter Racing Stable… Parx Racing-based Little Vic (5.20-1) rallied to win the City of Laurel for three-year-olds by 1 ½ lengths under jockey Carlos Olivero for his first stakes win. Little Vic is trained by Juan Avila for Victoria's Ranch…
LATEST NEWS