So, uhh… Howgreatisnate?
It's early days yet, and great is a big word, but the two-year-old Speighster gelding is two-for-two and won the $100,000 First State Dash, for Delaware certified two-year-olds, last time out.
So we don't yet know if 'nate is great, but so far, so good.
Last fall, owner John Guarnere, who races as Imaginary Stables, sent Simoff to Keeneland's fall yearling sale to stock up on babies.
"It was nice for him to have confidence to send me out there to buy them," Simoff said. "And originally, he talked about getting one for, like, 200 [thousand dollars] or 250. But I told him, 'You know, if you buy one and it's no good, you've got all your eggs in one basket. So my experience is that if you buy three of four, and if one turns out, you're doing good.'"
Guarnere ended up buying three: an Accelerate filly for $35,000, a Carpe Diem colt for $27,000, and Howgreatisnate. Out of the winning Tapit mare Bee Dees Bid, Howgreatisnate is the younger half-brother to Just a Kiss Away, a two-time winner in her only two career starts last spring. Howgreatisnate cost $67,000.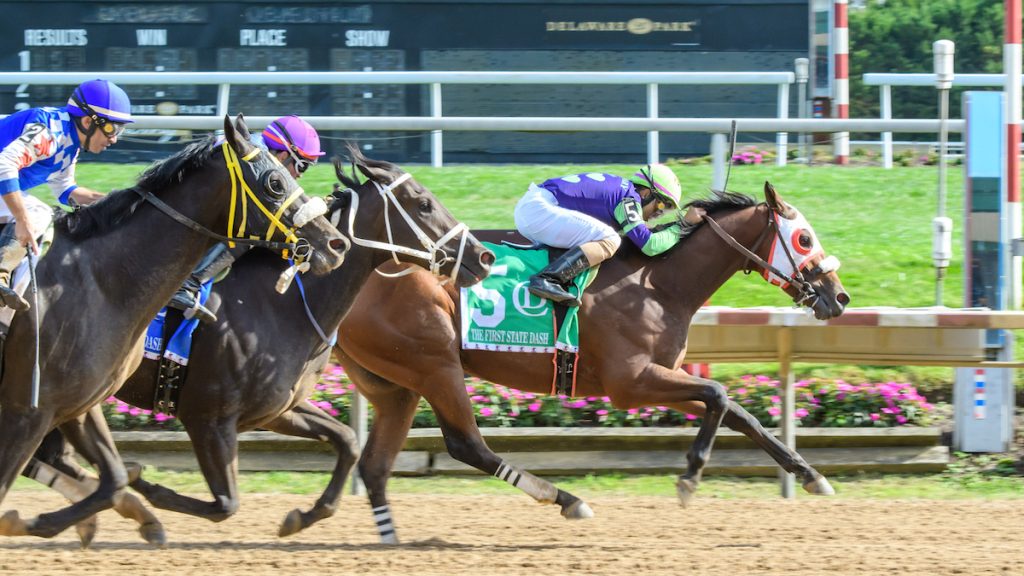 "I liked the mare. She's by Tapit, and she had a real nice foal at the time [Just a Kiss Away]," Simoff said. "That attracted him to me. And he's a beautiful horse. He's well balanced, not too big, not too small. So that's what really drew me to him."
Simoff's charge debuted August 31 in a $40,000 maiden claimer at Delaware, a condition which permits Delaware certified runners to waive the claiming tag. Last early, Howgreatisnate drove by everyone to win by almost four lengths under J. D. Acosta, rewarding backers with a $12.20 payoff.
"I liked him the first time, and I made a nice bet on him the first time he ran, and I told a few people," Simoff said. "I was surprised we got $12."
Four weeks later, he returned to win the First State by a half-length as the even-money favorite, turning back a bid from Midnight Trouble in mid-stretch and then holding off Lost Weekend late.
"When he was turning for home, it looked like he was going to get beat. I'm like, 'How could I be this wrong with this horse? This is unbelievable,'" Simoff recalled. "But he just kicked back in and took off again."
Simoff and Guarnere, who named the horse for his grandson, Simoff said, have what every horseman wants: a promising two-year-old in the barn. Howgreatisnate pushed his career earnings to $84,000 in the First State, and his connections will look for deeper waters to fish in soon. 
"It'll be interesting to see how good he is," Simoff said. "The next one will tell the story because it'll be open, and there will be some tough horses."
Laurel Park is one option, hosting a pair of upcoming stakes for two-year-olds. The six-furlong James F. Lewis, III takes place November 12, while the seven-furlong Heft is set for December 26.
Parx Racing has a similar two-race sequence for juveniles. The six-furlong Future Stars will run November 29, and the seven-furlong Parx Juvenile is December 27.
And, of course, if he starts to show he might be, you know, that kind of horse, there are longer races for bigger purses on the horizon. For the moment, though, Simoff figures they'll stay in the Mid-Atlantic and race around one turn.
"I just want to try to get one more one-turn race," the trainer said. "If it's not broke, don't fix it."
LATEST NEWS