Ournationonparade marches to Maryland Million Classic
Ness, who claimed the horse for Happy Got Lucky Stable Inc., had a very specific goal in mind for the horse. So did the others.
"I think the other people we were shaking with were local people who wanted to do the same thing," he said.
"I didn't know the horse that well. I've only had him a short period of time," Ness said, admitting that the distance was a bit of a question mark prior to the race. "I just tried to keep what the previous trainer [Chris Hartman] was doing."
Bettors had made Ournationonparade a lukewarm 2-1 favorite, but other runners like Vance Scholars, Ain't Da Beer Cold, and Double Crown also attracted plenty of attention. Vance Scholars, up close early, gave way midway through the race but then fought back for the place. The Poser, closer than customary in the early going, finished third.
Ournationonparade returned to Maryland today for the first time since his victory in the 2019 Maryland Million Nursery.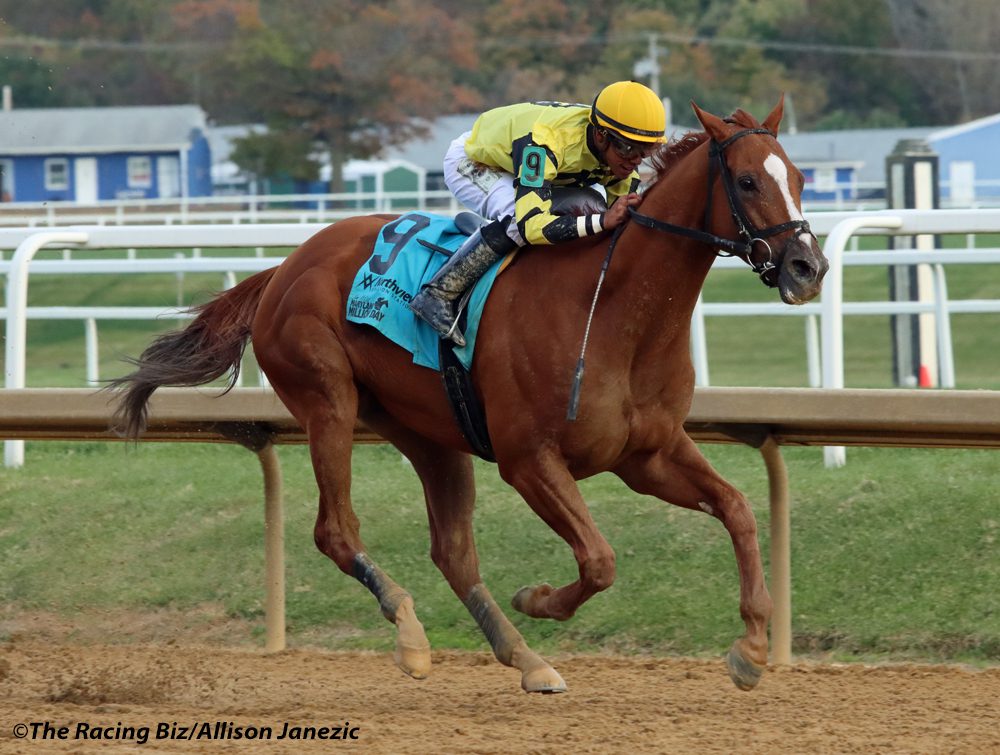 It was a lucrative spot – and one that made breeder John Williamson, III happy. He bred the horse – Ournationonparade is out of the Leading the Parade mare Parade of Colors – and owned him for precisely one start.
After Ournationonparade finished second on debut – oddly enough, behind Double Crown, who finished fourth today – Williamson sold him to Dean Reeves's Reeves Thoroughbred Racing. Now the horse is back in Maryland, where, he pointed out, Williamson can make some money in breeder bonuses.
"I'm tickled to death," Williamson said. He still has the mare, as well as a couple of other siblings to Ournationonparade.
Where'd Williamson get the mare?
As it turned out: from Jamie Ness.
Ness trained Parade of Colors for Midwest Thoroughbreds in the latter half of her career, having claimed her for just $5,000.
"She was slow," Ness remembered. "And [Williamson] approached me and he says, 'What about that old mare? When you're done racing, can I have her? I don't know what about her, I just like her.'"
That turned out to be a smart move on Williamson's part. Five of Parade of Colors' six offspring to race have already won; the sixth, two-year-old filly Mysisternancy, looks poised to graduate after back-to-back runner-up finishes.
"I think she's produced winner after winner, which is shocking, because she wasn't very fast," Ness said. "And she had no pedigree."
But what she does have is something better: a proven track record of throwing winners. Oh, and a Maryland Million Classic winner to boot.
LATEST NEWS