Md. Million: Courageous Girl could try Classic
"I nominated to both. I just want to take a look and see which one makes more sense for her. She's kind of like in between the distances, seven furlongs and a mile and an eighth, so it just depends on trying to get a read on entries and what would be more logical for her," trainer Horacio DePaz said. "But she's doing well. I'm going to target her to one or the other."
At one mile and 70 yards, it was the furthest Courageous Girl has gone in victory, with her other three wins coming at one mile. She has finished third or better in 15 of 28 career starts with four wins and $328,936 in purse earnings.
"The races weren't going for her," DePaz said of the recent layoff. "We were trying to put her back in that two-other-than [condition] hoping that the spacing would be right, and then the races that came up were too close, schedule-wise. We figured we'd just go ahead and take a shot at one of these races and then you can always come back to the two-other-than, depending on the outcome. She's a hard tryer."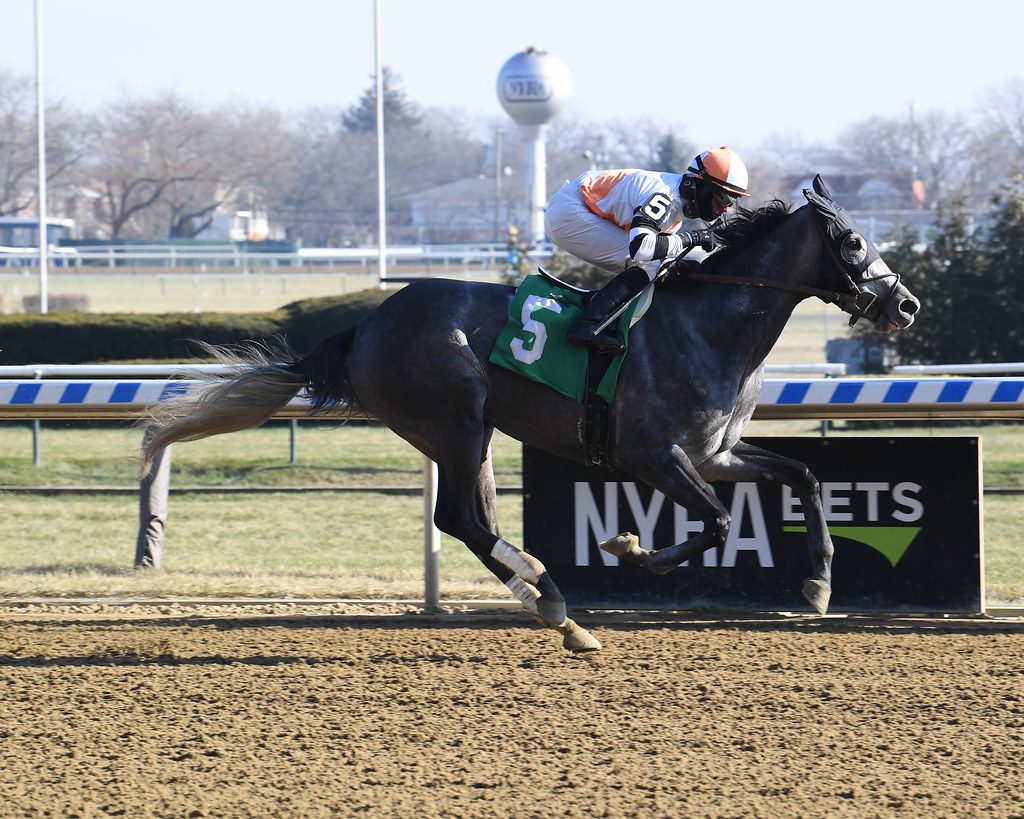 Claimed for $35,000 last summer at Saratoga, Courageous Girl has yet to race against males and has run fourth in two prior tries at 1 1/8 miles, coming in back-to-back starts as a 3-year-old, also at Saratoga. Both times she ran behind Grade 3-winning future stablemate Sharp Starr.
"I did run her the seven furlongs at the beginning of the year here at Aqueduct in a New York-bred stake [the La Verdad] and she finished third. I ran Sharp Starr the same day a mile and an eighth, and I think if I had them flipped around, she would have done a little better with the mile and an eighth," DePaz said.
"We thought of the Maryland Million when we claimed her because she's Maryland-sired. She's always run in New York and against New York-bred competition, so we'll see how she handles it," he said.
Courageous Girl is seeking her first stakes victory. She has placed twice, running second in the 2020 Maddie May and third in the Jan. 2 La Verdad, both against New York-breds during Aqueduct's winter meet.
"Most of the races where she's run really well has pretty much been close to the lead or on the lead," DePaz said. "That's where she runs her best, I think."
DePaz, 37, has never won a Maryland Million race. A foreman and exercise rider for Hall of Famer Todd Pletcher from 2006-10, he worked as an assistant to Ignacio Correas IV from 2011-15 before taking over as private trainer at Sagamore Farm in Glyndon, Md. DePaz began taking on other clients starting in 2018 and is now based in New York.
"I think we had a few Maryland-breds when I was with Sagamore that didn't get in because of the preferences," he said. "It would be great to run in Maryland Million."
LATEST NEWS