Deciding Vote is "aye" for MATCH Series title
"This means a lot to Mr. and Mrs. Pape and it means a lot to me," said Graham, who is based at Fair Hill Training Center in Maryland. "We were so close to the series final and we all said, 'Let's give it a go,' and if she doesn't handle the track tell the jockey to take care of her."
Sanchez said he rode Deciding Vote as if it was a turf race—she usually lags early and then makes her move. There was no indication she wasn't handling the track, he said.
"I thought they might scratch her, but (Graham) said they would take a shot," said Sanchez, who had ridden the mare in her previous start. "She gave me a good feeling early in the race, so we just went on with it."
It was the second stakes win this year for Deciding Vote, who won the Dahlia Stakes at Laurel Park, first leg of the Filly and Mare Long—Turf division. All five of her races came in the MATCH Series, and Graham said that was by design because he believed Deciding Vote would fit the competition. The mare now has five wins in 16 starts for earnings of $265,800.
A division win pays bonus money of $30,000 to the owner and $15,000 to the trainer. The overall championship adds $20,000 for the owner and $10,000 for the trainer.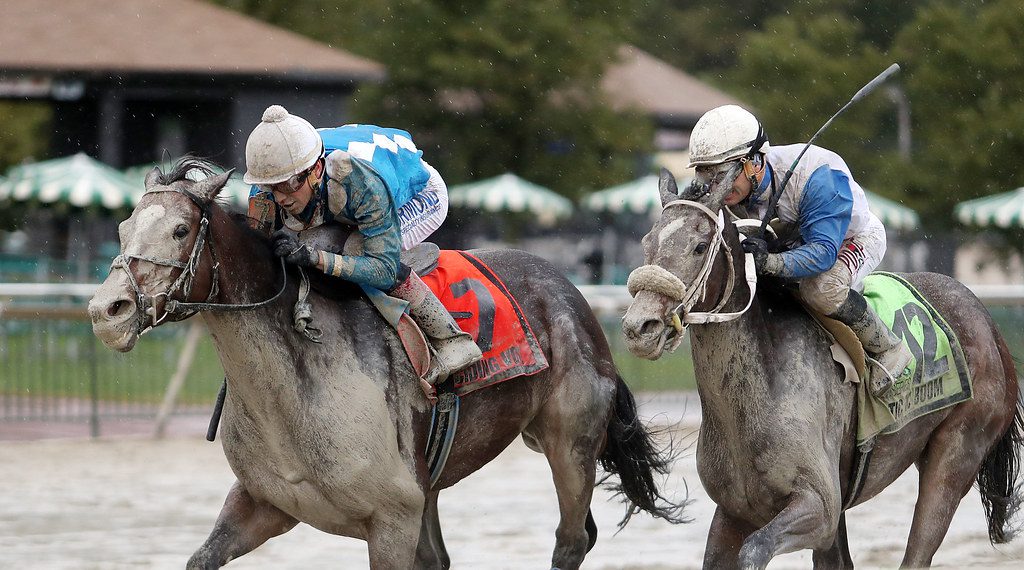 Parx hosted three other stakes Monday, all of them part of the MATCH Series. The results:
Shooger Ray Too cruised to an easy win in the nine-furlong Bucks County Stakes, originally scheduled for the turf. Trained by Tyler Servis for Vintage Thoroughbreds LLC, Shooger Ray Too earned the first stakes win of his career under jockey Abner Adorno. The MATCH Series division for three-year-olds and up long on the turf went to Eons, who was scratched when the race came off the turf. Eons is trained by Arnaud Delacour for Mark Grier.
The ultra-consistent Fortheluvofbourbon won the 6 1/2-furlong Liberty Bell by three lengths over a hard-hitting field that included Chesapeake Stakes winner Jalen Journey and De Francis Dash winner Beren. Now 6-for-8 on the season, Fortheluvofbourbon is trained by Michael Pino for Smart Angle LLP and was ridden by Paco Lopez. The three-and-up sprinting division went to Beren, who finished fourth in the Liberty Bell. Beren is trained by Butch Reid for St. Omer's Farm and Christopher Feifarek.
Oxana had placed in three consecutive stakes prior to Monday's Roamin Rachel, in which she earned her first career stakes triumph. Under Paco Lopez, she went quickly to the front, disposed of pace rival Fille d'Esprit, and narrowly held off the late bid of Dr B. Oxana is trained by Tim Hills for Tee-N-Jay Farm. Fille d'Esprit finished third under regular pilot Xavier Perez and won the sprinting fillies and mares division of the MATCH Series. She is trained by John Robb for C J I Phoenix Group and No Guts No Glory Farm. Post time favorite Chub Wagon showed early speed but stopped, was eased, and walked off.
LATEST NEWS