Paymengold, Lightnin Runner upset CT 2yo stakes
Ted Black

September 18, 2022
With West Virginia Breeders' Classics night just around the corner, Charles Town offered a pair of $75,000 stakes for West Virginia-bred two-year-olds Saturday night for one final tuneup for the main event.
Heading into the $75,000 Rachel's Turn Stakes for state-bred two-year-old fillies, much of the attention was focused on Sail On Breeze (Arnaldo Bocachica) who had romped home better than eight lengths clear in her career debut for trainer Jeff Runco and owner-breeder Coleswood Farm [Jeff & Susan Runco]. Sent out as the 1-5 choice in her stakes debut against four other runners who had also won their most recent starts, Sail On Breeze was unable to deliver.
When the gates opened in the Rachel's Turn Stakes, Sail On Breeze and Strong Willed (Marshall Mendez) both broke very alertly, and they dueled for command while pressed from the outside by Cat With a Notion down the backside and by the opener in 22.26. Rounding the turn, Sail On Breeze and Strong Willed pulled ahead and opened up a three-length advantage on the rallying Lightnin Runner.
At the top of the lane, Strong Willed disposed of Sail On Breeze and then braced for the challenge of 12-1 outsider Lightnin Runner (Antonio Lopez). No stranger to upsets, Lightnin Runner, who won on debut at 30-1, would add another one to her resume when she finally overhauled Strong Willed for a neck score while stopping the timer in 52.93.
"I'm 78 and my wife [Susan] is 75, so we decided to breed horses and raise babies," said owner George Nyren. "We've owned horses a long time, but this is the most excited that we have ever been. All I heard about and read about all week was how good [Sail On Breeze] was going to be. Well, I thought this field was not as tough as the first one we faced when she ran against boys. She was 30-1 that day, so I thought we had a better chance tonight."
"I was hoping to be able to sit just off the speed," said winning rider Antonio Lopez. "She actually ran really well that first start against boys. She had a lot of horse left that night. Tonight she rated perfect and I was able to get [Strong Willed] at the wire. I think she'll be even better going two turns here. I don't think she will have any trouble going 6 1/2 or seven furlongs."
One race later in the $75,000 Henry Mercer Memorial for state-bred two-year-olds, the public had a difficult time finding a favorite as Juba's Notion, Teachintherelease and Xcellent Start all garnered plenty of support. Two of them ultimately performed well, but it was another overlooked outsider who had competed in the July 2 initial maiden special weight event for juveniles that continued the upset theme.
When the gates opened in the Henry Mercer, 23-1 outsider Paymengold (Fredy Peltroche) broke well to the early advantage. Shortly, though, Teachintherlease, off as the 6-5 favorite, recovered from a slowish break to rush up outside and seize the lead after an opener in 22.36 seconds. Teachintherelease cleared off to lead by a couple of lengths rounding the turn before his early exertions caught up with him.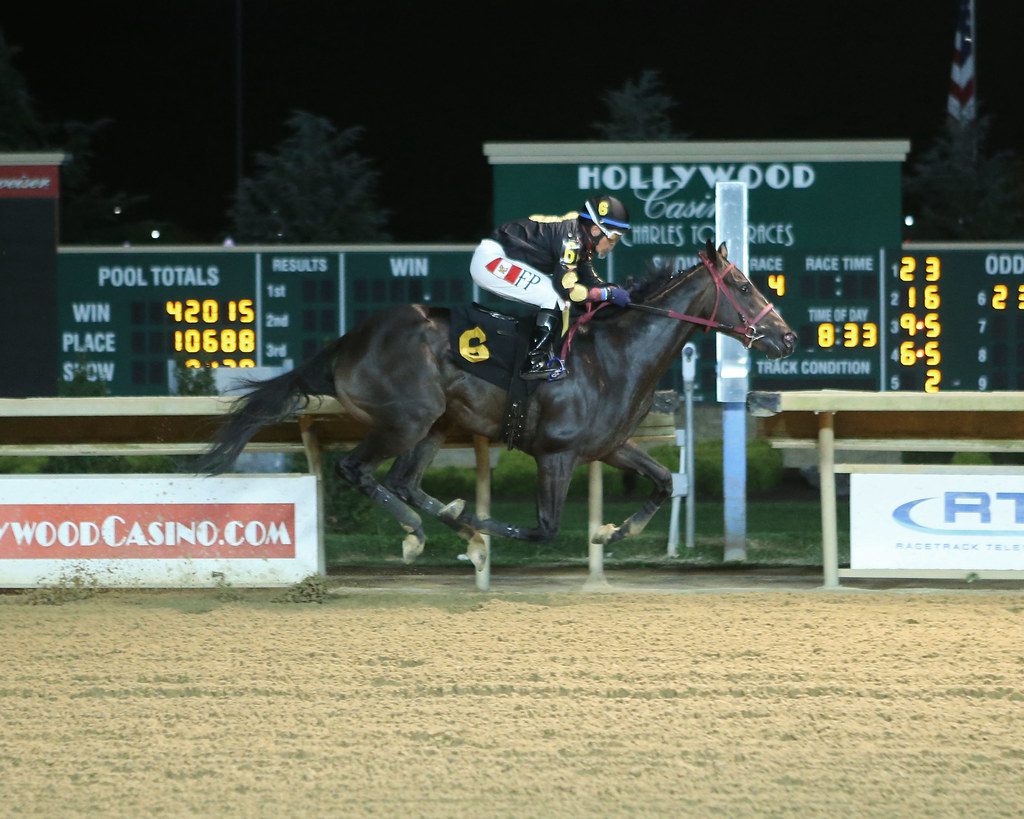 Paymengold was quick to pounce as Teachintherelease faltered, disposing of that rival in upper stretch, and he held safe Xcellent Start for a three-length score while stopping the timer in 52.18.
A juvenile son of Golden Lad owned, bred and trained by Dewayne Johnson, who learned the craft working for the late William T. Goff, Paymengold notched his second straight victory since being treated with Lasix and will next head to the Vincent Moscarelli Memorial Breeders' Classic on Oct. 8. Both Johnson and Peltroche appeared confident that Paymengold will appreciate the added distance and second turn of the Moscarelli Memorial.
"I really haven't found the bottom of this horse just yet," Johnson said of Paymengold, who finished sixth in his career debut in the same July 2 event Lightnin Runner prevailed at 30-1. "I put him on Lasix for his second start [a win on Aug. 13] and put a little more work into him. I think he will definitely like the added distance. That's what we've been waiting for."
Earlier on the card, in the $40,000 Last Enchantment WV Overnight stakes race for older sprinters, Penguin Power (Arnaldo Bocachica) regained his winning ways when he bided his time early then overhauled the speedy Jefferson Native and held safe Nico and Hypothesis late for a 2 ½-length score. A seven-year-old Fiber Sonde gelding trained by Jeff Runco for owner David Raim, Penguin Power recorded his second win in six starts this year and now owns 16 wins and over $450,000 banked from 29 career tries after whistling the 4 1/2-furlongs in 51.11 as the 7-5 co-favorite.
One night earlier in the penultimate race on the Friday card, Alpine Moon (Alison Nunez) rallied from well off the pace and widest of all to forge a mild 6-1 upset in the $40,000 Autumn WV Overnight Stakes for state-bred fillies and mares. A six-year-old Swiss Yodeler mare trained by Russell Davis for Bearowitz LLC, Alpine Moon notched her third win in nine starts this year and now boasts a 15-8-11 slate and nearly $295,000 banked from 48 career outings after getting the 4 1/2-furlongs in 52.26.
LATEST NEWS