Blowing kisses at the Big T
Frank Vespe

September 1, 2022
It's not quite as predictable as death and taxes, but it's pretty standard fare for trainer Kevin Patterson and owner Robert Cole, Jr. to team up to win a four-furlong race at Timonium.
They did it again in last Sunday's feature with Primal Destiny. That marked the sixth time in the last seven years that Timonium raced (it did not do so in 2020) that the duo had won a four-furlong race at the Big T.
"It's a unique product here at the Big T, so we try to make sure we guide at least two or three here," Cole said afterwards. He added, "We gear for it. I grew up around here. I love the attention, so we're gonna keep trying every year."
Then he blew kisses to the crowd. That's kinda how things are in Timonium.
Somebody else who enjoyed Timonium's opening weekend quite a bit was apprentice rider Jeiron Barbosa. Barbosa won with six of 12 mounts to seize the lead in the Big T rider standings.
Barbosa won once on Friday, twice on Saturday, and then with all three of his Sunday mounts to take a two-win advantage into the final four days of the meet.
However, with Barbosa off his mounts over the weekend and riding at Parx on Monday, there's a good likelihood that the meet title will end up with someone else. The most likely candidates are defending champ J. D. Acosta and Angel Cruz.
The two enter the final weekend with four wins apiece, tops among riders not named Jeiron Barbosa, and both figure to have plenty of opportunities to pad their total. Acosta is named on six horses Friday and five more Saturday, and the same is essentially true for Cruz, who has a choice of two mounts in two of his five Saturday races.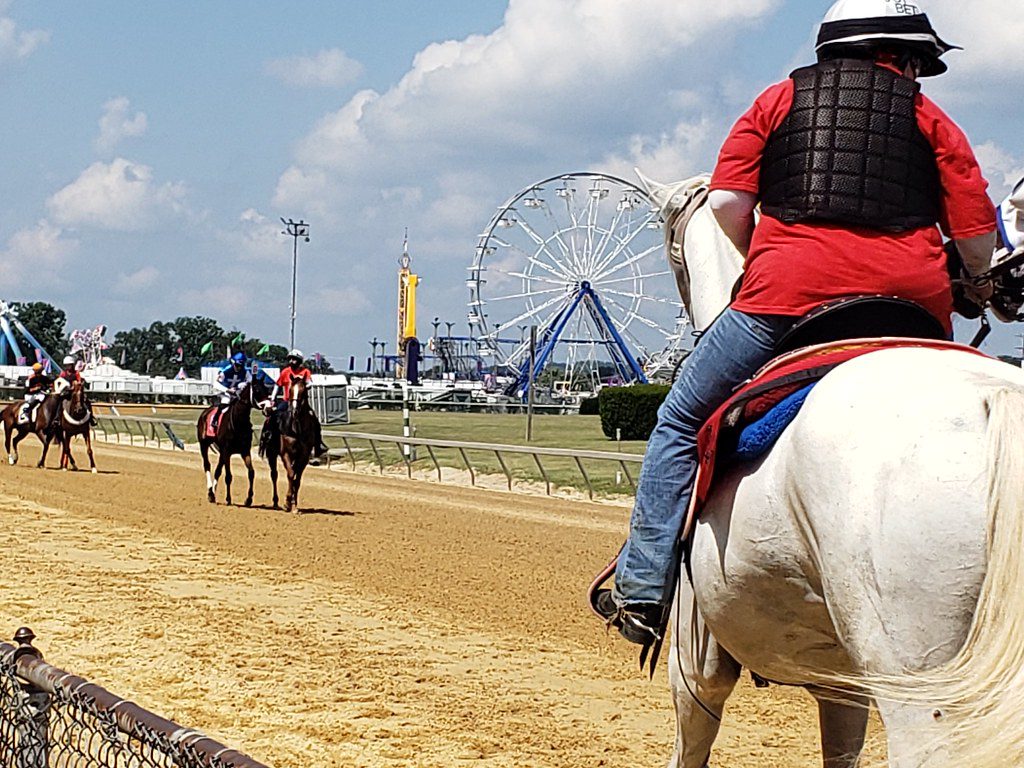 The trainers' race remains a scramble. Five conditioners – Anthony Farrior, Hugh McMahon, Annette Eubanks, Kieron Magee, and Brian Brooks – have two wins apiece to head the rankings. It's Farrior who is poised to make the fullest assault on closing weekend: he has eight runners entered Friday and three on Saturday.
In addition to the racing, Saturday will also be Hall of Fame Day at Timonium, and two horses will officially enter the Maryland Thoroughbred Hall of Fame. Both won Eclipse Awards in their careers, and oddly enough, both have connections to the Big T.
Star de Naskra was the champion sprinter of 1979, his season notable for wins in the Carter Handicap, the Ak-Sar-Ben Cornhusker Handicap, and the Whitney. His first career stakes win, as a two-year-old, came in the Dover Stakes at Delaware Park, while his second, on September 3, 1977, was in the Timonium Futurity.
Smoke Glacken was 1997's champion sprinter after running off wins in the Riva Ridge, Jersey Shore, and De Francis Dash in succession to close his campaign. Consigned by Kirkwood Stables, he had sold at the 1996 Fasig-Tipton Midlantic two-year-old sale at the Big T, fetching a top bid of $65,000 from Henry Carroll as agent. Carroll went on to train Smoke Glacken throughout his career.
The 2022 Timonium meet continues with racing Friday-Monday, concluding September 5. Post time is 12:40 p.m.
LATEST NEWS