Longshot Breviary upsets Timonium Distaff
Frank Vespe

August 27, 2022
You win some. You lose some.
And as a wag once put it, every once in a while one washes up on the beach.
Such was the case Saturday at Timonium when Breviary, the longest shot on the board, wore down Malibu Beauty to win the $75,000 Timonium Distaff Stakes.
Once entries came out, owner-trainer Mario Serey, Jr. had taken a look at the past performances and made the prudent decision to scratch his charge.
"Some really good horses," he said. "I think with 10 horses, it's really tough for me."
Indeed. The 10 horses entered included five stakes winners, which would have put his charge – a onetime $5,000 claimer whose most recent wins had come against starter allowance foes – in awfully deep waters.
But by the time scratches were out, more than half the field – six runners in all – had come out, leaving a compact field of four. Suddenly, running seemed a lot more plausible; even fourth would be worth $4,500.
"When I saw what happened to the horses [the scratches], I don't have any choice," Serey said. "I like to run the horses. In the beginning I saw it was a tough race, but she's an amazing filly."
Second choice Malibu Beauty, two-back winner of the Peach Blossom at Delaware Park, scooted to the early advantage, leading the field through an opening quarter-mile in 24.34 seconds and a half in 48.43. Jockey Grant Whitacre was content, meanwhile, to eyeball the others; his charge was fourth but less than three lengths off the lead after a half.
"The horse settled nice," Whitacre recalled. "As soon as we got on the track, she handled the track good."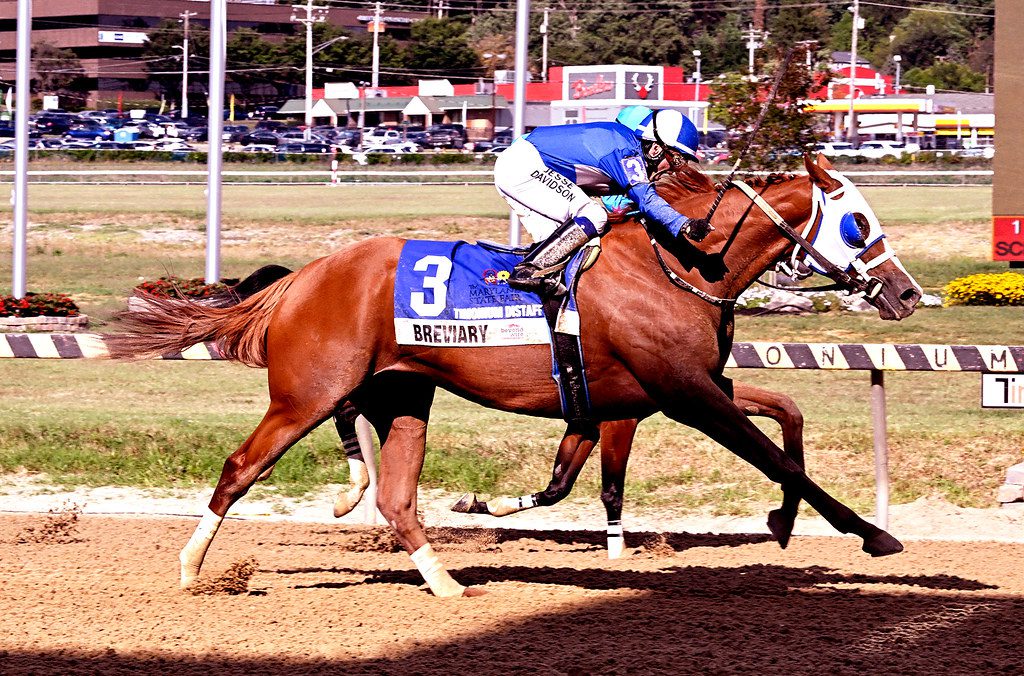 Up front, meanwhile, others were turning up the heat on Malibu Beauty. Hybrid Eclipse, winner of the Caesar's Wish Stakes last out and the 6-5 favorite today, and Fool Yourself both ratcheted up the heat. All three were heads apart after a half-mile.
But approaching and then rounding the far turn, those two runners fell away, leaving Malibu Beauty and a now-prominent Breviary.
"I got her comfortable, tipped her out on the backside, and she made a nice run," Whitacre said.
Malibu Beauty and Breviary hustled their way to the wire, opening a chasm that grew to a dozen lengths between themselves and show horse Fool Yourself. As the wire neared, Breviary put her head in front and won by a half-length.
Running time on a fast main track was 1:45.85. Breviary paid $23.80 to win and topped a one-dollar exacta that returned $52.40.
Serey claimed Breviary for $5,000 February 6. She has since run a dozen times, winning four while moving considerably up the class ladder.
In all the Maryland-bred Breviary, a five-year-old Super Ninety Nine mare, has eight wins from 30 starts and earnings of $263,595.
LATEST NEWS