Muad'dib swinging for the fences in CT Classic
Ted Black

August 25, 2022
When the nominations for the Grade 2, $1 million Charles Town Classic, $250,000 Russell Road Stakes and $75,000 Frank Gall Memorial were released two weeks ago, Muad'dib was listed among the nominees for all three.
Which spot would trainer Jeff Runco and owner David Raim choose for the undefeated son of Fiber Sonde?
Now we know. Runco opted to swing for the fences as he entered Muad'dib for the Classic, a race that his conditioner certainly knows well. Runco saddled Researcher to victories in each of the first two editions of the Charles Town Classic, before it earned graded status. He remains the only runner to win the Classic in consecutive years.
Three years ago Runnin'toluvya became the first West Virginia-bred to capture the event when he delivered a gritty score for owner-trainer Tim Grams. Those are the hoofprints Runco hopes his charge, a full-brother to former distaff star and multiple graded stakes winner Late Night Pow Wow, will follow.
"Really, the main thing was the distance," Runco said. "He's always done well at one-mile and an eighth and his next start [the West Virginia Breeders Classic on Oct. 8] is at one-mile and an eighth. Me and David [Raim] thought we had to take a shot. I mean, he's training great for the race and he loves the track."
Muad'dib is 10-for-10 in his career, all over the strip. In fact, the Fiber Sonde gelding has been favored in all 10 of them, nine times at odds-on. That will change Friday.
Listed at 10-1 on the morning line for the Classic, Muad'dib will yield the favorite's role in the Classic, most likely to defending champion Art Collector (6-5) for Hall of Fame trainer Bill Mott. Multiple Grade 1 winner Mind Control (2-1), who last out defeated Hot Rod Charlie in the Grade 3 Salvator Mile, is likely to be the solid second choice for fellow Hall of Fame conditioner Todd Pletcher.
Other graded winners in the Classic are Last Samurai (8-1), who won the Grade 2 Oaklawn Handicap in April; multiple Grade 3 winner Officiating (8-1); and Jalen Journey, who won last year's Grade 3 De Francis Dash via disqualification.
"It's a big step up in class, for sure, but some of the horses coming into the race have never raced three tuns before," Runco said. "Some of those horses have plenty of graded stakes experience, but racing here is going to be a whole different experience."
Runco has some experience with well-regarded foes finding the three-turn trip a puzzle. Back in 2009, two-time Grade 1 Whitney winner Commentator came to Charles Town, went off at 6-5 in the Classic, and led for much of the way. But he ran out of steam on the third turn, and Runco's own Researcher surged to victory.
Unraced at age two, Muad'dib emerged on the scene during the winter of his three-year-old campaign when he won his first three starts in two-turn events. But the remainder of his campaign was cut short, in part, by the Covid-19 pandemic, which halted racing at Charles Town for two months.
 When racing resumed in the spring, Runco opted not to bring Muad'dib back for the remainder of the season and instead geared him toward the next season, which could not have gone any more smoothly.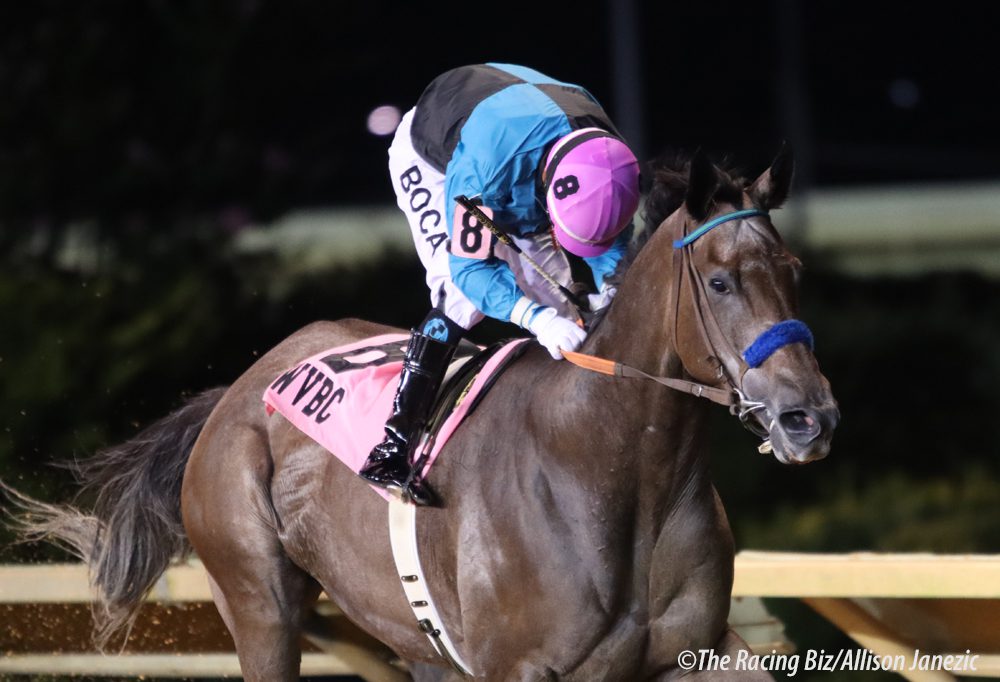 Last season at age four, Muad'dib won all six of his starts and capped his campaign with victories in the Frank Gall Memorial, the West Virginia Breeders' Classic and the A Huevo. His perfect campaign allowed him to share horse of the year honors among West Virginia-breds for 2021 with stablemate and recently retired Star of Night.
Muad'dib enjoyed a prolonged respite before returning last month to win a two-turn allowance in his belated seasonal debut. He has had two recorded works since, most recently posting a three-furlong move in a sharp 35 3/5 seconds August 20.
On Friday, he'll make his third start going three turns. His prior nine-furlong tries were wins in last year's Breeders' Classic and A Huevo. He has earned $357,201 in his career.
While Muad'dib got plenty of rest following the latter portion of his 2021 slate, Art Collector used his victory in the Charles Town Classic as a springboard to a score in the Grade I Woodward at Belmont Park then finished sixth in the Breeders Cup Classic at Del Mar behind the Maryland-bred eventual horse of the year, Knicks Go. This year he finished 12th in the $20 million Saudi Cup February 26 and then returned to the races earlier this month to capture the Alydar Stakes at Saratoga Race Course. The Alydar is the same prep he used for last year's Charles Town Classic triumph.
Mind Control recently won the Grade III Salvator Mile at Monmouth Park and he boasts numerous other graded stakes victories. But Mind Control has yet to attempt the nine-furlong distance anywhere, and the Charles Town Classic will be his first attempt to navigate three turns. Mind Control, however, has plenty of experience in Grade I events, including wins in 2018 Hopeful and 2019 Jerkens.
LATEST NEWS