Kaylasaurus hoping for gold in 'Pearl
The division win would net her owners, Bush Racing Stable, Liberty House Racing, BlackRidge Stables LLC, and George Saufley, a $30,000 bonus – more than it cost them to buy her in that claiming race last November. It would also earn trainer Tim Kreiser $15,000.
"We'd love to get her a graded stakes placing, but after she had kind of a rough trip [when fourth in the Grade 3 Barbara Fritchie], both Tim and I saw her running through that MATCH Series," said Bush Racing Stable's David Bushey. "I mean, how can we not do it? We're leading the MATCH Series, and even though there's a PA-bred stake next week at Parx that we were eyeing up as a potential alternative, we decided to go the route of seeing if we can take down the MATCH Series."
The leaders of the other three MATCH Series divisions will also be in action Tuesday at Colonial, with older sprinters running in the Chesapeake, older turf runners squaring off in the Buckland, and distaff turfers tangling in the Old Nelson.
All four races are stacked, but while the Seeking the Pearl has the shortest field of the four with nine runners entered, it might also be the toughest.
How tough?
Seven of the nine runners are stakes winners already, and Grade 1 winner Kalypso is 6-1 on the morning line. The morning line choice is the undefeated Carribean Caper (5-2), who is 5-for-5 in her career but has not raced since last September. The Al Stall trainee dusted a pretty middling field in the Grade 3 Dogwood at Churchill Downs that day.
For all the quality on offer – the field also includes the talented Fille d'Esprit (8-1) and Cheetara (5-1), who won this event a year ago – Bushey said he likes where he's sitting with his six-year-old daughter of Munnings.
"It certainly looks like there's a lot of speed signed on, which is good for us," he said. "And I think the seven-eighths will do her really well. She's one of those horses, 5 ½ furlongs is too short, six is OK. But I think seven sets up really well for that late closing kick she has."
He laughed. "No Chub Wagon, either," he added. Chub Wagon, now 12-for-13, defeated Kaylasaurus last out in the Alma North.
Since the Alma North, Kaylasaurus has had two bullet three-furlong moves at Penn National. The most recent, August 10, was the fastest of seven and went in 34 ⅖ seconds.
[Kreiser] "said the works are great," Bushey said. "Two back I asked how the work was, and he said, 'Awesome – just what I wanted.' Staff at the barn are saying she's kicking the walls down. It feels like kind of a month between races, that's the perfect time to freshen her up and she's ready to go."
Veteran rider Horacio Karamanos has been aboard for Kaylasaurus' last four starts, including a win in the Primonetta Stakes at Laurel April 23. He'll have the call again on Tuesday.
"I feel like he's a patient rider," Bushey said of Karamanos. "She's one of those horses that you've got to let her settle in, and then you've got to get her outside and let her roll down the lane. She's a big horse; she's not a stop-and-start, push-button mare."
With ample speed signed up, she should have every shot in the Seeking the Pearl, if she's good enough.
Bush Racing Stable, a family affair involved Bushey, his brother, and his father, began as a one-horse operation at Penn National, and it has mostly, though not entirely, remained there as it has grown to have 13 horses. Though he now lives in Connecticut, Bushey grew up in Mechanicsburg, PA, he said, a town near Harrisburg where his father still lives.
Kaylasaurus is the best horse the stable has had to date, and Bushey said the plan is to race her in the fall and then, since they don't breed horses, sell her at a November breeding stock sale.
After the Seeking the Pearl, there's one more leg in the MATCH Series. The $100,000 Roamin Rachel takes place October 3 at Parx Racing. So it's perhaps a touch bittersweet to have Kaylasaurus nearing the end of her career. But at the same time, paying $25,000 for a horse who turns around and wins two stakes and is stakes-placed three additional times is the kind of home run everyone in the claiming game seeks.
"We don't get these opportunities all the time in our small claiming stable," Bushey said. "So it's fun stuff, especially for some of our partners who have been in the claiming game a long time."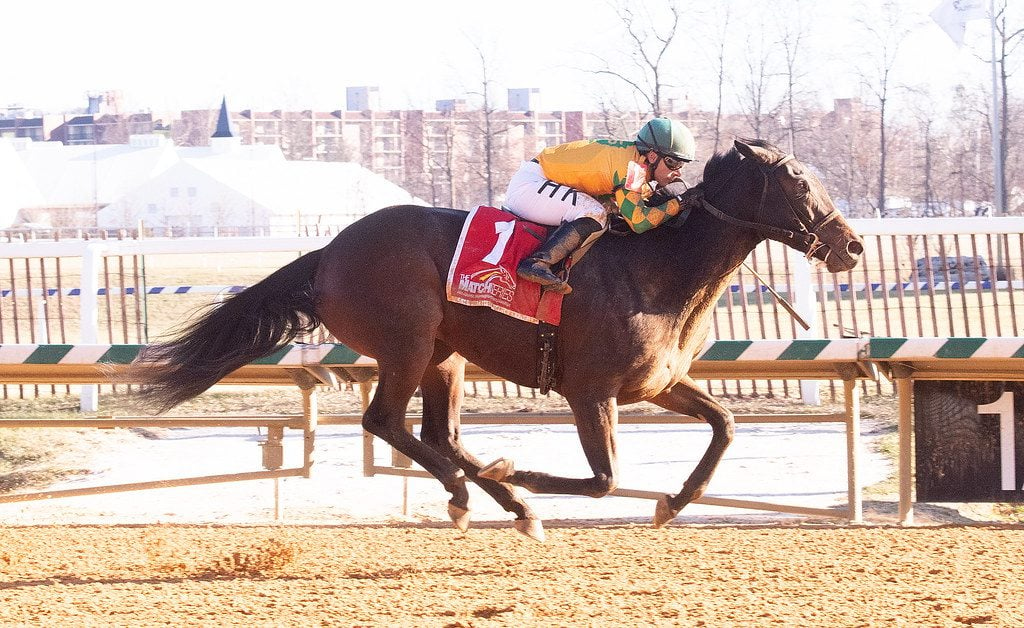 LATEST NEWS