Frank Vespe

August 16, 2022
Fille d'Esprit made 'em want to shout, but Xavier Perez shushed 'em as he crossed the wire.
Truth be told, nobody else had much to say after Fille d'Esprit overcame some trouble, barged through along the rail, and seized the $150,000 Seeking the Pearl Stakes at Colonial Downs by 1 ¼ lengths.
That effort, unleashed at generous odds of nearly 7-1, prompted Perez, Fille d'Esprit's demonstrative rider, to celebrate crossing the wire.
"I got kind of a little bit back far," Perez said afterwards. "But she grabbed the bit and took off running."
Trained by Jerry Robb for C J I Phoenix Group and his and wife Gina's No Guts No Glory Farm, Fille d'Esprit now has 10 wins from 19 career outings. Her third stakes triumph pushed her career bankroll to nearly $440,000.
The Seeking the Pearl field included Grade 1 winner Kalypso and the 5-for-5 Carribean Caper, the latter going off the 8-5 favorite in her first start in nearly a year. Fille d'Esprit broke sharply to the early advantage, but Perez was content to cede the lead to a phalanx of other runners, with Edie Meeny Miny Mo and then defending champ Cheetara in front through the first two markers.
That was exactly where Perez wanted to be and a marked contrast to her last outing. In the Alma North at Laurel Park July 16, Fille d'Esprit was fractious in the gate, bumped herself against it, and was never involved en route to a last-place finish.
Today?
"She was really quiet today," Perez said. "And as soon as the last few horses were ready to get in, [the gate crew] back it up and reset, and she was perfect."
The win also gave Fille d'Esprit, a Maryland-bred daughter of Great Notion, 10 points towards the MATCH Series division title. She now has 22, drawing her even in the sprinting filly and mare division with 22 points. Previous division leader Kaylasaurus, also with 22 points, was a vet scratch today.
Early leader Edie Meeny Mino Mo was pulled up during the running of the race and vanned off.
The Seeking the Pearl was one of four MATCH Series stakes on the Colonial card. In the others:
Didia, the tepid 3-1 favorite, rallied strongly to win the Thoroughbred Aftercare Alliance Old Nelson for fillies and mares on the turf. Ridden by Vincent Cheminaud for trainer Ignacio Correas, Didia, a Group 1 winner in her native Argentina, is now 2-for-2 in the United States.
"We have always a lot of expectations for her," Correas said. "But one thing is expectations. One thing is to translate them here. She's doing things the way we want, and we're very happy and very proud of her."
With Angel Suarez in the irons, King Vega posted a front-running, 1 1/2-length score in the Buckland Stakes going nine furlongs on the turf. Running time was 1:48.05.
Trained by Graham Motion, King Vega now has three wins from 13 career starts after earning his first stakes win. Suarez has ridden the British-bred runner three times, posting two victories.
A roughly run stretch drive in the Chesapeake Stakes saw Jalen Journey elevated to first after the disqualification of Necker Island. It was his first stakes win since last September, when he won the Grade 3 De Francis Dash, also by disqualification.
Ridden by Angel Arroyo, Jalen Journey made his first start since being claimed by owner-trainer Norman Cash for $50,000 last time out. He paid $35.20 to win, and the running time for six furlongs was a track record of 1:07.72, with Necker Island the horse who recorded that time.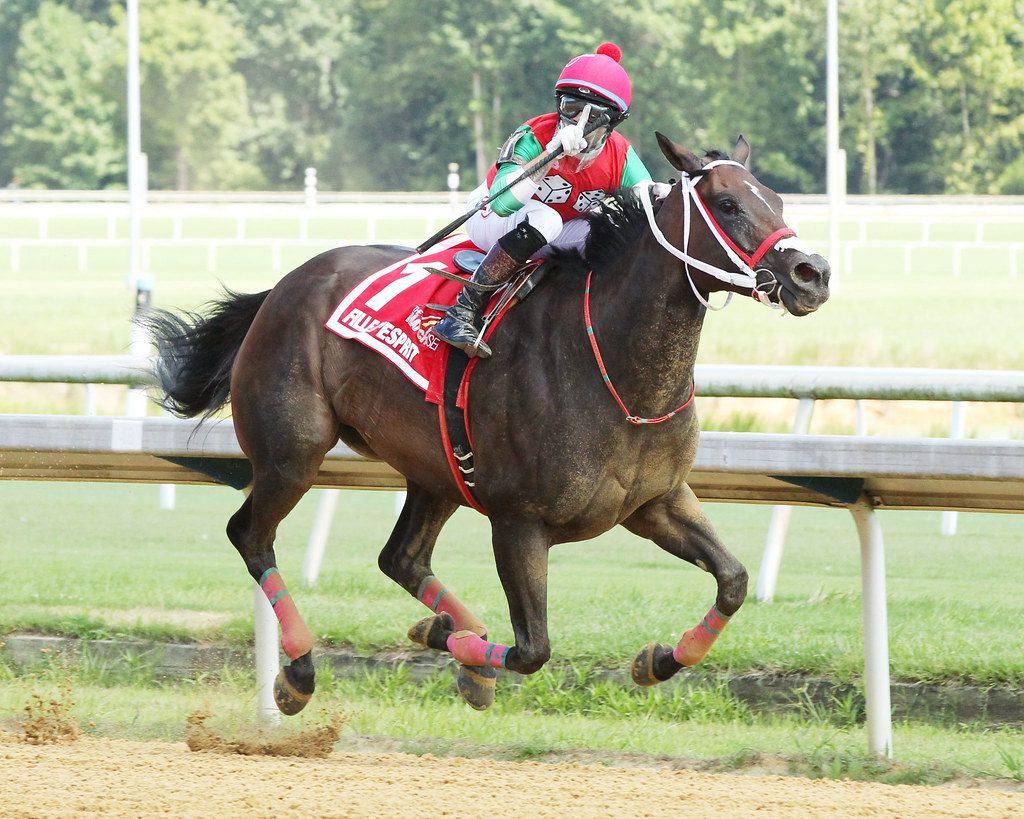 LATEST NEWS