Clean trips to stakes wins for Spun Glass, Alottahope
"He got blocked four times," trainer John Robb said of Alottahope's disappointing fifth-place finish last time out in the Concern Stakes. "He came off the rail and tried to get in the hole, gets shut off. Tried a different hole, gets shut off. He keeps getting stuck on the rail."
Not today, though.
Alottahope benefited mightily from the Robb stable's one-two punch in the Star De Naskra. Jockey Xavier Perez, aboard the Robb stable's Al Loves Josie, was away quickly to outsprint 4-5 post time favorite Super Love, who entered the contest undefeated, to the early advantage, That forced Horacio Karamanos, aboard the favorite, to steady back slightly while Perez guided his mount to the rail.
As soon as that happened, Jevian Toledo and Alottahope moved up outside to pin the favorite in. That wasn't at all where Super Love wanted to be, and after he faltered rounding the turn, he was eased to the wire. A later claim of foul by Karamanos was quickly dismissed.
Toledo and Alottahope bided their time in second, a length off Al Loves Josie through the opening half-mile in 45.53 seconds. When Toledo gave Editorial gelding his cue, he spurted away to a five-length advantage leaving the furlong grounds, and the margin just kept growing from there.
Spun Glass arrived at the Jameela with two recent troubled-trip stakes outings sandwiching an allowance victory. Last out, in the Goldwood at Monmouth Park, she had run fifth, beaten just 3 ¾ lengths, after having been strangely far off the pace.
"I don't know what [jockey Jorge Vargas] was thinking, taking her back to dead last," Spun Glass's owner-breeder Larry Johnson said of the Goldwood. "That was disappointing because she ran her heart out."
And in the May 20 The Very One, she'd encountered trouble up the backstretch and around the turn.
Today, though, she was able to rate kindly off the pace under Feargal Lynch and then shoot through between horses to win by a half-length.
"When you're a turf sprinter, it's all about the trip," Johnson noted. "I was looking forward to this. She didn't get stopped. She got through. So it was good."
A five-year-old daughter of Hard Spun trained by Mike Trombetta, Spun Glass earned her first stakes win and fifth overall. She has earned $201,099. She may next show up in a Virginia-restricted stake at Colonial Downs.
There were two other stakes on the card. In the Ben's Cat for Maryland-breds sprinting on the turf, Justwaveandsmile picked up the pieces of a speed duel between favored Grateful Bred and second choice Jaxon Traveler to win by a neck for trainer Dale Capuano and owner Steven Newby.
Justwaveandsmile earned his first stakes win and eighth win overall. It was also the first stakes win for apprentice rider Jean Alvelo.
"More than amazing, it's a dream come true," Alvelo said. "I'm more than excited."
In the featured $100,000 Deputed Testamony for three-year-olds and up on the main track, Ridin With Biden made short work of five rivals, winning the nine-furlong contest by over six lengths under jockey Frankie Pennington. Ridin With Biden is trained at Parx Racing by Butch Reid for Cash Is King LLC and LC Racing LLC.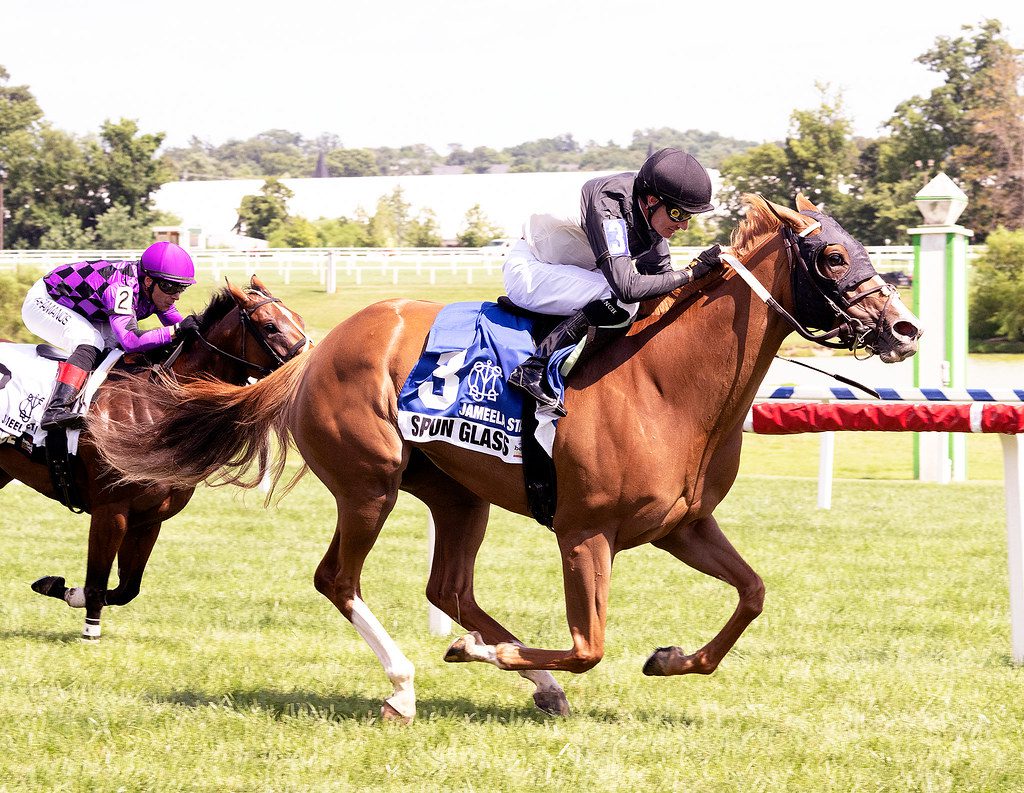 LATEST NEWS