Giving his all, Beren proves best in De Francis Dash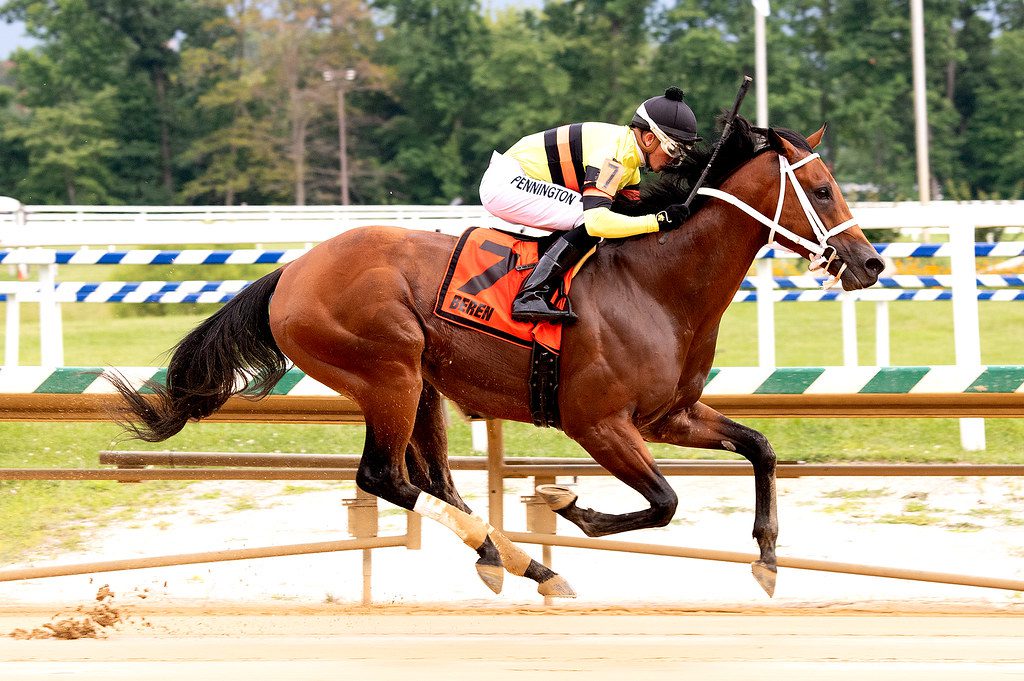 Complicating matters: Beren, an early-speed sort, was breaking between those two rivals, each of whom also has plenty of early lick.
"Our post position wasn't fabulous because we were drawn right in between those two speed horses," winning trainer Robert "Butch" Reid acknowledged.
No matter.
Under regular pilot Frankie Pennington, Beren put away both those rivals and drew off to a sharp 2 ¾-length victory in 1:09.66 for six furlongs over a muddy, sealed Laurel Park main track.
"This horse is tough," Reid said. "He gives his best every time you lead him over here. You can't ask for anything more."
The De Francis, named in honor of the late Frank De Francis, who during the 1980s co-owned Laurel and Pimlico, lost its graded status this year. Once a Grade 1 and arguably the nation's best sprint race outside of the Breeders' Cup Sprint, the De Francis had raced in recent years as a Grade 3 event.
Despite that, however, the field it drew was one of its most competitive and interesting of recent vintage. Special Reserve, arriving off a lengthy layoff, had won a pair of graded stakes in 2021 and was beaten less than three lengths when fourth in the Breeders' Cup Sprint. Wondrwherecraigis, also on the comeback trail, had been disqualified for bumping after being first past the post in this event a year ago and followed that up with a win in the Grade 3 Bold Ruler at Belmont Park.
Rounding the turn Special Reserve began to falter, and by the time there was a quarter-mile to race, it was left to Beren and Wondrwherecraigis to sort out the top spots. Beren led by a half-length in 44.78 by that point, and the rest had plenty of work to do.
"He was pulling me the whole way," Pennington recounted. "The top of the stretch, when I asked him, he took off for me, and I knew we were pretty good."
That was an understatement.
Beren drew clear to win by 2 ¾ lengths, with Wondrwherecraigis holding second, two lengths clear of Pickin' Time. Special Reserve faded to seventh.
Beren paid $15.00 to win as the third choice of the betting public. The exacta, with the 4-5 post time favorite in second, returned $15.10 for a one-dollar wager.
Beren is out of the Diamond mare Silmaril, a millionaire and multiple graded stakes winner that Feifarek co-owned and co-bred with Quick's late husband Steve. Silmaril earned her career-best victory in the 2005 Pimlico Breeders' Cup Distaff, when – also on an off track – she ran down champion and future Hall of Famer Ashado.
"We're going against the national champion, you know, so what are your chances?" Feifarek remembered. "You'd be thrilled with second, so that was the biggest win."
But Beren's win today is high on the list of Feifarek's biggest racing victories, and, just four, Beren has time to add to his already strong resume.
Silmaril was named for one of the sacred jewels whose theft helped drive the plot of the Lord of the Rings. Beren is named for a hero who recovered one of them.
And there may be more Tolkien-themed runners to come. Feifarek said that he and Quick have a yearling full brother to Beren on the farm.
"We haven't named that one yet. I got a feeling we'll aim for Tolkien," he joked. "It worked with his mother, and it worked with him, so I don't want to go to Game of Thrones."
Feifarek has other reasons to root for Beren to fatten his bankroll, which now has reached $609,420. The father of a now-adult autistic child, Feifarek and his wife donate 10% of their share of purse winnings to Itineris, a group co-founded by his wife that provides services to adults on the autism spectrum.
The winner's share of the De Francis is $82,500. Feifarek and Quick are 50-50 partners, so the donation from today's work alone will be more than $4,100.
"They're gonna be very happy to see that," Feifarek said. "That's a good fundraiser."
NOTES A pair of turf stakes on the De Francis undercard were contested over a track labeled good and playing to late runners. In the $100,000 Prince George's County, the last two horses after the opening quarter-mile hit the wire together in first and second, with English Tavern getting his nose down first. But he was disqualified for bumping rival Eons in the lane, elevating that one to the top spot. Eons was ridden by Jorge Ruiz for trainer Arnaud Delacour and owner Mark Grier and earned his second consecutive stakes win…
Bellagamba, last early in the Big Dreyfus, rallied under jockey Vincent Cheminaud to prevail by 1 ½ lengths for trainer Ignacio Correas and owner Merriebelle Stable. It was Bellagamba's first win in six North American starts…
LATEST NEWS