De Francis Dash day stakes picks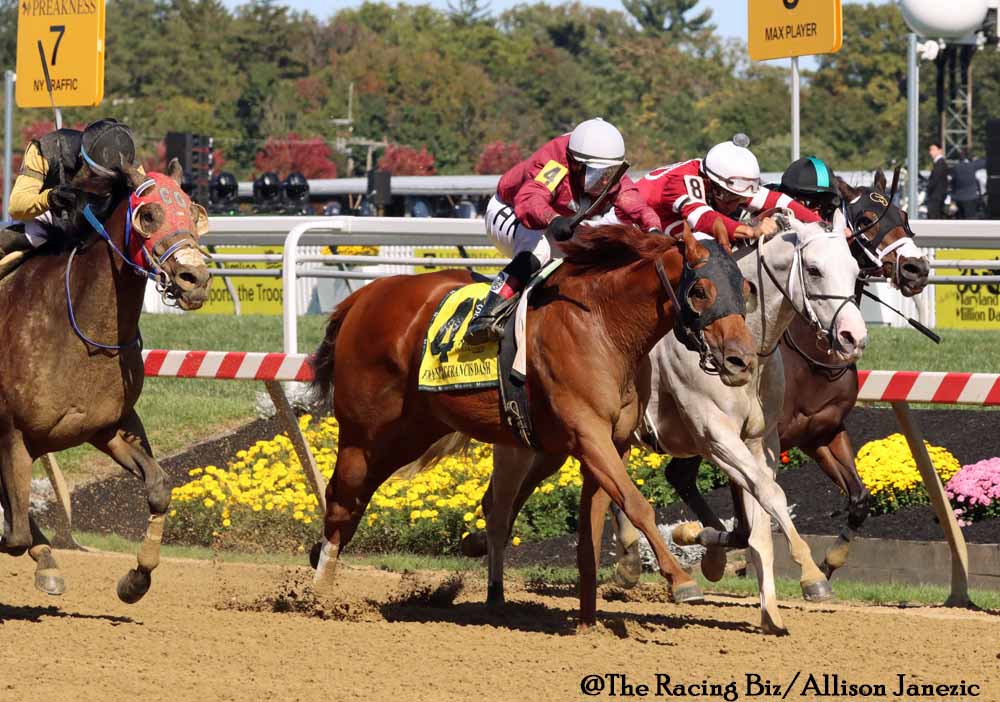 The Biz

July 16, 2022
It's De Francis Dash day Saturday at Laurel Park, and while the De Francis isn't quite the nationally significant race it once was, it's nevertheless attracted an intriguing (and speedy field). The De Francis tops four stakes on the card.
Who do our pickers like? Where's the value? Read on to find out how the big races shape up.
Prince George's County Stakes
| | | |
| --- | --- | --- |
| | John Piassek | Frank Vespe |
| 1. | #5 Beacon Hill (9-5) | #5 Beacon Hill (9-5) |
| 2. | #2 Eons (3-1) | #2 Eons (3-1) |
| 3. | #3 English Tavern (12-1) | #1 Pixelate (8-5) |
Three of these — Beacon Hill, Eons, and Pixelate — appear considerably more formidable than the others… Beacon Hill was just a nose behind Eons last time in the Bensalem, but the difference may have been a better trip for the winner. He's been sniffing around a stakes win for a while now… Eons has his moments, the Bensalem having been one of them, and will be running late — too late? English Tavern makes his third start off the bench and rallied smartly to defeat allowance foes in last… Pixelate is a multiple graded stakes winner and the most accomplished of these but will be making his first start since December…
Alma North Stakes
| | | |
| --- | --- | --- |
| | John Piassek | Frank Vespe |
| 1. | #2 Fille d'Esprit (5-2) | #5 Kaylasaurus (3-1) |
| 2. | #3 Chub Wagon (7-5) | #2 Fille d'Esprit (5-2) |
| 3. | #5 Kaylasaurus (3-1) | #3 Chub Wagon (7-5) |
The formful Fille d'Esprit ran big in last, winning the Susquehanna Valley by a couple while recording a career-topping speed fig for her ninth win from 17 starts… Kaylasaurus ran third in that same contest on a day that was tough to close. She's drawn well outside the other major players, and may sit the winning trip today… Can't fault a thing that Chub Wagon has done with 11 wins from 12 career starts. She'll make her second start following a nine-month break here, but we're not entirely sold on her return — a hard-fought win over Hey Mamaluke, previously fourth in the Susquehanna Valley, so we'll take a wait-and-see approach here…
Big Dreyfus Stakes
| | | |
| --- | --- | --- |
| | John Piassek | Frank Vespe |
| 1. | #8 Petricor (5-2) | #7 Tightly Twisted (8-1) |
| 2. | #1 Alms (7-2) | #8 Petricor (5-2) |
| 3. | #2 Deciding Vote (8-1) | #2 Deciding Vote (8-1) |
Nothing wrong with the work of Petricor. Her fourth-place finish last out in the G3 Mint Julep was perhaps better than it looks; fifth-place finisher Hendy Woods returned to win a stake in her follow-up… Tightly Twisted ran hard last time in the Neshaminy and was right there until very late. She may be able to control this in front but should have a good trip either way and is eligible to improve second time out… Alms ran OK in last, the G3 Eatontown, and last-place finisher Princess Grace bounced back to win the G3 Penny Memorial earlier this week. This one should be well positioned when the running starts… Deciding Vote won the Dahlia two back over a couple who are here, and she didn't run badly in last when fourth in the Neshaminy on a day when it seemed more advisable to be outside than inside. Though five, she's made just 13 starts and may still improve…
Frank J. De Francis Memorial Dash
| | | |
| --- | --- | --- |
| | John Piassek | Frank Vespe |
| 1. | #1 Royal Urn (20-1) | #5 Threes Over Deuces (10-1) |
| 2. | #5 Threes Over Deuces (10-1) | #8 Wondrwherecraigis (2-1) |
| 3. | #7 Beren (9-2) | #6 Special Reserve (8-5) |
The best runners in here — Wondrwherecraigis and Special Reserve — both have questions to answer returning from significant layoffs. Additionally both figure to be involved in the early running in a race that should have a lively pace, so it's not a bad shot to try to beat them… Royal Urn is an interesting horse at a decent price. He won going three quarters two back and now makes his third start off the bench. He'll need to improve to contend here, but that's not out of the realm… Threes Over Deuces ran big two back when second in the G3 Maryland Sprint and ran a sneaky good one in last when a closing fourth in the Chocolate Town; nobody was closing at Penn National that night, and none of the five six-furlong winners was more than a head behind after a half-mile. He should get a pace in here… Wondrwherecraigis took a beating in the Golden Shaheen in March but prior to that had been running lights out. He's drawn well outside and if he's right could be handful. But this will be his first start in almost four months… Beren has made a habit of running too well to lose of late, with three straight second-place finishes. He'll be gunning for the early lead but may have company up front… Special Reserve makes his first start since the Breeders' Cup Sprint, in which he finished fourth. Prior, he won the G2 Phoenix at Keeneland over next-out BC Sprint winner Aloha West. He's got the class and certainly the speed; how well does he come back after eight months away?
LATEST NEWS