Nick Papagiorgio hoping for more luck in PG County
The Biz

July 14, 2022
By age six, and after 35 starts, many horses are at the end of the racing line.
Nick Papagiorgio, on the other hand, is as good as – and may even be better than – he's ever been. The Maryland-bred Outflanker gelding won the first stake of his career last out in the Find at Laurel Park, and on Saturday he'll get his biggest test yet in the $100,000 Prince George's County Stakes, also on the Laurel lawn, at nine furlongs.
Nick Papagiorgio is 15-1 on the morning line. Horacio Karamanos has the mount for the second straight outing. His connections are hoping he, like his film namesake, gets very lucky, indeed.
"He's been doing very well," trainer Michael LeCesse said. "He had a good maintenance work last week and came out of that very good. He seems like he's ready to go again."
He'll need to be. The PG County has come up tough, with a cast featuring millionaire and multiple graded stakes winner Pixelate and the top pair from last month's $100,000 Bensalem Stakes at Parx Racing, Eons and Beacon Hill.
Louis Bisso Jr.'s Nick Papagiorgio is also entered off a stakes victory, though. On June 19 In the 1 1/16-mile Find, for Maryland-breds, Nick Papagiorgio rallied from mid-pack to get up late over last year's Find winner, Somekindofmagician, to win by a half-length.
It was Nick Papagiorgio's second start of the season. Three weeks prior to the Find, he'd finished fifth in an allowance/optional claimer on the synthetic surface at Presque Isle Downs – an outing that LeCesse said was quite beneficial to his charge.
"We put him in [an optional claimer at Presque Isle] and he got a little tired. I said this will set him up nice for the Maryland race [the Find]," LeCesse said after the Find. "I think it just depends on who's the freshest, who's doing the best at the time. And we were lucky to have a race in him."
Nick Papagiorgio made nine starts in 2021, racing from late April to late December, after having made 10 the prior year.
"I think the fact that he had a couple months off where he was able to relax and just rest and heal up everything was important," LeCesse said. "I don't know if he's ever had much time off to gather himself up."
Nick Papagiorgio has made the rounds since his 2018 debut at Laurel Park. Bred by Cynthia Pence and Phil Spingler, he began his career in Tim Keefe's Laurel Park barn but was claimed by Hugh McMahon from his ninth career outing.
More claims followed: Jamie Ness, Tim Kreiser, Ness again, Richard Vega.
Vega claimed Nick Papagiorgio for $25,000 for his own racing operation in April 2021, but ran him only once before selling him to Bisso privately. Bisso then transferred him to the Finger Lakes-based LeCesse.
"There aren't that many spots [for a horse like Nick Papagiorgio] at Finger Lakes, but Lou and I go back many years," LeCesse said. "We've had a very good relationship, and he wanted the horse up there with me."
And, of course, have horse, will travel. Since switching into LeCesse's barn, Nick Papagiorgio has made nine starts at five different tracks, winning once, finishing second in last year's Find, and compiling more than $80,000 in earnings.
Were he to win Saturday, it would be quite a feather in the cap for a horse who's run for as little as a $10,000 claiming tag.
"The time off really helped him. I think that's a big factor when get a horse that can have a little bit of a break and they can come back and be fresh and ready to go," the trainer said. "And, he's still fresh. It's only his third start. I expect him to run well."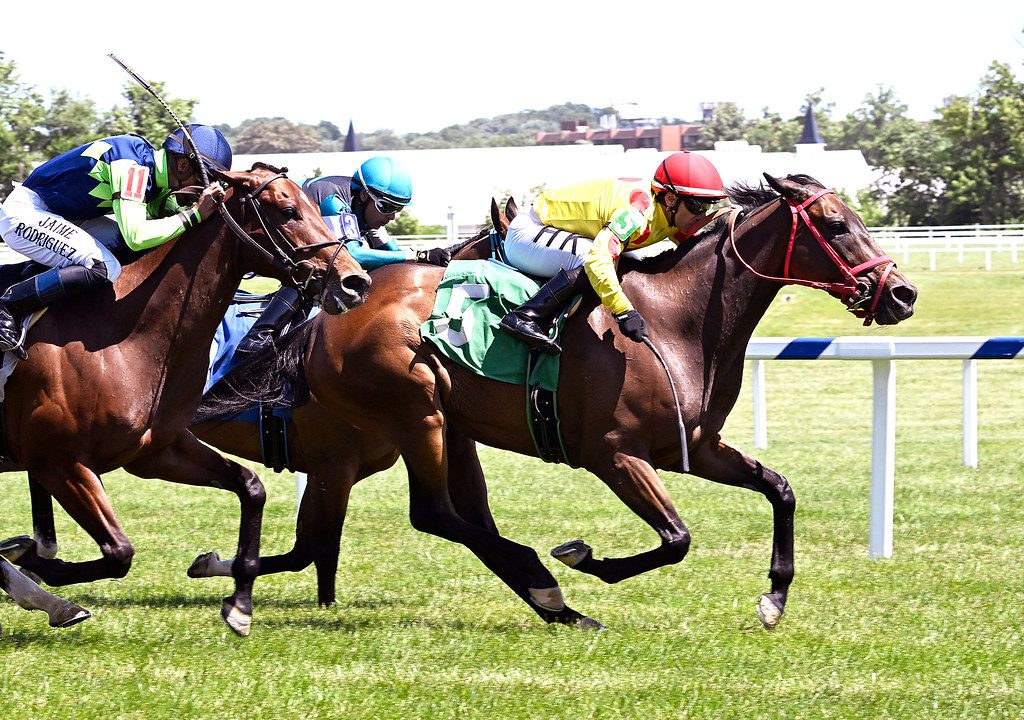 Nick Papagiorgio. Photo Jim MCCue.
LATEST NEWS