Anchor & Hope's exciting lineup includes Gun Runner brother Fortune Ticket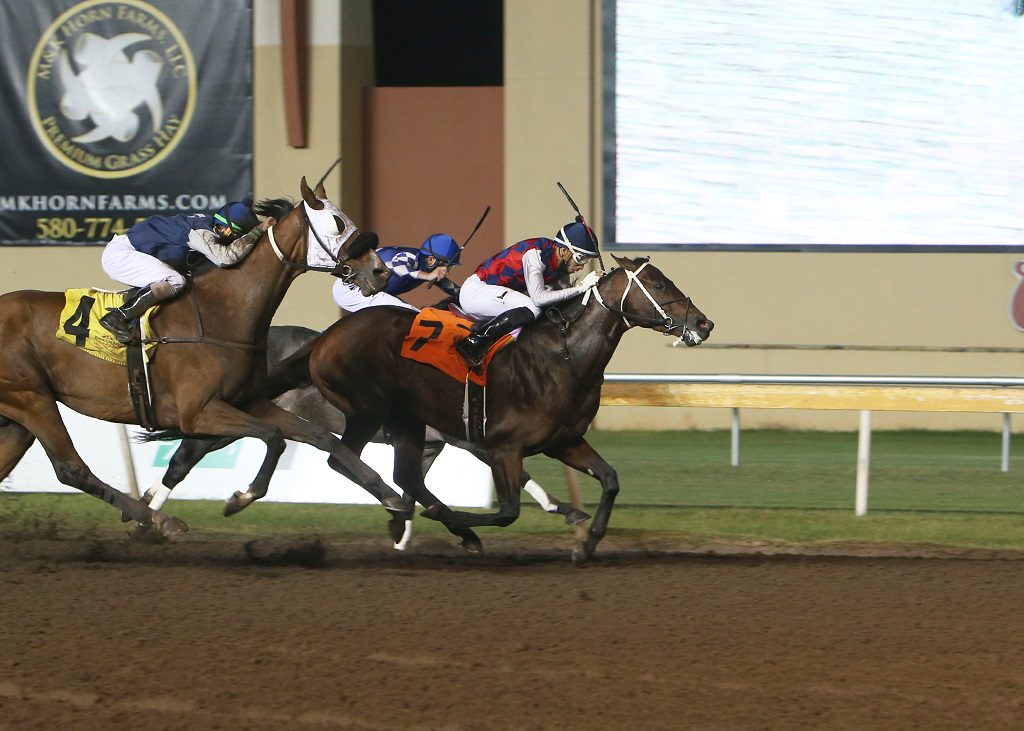 Fortune Ticket in action. Photo courtesy of Anchor and Hope Farm.
Sponsored

May 26, 2022
A sponsored post
It's no secret that Gun Runner has been wildly successful thus far in the breeding shed. A champion on the racetrack, the son of Candy Ride was the leading first crop sire last year, is the leading second-crop sire this year, and counts two-year-old filly champion Echo Zulu and Preakness winner Early Voting among his offspring.
Grace Merryman is hoping that lightning strikes a second time – with Gun Runner's younger full brother, Fortune Ticket.
Merryman and her husband Louis own Maryland's Anchor and Hope Farm, where Fortune Ticket is one of their half-dozen stallions.
"He's been hugely popular with people who see the opportunity to breed to Gun Runner's full brother for certainly a fraction of the price," Merryman said.
While Gun Runner stands for $125,000, Fortune Ticket's fee is just $2,500, stands and nurses. Now five years old, Fortune Ticket won two of seven career starts.
"He's a really neat horse to be around," Merryman said. "He's an absolute dead ringer for Candy Ride. It's kind of remarkable. So you're getting the Gun Runner pedigree with this clone of Candy Ride."
Fortune Ticket is not the only relative newcomer on the grounds. The regally bred Long River's oldest offspring are two-year-olds this year, and with two-year-old racing just underway, Merryman's hopeful she'll be seeing some of his kids on the track soon.
"We are really kind of counting down the days until the first two-year-old races," she said. "We love it when the first crop of two-year-olds get to the track and there's buzz about them and people are booking mares and looking to buy and hoping we have two-year-olds. It's kind of that culmination of all this effort."
Eight of Long River's yearlings went through the ring in last fall's Fasig-Tipton Midlantic yearling sale, and all eight sold, commanding an average price of $23,500 – top numbers for a first-crop regional stallion.
Long River certainly has all the markers of a quality stallion. As a racehorse, he was a Group 1 winner in Dubai and Grade 1-placed – in the Jockey Club Gold Cup – in the United States en route to nearly $800,000 in career earnings.
He's by the late leading sire A. P. Indy and out of the Awesome Again mare Round Pond. Round Pond made just less than $2 million on the track and sold as a broodmare for nearly $6 million.
"There's great feedback about him, and from what we are hearing, we're really really excited for his runners," Merryman said. "I think he's going to prove that he's absolutely worth it."
The Anchor and Hope roster isn't all newcomers, though. The farm also stands a pair of second-crop sires in Editorial and Holy Boss.
Holy Boss, a son of Street Boss, was the Mid-Atlantic's second-leading first crop sire in 2021. His leading runners included two-time winners Vance Scholars and Sparkle Sprinkle. Sparkle Sprinkle finished third in last fall's Maryland Million Lassie.
As a racehorse, Holy Boss was a speedy sprinter and counted the Grade 2 Amsterdam among his six triumphs. He earned more than $770,000 in his career.
"What we've seen is that a lot of the Holy Boss offspring are just mirror images of him," Merryman said. "They're kind of big, grand horses that need a little bit of extra time to develop, and there's people that like them and are willing to give them that time. And now that they've grown into these big, grand frames, they're coming on strong."
Editorial is a son of War Front and a half-brother to Uncle Mo. But his career got off to an unexpected start. When international borders closed at the beginning of the Covid-19 pandemic, Editorial was in Peru. Forced to stay there, he missed a US breeding season altogether. 
As a result, he's had only a relative handful of runners. But the few he's had have shown real quality. Two of his – My Thoughts and Alottahope – are stakes-placed. My Thoughts ran second in last fall's Maryland Million Lassie, while Alottahope finished second in the Maryland Juvenile Championship. No Midlantic first-crop sire had more black-type horses last year than did Editorial.
"He's done his job. He's proved that he has these quality runners," Merryman said of Editorial. "There are really smart, educated, successful people that are breeding to him now, because they believe he has every right to keep going the way he has been."
Anchor and Hope also stands two quality veteran sires in Bourbon Courage and Imagining. 
Bourbon Courage's son Fortheluvofbourbon logged the second stakes win of his career April 25 when he scored in the Page McKenney Handicap at Parx Racing. He's also the sire of the graded stakes-placed Double Crown and Raging Whiskey, both graded stakes-placed.
"He's had horses all across the country, from Santa Anita to Saratoga to Gulfstream and everywhere in between," Merryman said. "He's really proven himself that he can compete on that national level."
Imagining's top runner is Monday Morning Qb, winner of the 2020 Maryland Million Classic and subsequently second in the Grade 3 Discovery Stakes. He missed the 2021 season but has recently returned to training. 
Imagining's runners have averaged over $18,300 in earnings thus far this season; only three of the other sires in the Midlantic top 20 have higher averages.
"To me, he's so interesting because he complements so many different types of mares," Merryman said. "All aspects of his breeding, his pedigree, his conformation really shine through."
With a bevy of quality runners by their stallions in training, plus two-year-olds soon to hit the track and a promising new stallion in the barn, these are exciting times at Anchor and Hope.
"It's so hard to describe because I think everyone kind of expects heartbreak in this game," said Merryman. "But you put in so much effort, you do your due diligence, you get mares to them, you've gotten them this far – and now we can't wait to see them thrive."
LATEST NEWS