For Rombauer's people, the changing of the colors awaits
Nick Hahn

May 21, 2022
It will be a bittersweet moment for John and Diane Fradkin as the sun sets at Old Hilltop Preakness evening. The infield weathervane erected on top of the supola will get a new coat of paint, replacing their colors, painted there a year ago after Rombauer's win in the Preakness.
"That was probably my favorite part," Diane Fradkin said.
HISA drug rules take effect

A flurry of dueling press releases heralded the onset Monday of the Horseracing Integrity and Safety Authority's (HISA) new drug rules.
In last year's Preakness, little-known Rombauer (11-1) with Flavien Prat aboard stunned a preoccupied Triple Crown world in romping home to a 3 1/2-length win over Midnight Bourbon and then Kentucky Derby winner Medina Spirit. In an instant, the Fradkins more than tripled the career earnings under their silks and became part of Preakness longshot lure.
"It's been a heck of a year. It does sadden us to see those silks get painted over into a different color, but hey, it's part of the tradition and it's kind of a fun tradition," Diane added.
With the new Preakness upon the racing world, this past week the display of the Fradkin's pink and white silks soared in countless marketing materials, news stories and websites, a sleepy reward of winning the Preakness the previous year. The little-known benefit may have been lost to previous Preakness winners, but the Fradkins appreciate and embrace it and will enjoy their turn on the weathervane as long as it lasts.
Out of the Preakness Rombauer ran well back in third in the Belmont Stakes behind Essential Quality and Hot Rod Charlie. The Belmont Stakes would be his last race. Assessing that Rombauer needed a little rest, the Fradkins brought him back to California and laid him up for 90 days.
In returning him to training under Michael McCarthy who conditioned the Preakness win, Rombauer developed a soft tissue injury, compromising his four year old year. The Fradkins decided it would be best to retire Rombauer, who with $1,040,500 earned has generated more than three times the combined earnings of their entire stable at that time. News that led to the decision of his retirement came on New Year's Eve, a bit late to make arrangements to get started for his second career as a stallion.
For the last five months, Rombauer has been at WinSstar Farm in Kentucky. The Fradkins consider WinStar to be a central location with awesome facilities that does great rehab work. It's also a good location where he can be evaluated for the 2023 breeding season. They visited him last month.
Earlier this month the Fradkins watched as a longer shot shook up the Triple Crown world when Rich Strike won the Kentucky Derby at 80-1. As long shot winners themselves, they were impressed.
"I thought it was fabulous," said Diane Fradkin. "It's good when the little guys win because it gives hopes and dreams to others and it's not the bluebloods, the people that dominate, the people that spend a lot of money buying horses. When you have the unknown like Rich Strike or us with Rombauer, it provides a good story line."
"I think it is good for the game when the little guy wins the big one every once in a while," agreed John. "The Triple Crown is probably the place where the little guy has a better than normal chance because of the timing. These three-year-olds are changing. You never really know where they are going to change and move forward. It happened to Rombauer."
John is committed to his on-line research not only of breeding but also of handicapping. It didn't take an expert to assess Rombauer's chances in last year's Preakness, but let's use John's self-handicapping to summarize the chances of the horse in pink and white silks.
"I really didn't think we had a chance to win."
John's self-handicapping was very logical, pointing out that prior to last year's Preakness Rombauer's best speed figures were 85 using Beyers and 5 on Thorograph. In the Preakness he improved to 102 on Beyers and 0 on Thorograph.
Sometimes that happens.
"It certainly happened this year in the Derby with Rich Strike," John said. "That horse made even a bigger move forward than we did last year. It's a great story and it will happen again. You don't see those gigantic moves forward but spring of their 3-year-old year, you certainly do see it."
Rich Strike's dramatic Derby win left him as the only candidate to carry the Triple Crown flag to Baltimore for the race the Fradkins won, possibly replacing their pink and white colors on the weather vane for red and white of Rick Dawson, the owner of Rich Strike.
However, Dawson and trainer Eric Reed didn't pick up the banner for the Preakness. It was a decision that the Fradkins, who passed on the Derby last year to come to Baltimore, applaud.
"I thought it was a very good decision," said John. "I would have made the same decision. That horse's chances of winning the Preakness were very low. He's got the wrong style to win the Preakness."
Fradkin, the handicapper, thinks that the shorter field of the Preakness would actually be a detriment to Rich Strike's style. Fewer horses, less pace, especially apparent when studying the past performances.
"That horse likes to come from way behind and there probably won't be nearly as much pace," comments John. "Coming back in two weeks is just not a normal thing to do. Easy to make a bad decision when you're on top of the world. I think these guys thought about it for a while and said 'This in the best interest of our horse.'
"I think this will give their horse the best chance for a long career," he added. "You want to be healthy for the future. It's not just about the Triple Crown."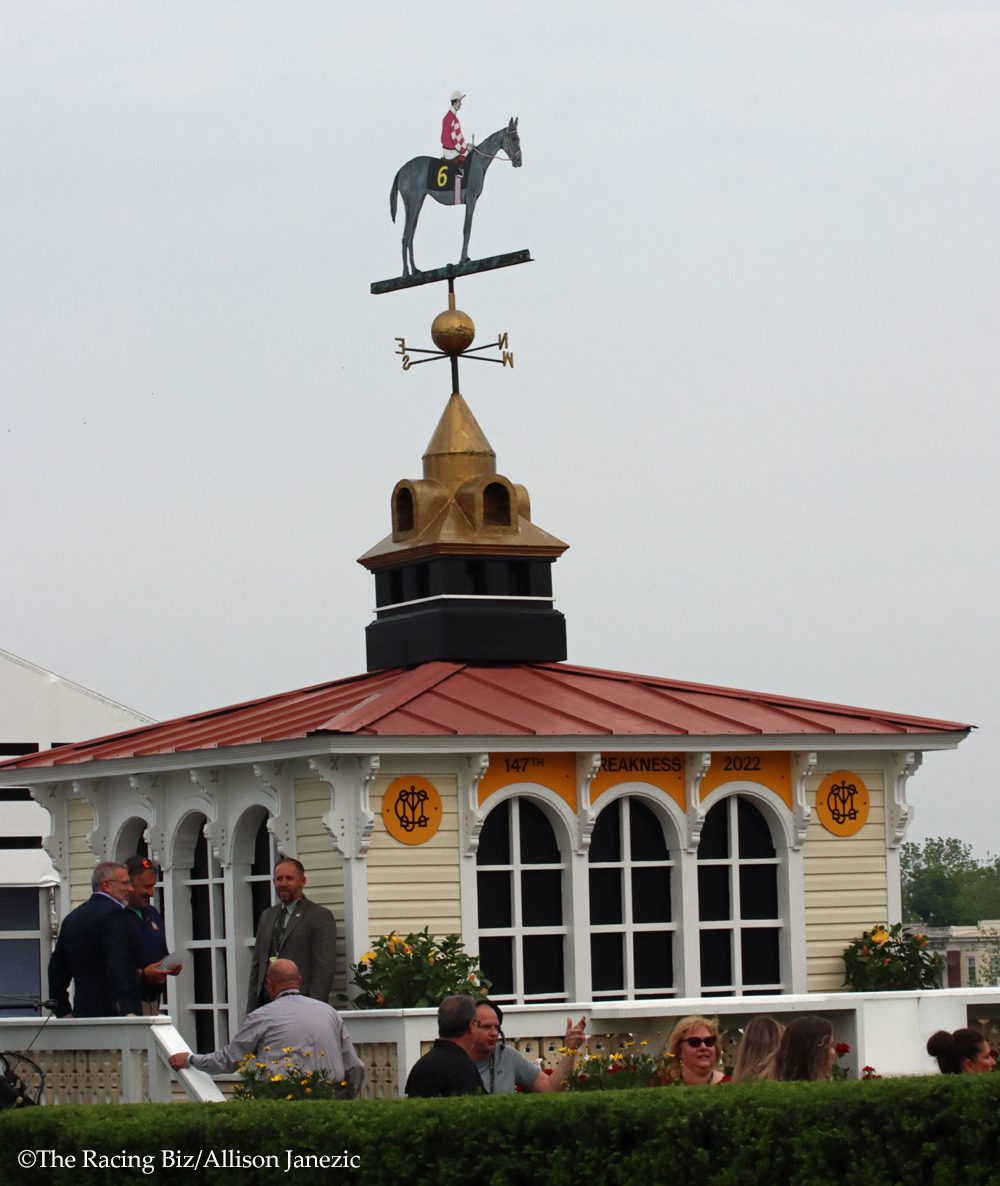 Pimlico cupola weathervane with Rombauer's colors. Photo by Allison Janezic.
The Fradkins know a little about letting the big race opportunity pass by. Rombauer with 34 points in the Kentucky Derby standings last year, might have slipped into the field as Rich Strike did this year. Hidden Stash, with 32 points, did make the 2021 Kentucky Derby field.
As for the Preakness this year, the field does not include any of the automatic entries from races in the spring. In winning the El Camino Real Derby at Golden Gate, Rombauer's destiny was set.
"Once we had it, it made us think about the Preakness a little bit more. It did pay a role in why we went," said John, though…"We might have gone anyway. I was pretty strong about not going to the Kentucky Derby last year. I did not think we had a chance to be in the top three."
The automatic bid for the Preakness just made that decision nearly automatic.
When the new colors are painted on the weathervane, the Fradkins favor red-and-white, not for Rich Strike but for Early Voting, whom they see as doing "the Rombauer move" in passing on the Kentucky Derby in lieu of the Preakness, a race the Fradkins, like Early Voting's owner Seth Klarman, have always been enamored with.
Several years ago, the Fradkins attended a party at Darley (apparently woefully underdressed) and saw the beautiful Woodlawn Vase that Bernardini had won, which only added to their reverence for the Preakness.
Now they own a replica of the Woodlawn Vase, made of sterling silver which was mailed to their house about a month after the race.
"Of all three races, for whatever reason, I was always drawn to the Preakness and the painting of the weathervane, the Woodlawn vase," Diane said. "And to actually have a horse that we bred and still own run in that, now I can reflect after the year. It was almost unbelievable."
LATEST NEWS