Off to the Races Radio: Eric Reed featured
The Biz

May 13, 2022
Off to the Races Radio presented by The Racing Biz returns May 14 as its 25th season rolls on.
The one-hour program will air each Saturday morning at 10:00 a.m. on ESPN Richmond (106.1 FM) and via livestreaming. It will feature news and conversation about Thoroughbred racing and breeding in Virginia, around the Mid-Atlantic, and across the nation.
FTC urged to reject HISA rules

Ten members of Congress — five Senators and five Representatives – have urged the FTC to reject HISA's proposed drug rules
Nick Hahn will host with support from Frank Vespe. Derby Bill Watson will join each week to provide his handicapping insights and special brand of humor.
"We're thrilled to have Off to the Races back on the air," said Frank Vespe, owner and publisher of The Racing Biz, which presents the program. "We're looking forward to another season filled with great guests, good banter, and plenty of laughs."
Saturday's show will feature plenty of Triple Crown trail talk. We'll visit with Kentucky Derby-winning trainer Eric Reed, whose 80-1 outsider Rich Strike managed two shockers this week, first winning the Kentucky Derby and then when the connections decided to bypass the Preakness.
Also on the agenda is a conversation with Deborah Greene. She co-bred and co-owns G2 Black-Eyed Susan Stakes hopeful Luna Belle, winner of five consecutive stakes. Also scheduled to be on the show Saturday are visits from Darrell Wood and Derby Bill Watson.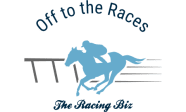 Sponsors include the Virginia Thoroughbred Association, Virginia Equine Alliance, Maryland Jockey Club, Charles Town Races, and others.
"We appreciate our sponsors who support Off to the Races," Vespe said. "And we especially appreciate all of our listeners."
Each week's show will be archived on TheRacingBiz.com.
LATEST NEWS