Alexis's Storm romps in first Maryland 2yo race of '22
Frank Vespe

April 30, 2022
The A. P. Warrior mare Cherie's A. P. is the dam of three horses to race, and all three won their career debuts. Alexis's Storm completed the hat track April 30 at Laurel Park when she romped to a 4 ¼-length victory in Maryland's first two-year-old race of the year.
"They've all had good minds and been very precocious," said winning trainer Chuck Lawrence, who trained Cherie's A. P. and all three of her racers for owner Matthew Schera. "This filly from day one has always looked like an athlete and had a great mind."
With seven-pound bug rider Jeiron Barbosa in the irons, Alexis's Storm broke alertly to press the pace set by Cocktail Dreaming just to that one's outside. Those two were just heads apart through an opening quarter-mile in 24.56 seconds over a fast main track. 
Alexis's Storm took command entering the stretch and drew away to win in 54.27 seconds for the 4 ½-furlong trip. Cocktail Dreaming held second, and it was almost 10 more lengths farther back to show horse Galactic Tide.
Barbosa promptly completed the early double, getting Baptize the Boy up late to win the second race. Barbosa entered the day with four more wins than any other rider.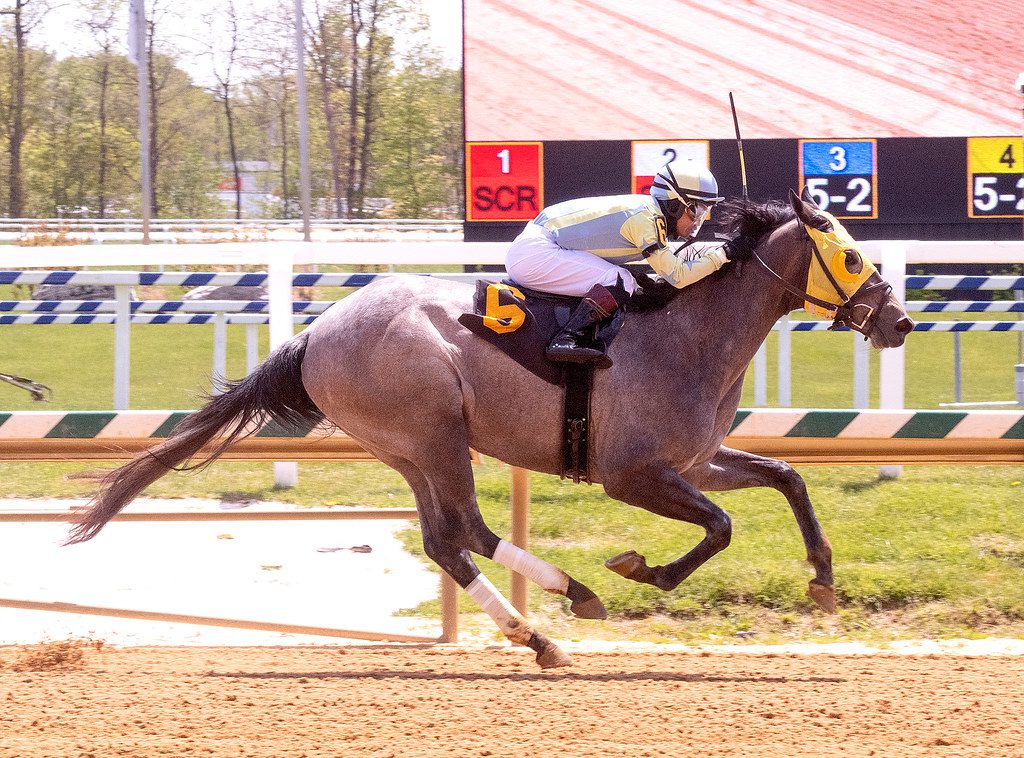 "I've been impressed with his riding," Lawrence said of Barbosa. "And I thought it would be a hell of an advantage to have the seven pounds off."
Perhaps so, but as Lawrence acknowledged, she may not have needed it in this contest. That perhaps was made even more true when morning line favorite Tappin Josie reared while coming onto the racetrack, threw rider Xavier Perez, got loose and ran off.
Tappin Josie was soon corralled and Perez walked off under his own power and remained on his mounts afterwards, but Tappin Josie had to be scratched.
Two-year-olds being, well, two-year-olds.
Lawrence said he'd entered Alexis's Storm in New York multiple times in races that did not fill. He skipped the two two-year-old races earlier this week at Parx Racing because they were two-furlong contests.
"For me personally, it's kind of like getting a two-year-old out of the two-year-old sale," Lawrence said of the two-furlong races. "Their minds are fried because they're taught nothing but speed."
A grey daughter of Race Day, Alexis's Storm was bred in Kentucky by Schera. Taking advantage of location – Lawrence's operation is based at Fair Hill, and his mother has a farm in Marshall, VA – Alexis's Storm is both Delaware certified and Virginia certified.
So she'll have options. That'll be an asset when tracks start writing races for two-year-old winners, but it may be a while; fewer than 20 two-year-olds nationwide have broken their maidens to date, according to Equibase.
But that's OK by Lawrence.
"That not a bad thing," he said. "We'll back off her and let her grow up a little bit."
FROM OUR SOCIAL MEDIA – PHOTOS OF THE FIRST 2YO RACE
LATEST NEWS