Three punch Kentucky Derby tix on final big prep day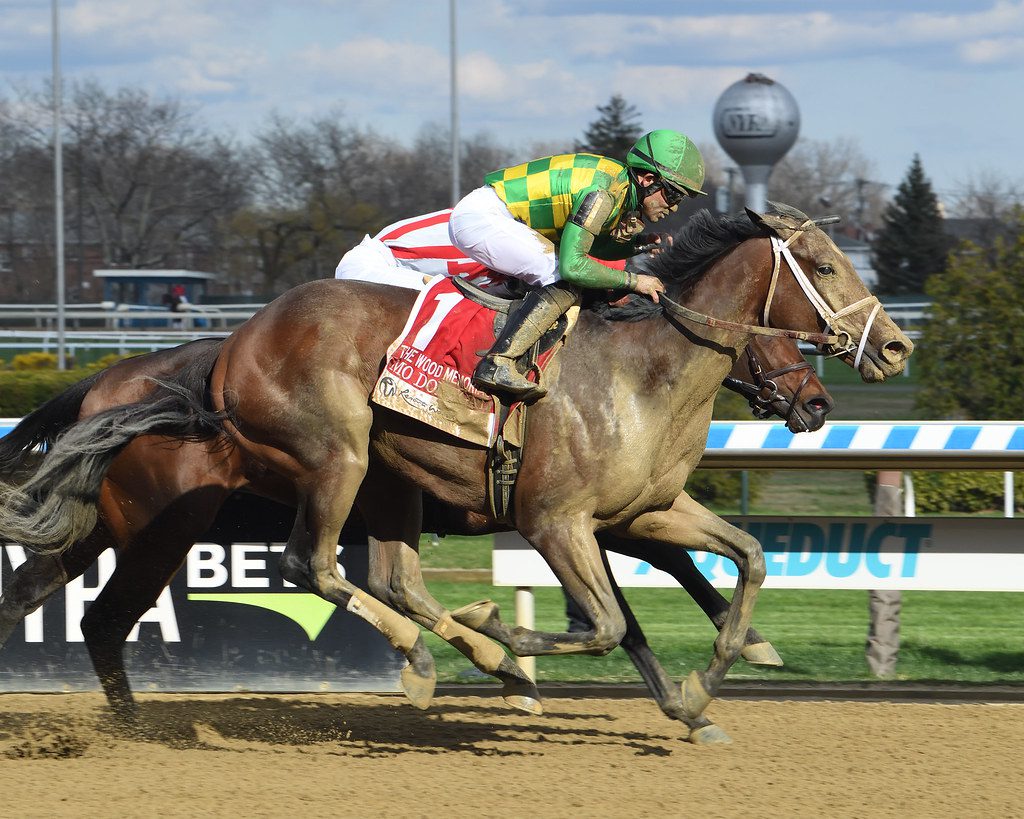 Frank Vespe

April 10, 2022
Favorites struck out in a trio of Saturday prep races for the Kentucky Derby. But that doesn't equate to longshots ruling the day.
Zandon and Mo Donegal both rallied from last, winning the Blue Grass Stakes at Keeneland and the Wood Memorial at Aqueduct, respectively. And at Santa Anita, Taiba stalked the pace from third before powering home two lengths clear. None was more than 4.30-1 at post time.
Zandon might have been the most impressive of the group. The Chad Brown trainee was last after three-quarters of a mile, and under jockey Flavien Prat, the Upstart colt had to pick his way through plentiful traffic before surging clear in mid-stretch. He went on to win by 2 1/2 lengths over post-time favorite Smile Happy, while early leader Emmanuel held third.
BLUE GRASS STAKES VIDEO
The win was Zandon's second from four career starts and pushed his career earnings to $713,000. It also gave him 100 points towards the Kentucky Derby, pushing his total to 114 and assuring him a spot in the Churchill starting gate.
Also picking up Derby points were Smile Happy, Emmanuel, and longshot fourth-place finisher Golden Glider. With 70 points, Smile Happy is also assured a Derby spot, but, barring sufficient defections, Emmanuel's 25 may leave him on the outside looking in.
Mo Donegal also impressed in the Grade 2 Wood Memorial, running down Early Voting late to win by a neck. The Todd Pletcher trainee now has three wins and $621,800 in career earnings from five outings. He also has 112 Derby points, tied for third most; Epicenter leads with 164, while Zandon is second. Joel Rosario had the mount.
"I thought he ran a great race. It didn't really unfold the way we thought it would," said Pletcher. "When Steve's horse [the Steve Asmussen-trained Morello, who went off the favorite] didn't get away well, I was worried the fractions were a little soft but he was able to overcome that and come with a big run. I think he got his last quarter-mile in 23.69 which is pretty impressive. He was resolute. He kept coming and I was thrilled to see him get there."
WOOD MEMORIAL VIDEO
Early Voting earned 40 points, lifting his total to 50 and assuring him a Derby spot. Neither show horse Skippylongstocking (20 total Derby points) nor place horse A. P.'s Secret is likely to land in the Kentucky Derby.
Out West, Taiba scored a mild upset under Hall of Fame rider Mike Smith, while post-time Forbidden Kingdom stopped badly and faded to last. Taiba, recent transferred from the suspended Bob Baffert to the barn of Tim Yakteen, led a Baffert-to-Yakteen exacta, overhauling Messier to win by 2 1/4 lengths.
Taiba is now 2-for-2 in his brief career and has earned 100 Derby points. Messier, who won the Robert B. Lewis Stakes in February but did not receive any points because at the time he was trained by Baffert, now has 40 points, which puts him on the Derby bubble. Show horse Happy Jack has 30 points.
SANTA ANITA DERBY VIDEO
"These two horses represented me unbelievably in this race and I'm just absolutely thrilled, floored with the effort that Taiba put forth," Yakteen said. "That was a sensational race, he's just a super horse."
Kentucky Derby Points Leaderboard
| | | |
| --- | --- | --- |
| RANK | HORSE INFO | POINTS |
| 1 | Epicenter (KY) / T: Steve Asmussen / O: Westwind Farms | 164 |
| 2 | Zandon (KY) / T: Chad Brown / O: Jeff Drown | 114 |
| 3 | White Abarrio (KY) / T: Saffie Joseph Jr. / O: C2 Racing Stable LLC and La Milagrosa Stable, LLC | 112 |
| 4 | Mo Donegal (KY) / T: Todd Pletcher / O: Donegal Racing | 112 |
| 5 | Tiz the Bomb (KY) / T: Kenny McPeek / O: Magdalena Racing | 110 |
| 6 | Taiba (KY) / T: Tim Yakteen / O: Zedan Racing Stables Inc. | 100 |
| 7 | Cyberknife (KY) / T: Brad Cox / O: Gold Square LLC | 100 |
| 8 | Crown Pride (Jpn) / T: Koichi Shintani / O: Teruya Yoshida | 100 |
| 9 | Simplification (FL) / T: Antonio Sano / O: Tami Bobo | 74 |
| 10 | Smile Happy (KY) / T: Kenny McPeek / O: Lucky Seven Stable | 70 |
| 11 | Classic Causeway (KY) / T: Brian Lynch / O: Kentucky West Racing LLC & Clarke Cooper | 66 |
| 12 | Slow Down Andy (CA) / T: Doug O'Neill / O: Reddam Racing LLC | 60 |
| 13 | Barber Road (KY) / T: John Ortiz / O: WSS Racing LLC | 58 |
| 14 | Un Ojo (NY) / T: Anthony Dutrow / O: Cypress Creek Equine | 54 |
| 15 | Morello (KY) / T: Steve Asmussen / O: Blue Lion Thoroughbreds, Craig Taylor, and Diamond T Racing | 50 |
| 16 | Forbidden Kingdom (KY) / T: Richard Mandella / O: MyRacehorse and Spendthrift Farm LLC | 50 |
| 17 | Early Voting (KY) / T: Chad Brown / O: Klaravich Stables Inc. | 50 |
| 18 | Zozos (KY) / T: Brad Cox / O: Barry and Joni Butzow | 40 |
| 19 | Tawny Port (KY) / T: Brad Cox / O: Peachtree Stable | 40 |
| 20 | Summer Is Tomorrow (KY) / T: Bhupat Seemar / O: Michael H. Burke and Negar Burke | 40 |
| 21 | Messier (ON) / T: Tim Yakteen / O: SF Racing LLC et al | 40 |
| 22 | Charge It (KY) / T: Todd Pletcher / O: Whisper Hill Farm LLC | 40 |
LATEST NEWS