Off to the Races Radio: Derby preps featured
Press Release

April 1, 2022
Off to the Races Radio presented by The Racing Biz returns April 2 as its 25th season rolls on.
The one-hour program will air each Saturday morning at 10:00 a.m. on ESPN Richmond (106.1 FM) and via livestreaming. It will feature news and conversation about Thoroughbred racing and breeding in Virginia, around the Mid-Atlantic, and across the nation.
Nick Hahn will host with support from Frank Vespe. Derby Bill Watson will join each week to provide his handicapping insights and special brand of humor.
"We're thrilled to have Off to the Races back on the air," said Frank Vespe, owner and publisher of The Racing Biz, which presents the program. "We're looking forward to another season filled with great guests, good banter, and plenty of laughs."
Saturday's show will feature visits from Darren Rogers and Seth Merrow. Rogers is Churchill Downs's Sr. Director of Media Services. Merrow is an on-air host for Capital OTB in upstate New York.
Saturday brings three key Kentucky Derby prep races: the Florida Derby, Arkansas Derby, and Jeff Ruby Steaks. All three offer 170 points to the top finishers in a 100-40-20-10 configuration. Rogers will help us make sense of the landscape, while Merrow is on-site at Gulfstream Park for Saturday's Florida Derby.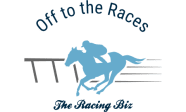 Sponsors include the Virginia Thoroughbred Association, Virginia Equine Alliance, Maryland Jockey Club, Charles Town Races, and others.
"We appreciate our sponsors who support Off to the Races," Vespe said. "And we especially appreciate all of our listeners."
Each week's show will be archived on TheRacingBiz.com.
LATEST NEWS