Art of Racing winner named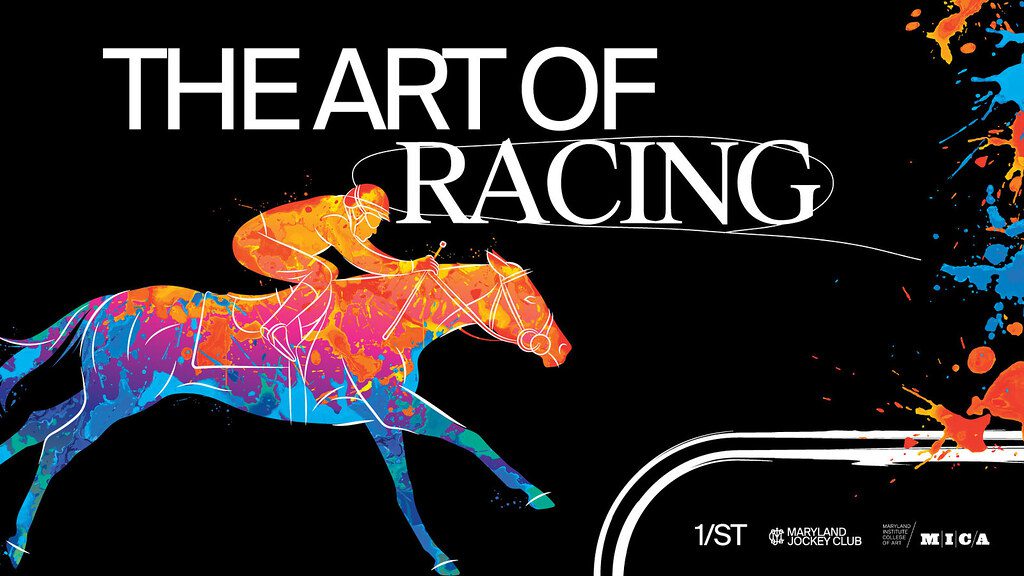 Press Release

March 26, 2022
Theresia Zhang of China, a junior at the Maryland Institute College of Art, was honored Friday as winner of The Art of Racing, a unique competition presented by 1/ST and the Maryland Jockey Club in partnership with MICA to honor the Preakness Stakes (G1), Middle Jewel of Thoroughbred racing's Triple Crown, and its impact on Baltimore.
Friday's presentation was made in the lobby of Brown Center's Falvey Hall, a 520-seat theater that serves as a venue for intellectual and cultural life on MICA's campus, located at 1301 West Mt. Royal Ave.
A total of 147 entries of original, two-dimensional visual art that depict the unique elements of Thoroughbred racing and the Preakness Stakes were submitted for the contest. The Preakness, for 3-year-olds, will be run for the 147th time Saturday, May 21 at historic Pimlico Race Course.
Depicted from above and titled "Speed," Zhang's winning entry shows horse and jockey in synchronized motion and wearing matching colors as they blend into a single moving object.
"I intentionally illustrate the velocity of the horse race and the tension between the determined rider, horse and the victory through a slow motion-like shot," Zhang wrote in her description which accompanied the piece. "Textures are used to mimic painting style while keeping it realistic and believable. The figure can be detached from the background."
Zhang donated part of her $4,000 stipend for winning the contest to the Park Heights Renaissance (PHR). The winning artwork will be reproduced and available for sale during the Preakness, with proceeds benefiting PHR.
The Preakness and MICA have an illustrious history dating back to the 1970s, when then-MICA professor Raoul Middleman led his classes in painting murals of Pimlico. The seven murals Middleman created with his students live in perpetuity behind the track's grandstand and provide an intimate look at a tradition defined by history and character.
Contest winner Theresia Zhang: "My biggest inspiration behind the piece is how people have the same philosophy as life as in horse racing, that people are always chasing each other and you never know if you're going to win until your nose touches the finish line. This is how I put my full emotion into the painting, so that everyone can see themselves when they are working so hard and their muscles are tense, they are holding their breath and doing their best to win the race. The Preakness has a long history and is deep into the community of Baltimore. They are also working with non-profit organizations to help the locals, and I am glad that I can help."
MICA President Sammy Hoi: "I have juried many, many competitions in my work life and usually it runs the gamut from anyone just doing a doodle to really high quality. What astounds me about this particular group of entries is that there's such a strong threshold of quality. If you look at the 147, I would say more than 100 of them you could imagine as a winning piece. I've never seen an open competition from a community of that kind of caliber. Of course many of my students participated, so we did raise the bar, but many, many community members participated, too. It speaks to me about the talent, enthusiasm and the pride of the city. I truly believe that creativity is innate to everyone. If you have the energy and the passion, the best of you will come through your art. I think the fact that the quality of the art is so high speaks a lot about the city of Baltimore, the talent that we have in Baltimore, and also what people think of Pimlico and the ownership of this event."
Baltimore Mayor Brandon Scott: "To have 147 entries as we're celebrating 147 years of Preakness is great. But when you look at these pieces of art from people all over – from MICA, all over the city, all over the state – it's such a great way to honor a new tradition as we go into building a new Pimlico and a new Preakness for Park Heights and all of Maryland and all over the world. What a way to kick it off. Not only am I from Park Heights, I was a founding board member of Park Heights Renaissance. So, when you talk about an organization like PHR that's working every day to help save lives, help families stay in their homes, cleaning up the neighborhood, working with redevelopment in the neighborhood, all of those proceeds are going to go to building a better Park Heights. We know that we can't just renovate the racetrack. We have to build the neighborhood up, and now we're connecting the two in such a great way. We couldn't think of a better way to spend that money. We're really excited about this year as we come out of the pandemic, really to be back into a normal Preakness. We know what a great day it is, when you talk about the horse racing, the music, seeing friends, interacting with people, catching up, the memories that are created there. We're looking forward to expanding that this year and can't wait for May to get here."
LATEST NEWS