For Eric and Nancy Rizer, racing's a family affair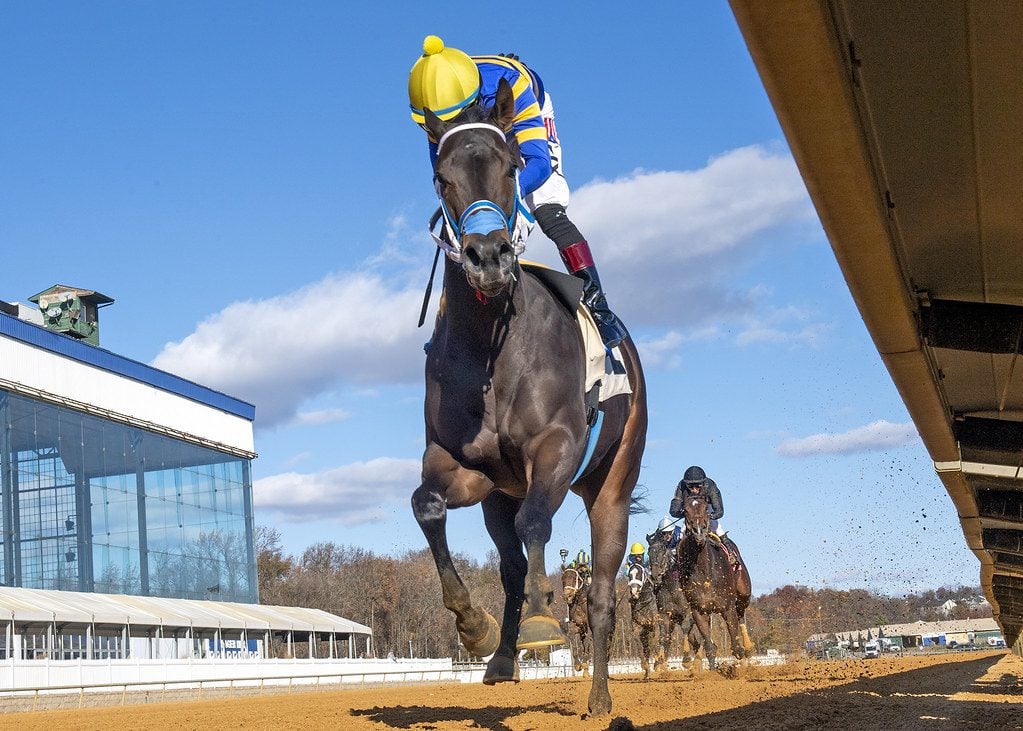 Eric Rizer remembers riding his bicycle with his brother to a nearby riding stable, where the boys would stop and gaze at the horses. They rode there so often that the woman who ran the stable threatened to put the boys to work — and eventually did. From working with the riding horses there to exercising racehorses and showing horses in 1970s, Rizer had plenty of experience with horses.
His wife Nancy, however, did not.
By the mid-1990s, the couple's sons Nicholas and Alex were four and five years old, and Nancy and Eric were discussing adding a third child to the mix. Eric had a different idea.
"We'll get horses," he said.
He purchased a couple of mares in foal, persuading his wife with the promised cuteness of young horses to care for. The Rizers took on the task of foaling and caring for their mares. Eric would take the boys with him when they were on foal watch, the younger Rizers getting experience with foaling and caring for young horses. That has inspired both Nicholas and Alex to continue working with their parents both on their Grey Lady Farm and in their family businesses, two pawn shops near their Virginia home.
Both sons have their roles alongside their parents, a cohesive unit that enjoys working together on the farm and in their shops. Every member's daily routine involves caring for their horses from the moment they rise until the end of the day.
The Rizers typically keep six to eight horses in training, preferring to race on the mid-Atlantic circuit exclusively. Whether it's a stakes race or a maiden claimer, at least one Rizer tries to be on hand whenever their horses run.  
"They're our babies," Nancy says. "We want to be there. We love them all."
Their enthusiasm for their horses also tends to draw in others to cheer for their blue and yellow silks. After their most recent victory, Princess Kokachin's easy win in a Laurel Park allowance February 20, the winner's circle was full of friends and fans that the Rizers pulled in to join them.
"Nancy gets their addresses and send them copies of the photos. It's our way of drawing more people into the sport," Eric says.
The Rizers have been racing horses nearly as long as they have been breeding them. Starting with Cool N Easy at Charles Town in the early 2000s, they have raced horses like Subject to Change and Princess Kokachin, both sired by Graydar, and Boppin Anda Weavin, Yellattheminister, and Sparkle Sprinkle. Each horse has a story behind their names.
"I try to keep it by lineage," son Alex says, but his brother Nick was inspired to name Yellattheminister after an incident at church one Sunday. Nancy named Sparkle Sprinkle years after the boys suggested that name when they were much younger. Eric also credits whatever television shows or music they are currently into for suggesting names whenever they are registering a new horse.
Princess Kokachin, winner of last November's Politely Stakes at Laurel Park, is the best horse to come out of the Rizer operation. They plan to keep her close to home, perhaps to try graded stakes company this spring.
The Rizers also have four mares in foal right now, with seven to be bred, including the Speightstown mare Serenity Hill, their best producer. She's the dam of Princess Kokachin and of the stakes-placed Sparkle Sprinkle.
The family plans to race and breed for the foreseeable future, with the boys committed to taking over once Nancy and Eric retire.
Above all, the horses keep them coming back for more. Many of the Rizers' homebreds return to the farm once their careers are over, the family continuing to care for them long after they have retired.
"When you see your horse win, whether it's a stakes race or a claimer, that means so much," Nanyc says. "We're proud of all of our horses."
LATEST NEWS