LAUREL PARK PICKS AND PONDERINGS: FEB. 20, 2022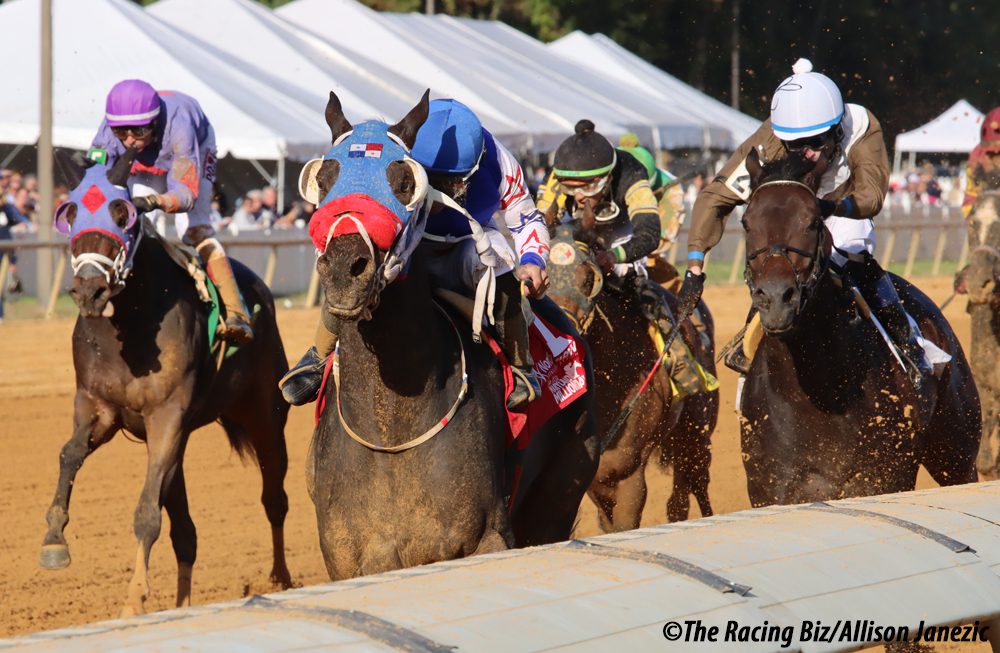 RACE 1: MAIDEN SPECIAL WEIGHT, 3-YEAR-OLDS, 1 1/16 MILES
4-3-1-7
After a big day yesterday, including five stakes wins by Maryland-breds, it's back to the grind today. Lots of decent fields on today's card. #4 Tiz a Giant (5/1) goes second out for Mike Trombetta and Victor Carrasco, who teamed up to win the Nellie Morse Stakes yesterday with Kiss the Girl. This one got action on debut, but raced wide throughout and showed little. His recent workouts are sharp, and I'm willing to give him another chance on the stretch-out. #3 Brindisi (7/5) ships from Parx and lures Ruben Silvera to come in for the mount. He's been second twice in a row against similar types over there, running brisnet figures in the mid-70s. That kind of performance would likely win this one if no one improves. He had a tough trip last out but ran on well in the end. Still, I'm not sure if I can take very low odds on him. #1 Stacks of Silver (8/1) ran a 65 on debut last August, and races for the first time since then. He might need a race first off the layoff, but he's had some long workouts and could be well-suited for this distance.
RACE 2: CLAIMING $40,000, 3-YEAR-OLDS, 5 1/2 FURLONGS
5-3-1-6
Jerry Robb has a pair in here, and I'm taking a shot with the horse his go-to rider, Xaiver Perez, picked off of. #5 Mad Genius (2/1) went gate-to-wire on debut in a dominant performance, and looks fast enough to get to the rail and the lead without any trouble. He gets a more-than-capable replacement in Victor Carrasco. If he runs big again, might stakes company be in his future? #3 Big Boy Potts (3/1) has crossed the wire first three of his last four at Charles Town, racing on or near the pace and drawing off each time. He's likely to try that strategy with Mad Genius, in what is sure to be an interesting test. #1 Gallant Gold (6/1) closed furiously to get up against $25,000 types and will take full advantage if the pace melts down here.
RACE 3: MAIDEN CLAIMING $16,000, 4 AND 5-YEAR-OLDS, 6 FURLONGS
6-1-5-7
The rainbow pick 6 starts here, with the short card. #6 Johnny Swish (7/5) was well-backed against similar last out, and fought gamely in the stretch but lost a photo to Forest Boyce's 900th career winner. Much like last time, his upper-60s/low-70s figures make him a standout. Ruben Silvera, who usually rides for Jamie Ness at Parx, gets the mount on this Ness trainee here. #1 I Am the Cash Man (5/2) exits the same race. Although he was a clear-cut third, it was an impressive performance, considering it was his first start since September 2020. Will be a contender if he can move forward, and he should. #5 Mr. Mosley (7/2) goes first out for Bob Klesaris. He cuts back from 1 1/16 miles and tends to sit on the pace and flatten out. We'll see if going shorter will help him manage his speed a bit better.
RACE 4: STARTER OPTIONAL CLAIMING $25,000, 4-YEAR-OLDS AND UP, 1 1/16 MILES
1A-5-2-4
This race begins the late pick 5. Both halves of the Jamie Ness entry look very strong; either one would merit top pick status on their own. Of the two, I prefer #1A Irish Riviera (8/5), who drew off powerfully going seven furlongs at Parx last out, with a giant number of 98. I'd rather see him at a one-turn mile than a two-turn distance, but he doesn't have any bad two-turn races in his lines and should have a strong punch from midpack. #5 Armando R (4/1) is also coming off a lifetime-top, having run a 93 after making a dramatic closing bid to win going away. His lack of early speed hasn't been much of an impediment lately; he's won four of his last six races. His rallies are just as strong going two turns as one. #2 Halite (5/1) goes first off the claim for Justin Nixon and gets a jockey switch to Carol Cedeno. He's been racing well against slightly weaker and will also be coming from out of it.
RACE 5: STARTER OPTIONAL CLAIMING $16,000, 4-YEAR-OLDS AND UP, 6 FURLONGS
6-9-7-5
#6 Pederson's Courage (5/2) ran a big race second off the layoff, and in fact might have won if a rein hadn't broken. As it were, he lost a photo and came close to his lifetime top with an 80. #9 Crownedcountcristo (3/1) has run in the 80s three times in a row, but makes his first start in almost two months. He raced gamely against weaker last out, losing to Sheriff Chip, who won next out via disqualification. #7 Rahmer (15/1) sat a great trip and drew off to break his maiden last out, and could make noise at a price if he improves a little bit.
RACE 6: ALLOWANCE OPTIONAL CLAIMING (N/W2X), 4-YEAR-OLDS AND UP, 1 MILE
8-1A-7-3
A field of eleven, with ten betting interests, is scheduled to line up in what should be a fun race. #8 Treasure Trove (7/2) dropped to this level last out and stalked the pace to win going away. This is the first time he's been as short as a mile in a while, and he doesn't have any early speed. We'll see how he handles the cutback. #1A Davidic Line (9/2) is my preferred half of the Ness entry. He's not nearly as bad as his last race, when he raced wide throughout and stopped badly. In the three-race stretch prior to that, he ran at least a 96 every time out. He has a tough draw here, but at least he doesn't have a quick-coming first turn to deal with. That should help the cause for this likely speedster. #7 Plot the Dots (9/2) adds blinkers for the Trombetta/Carrasco duo and runs in the 90s consistently. He got lots of action at this level and didn't fire; the price will be right here if you still believe.
RACE 7: ALLOWANCE OPTIONAL CLAIMING (N/W3X), 4-YEAR-OLDS AND UP, FILLIES AND MARES, 6 FURLONGS
3-2-5-4
I was a little surprised not to see #3 Princess Kokachin (3/5) in the entries for the Barbara Fritchie, but Jerry Robb decided to enter Fille d'Esprit instead. It worked out well, as she finished third, beaten a length. Princess Kokachin rattled off five wins in a row last summer and fall, going gate-to-wire in four of those races. She opened up long leads in the Willa On the Move Stakes and the What a Summer Stakes, but got caught in the stretch both times. She should run this field off their feet easily. #2 Alta Velocita (3/1) is a combined one length away from having won eight in a row. She's raced just once since early November, but has strong closing speed and should outkick the rest even if Princess Kokachin runs them off their feet. #5 Coconut Cake (5/1) was third in the Geisha Stakes last out behind Kiss the Girl and Artful Splatter, who came back to finish 1-2 in the Nellie Morse. She has decent closing speed and can round out the exotics at a good price.
RACE 8: CLAIMING $5,000 (CONDITIONED), 4-YEAR-OLDS AND UP, 7 FURLONGS
5-2-3-7
#5 Cooke Brothers (7/2) has raced just once since August 1, but that race was a determined win against similar in November. His recent workouts have been very good and he should fire a big bullet first off the layoff. #2 Jungle Warrior (3/1) goes third off the break and was compromised at the start last time. Two back, he was able to take the early lead and fought gamely late. His stablemate, #3 Victory Given (5/1), has improved dramatically in his last two starts and gets a jockey upgrade to Denis Araujo.
LATEST NEWS