LAUREL PARK PICKS AND PONDERINGS: FEB. 19, 2022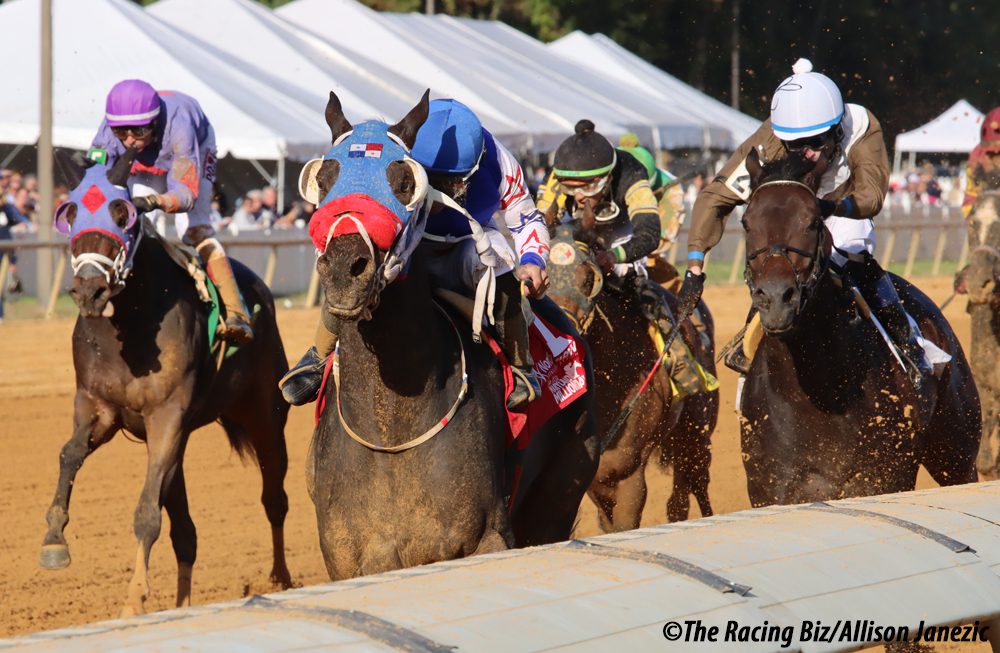 RACE 1: CLAIMING $10,000 (N/W3L), 4-YEAR-OLDS AND UP, 6 1/2 FURLONGS
7-5-4–3
There's tons of stakes action on today's card, but first, we have to take a look at the meat and potatoes. #7 Minnetonka (2/1) and #5 Fearless Lassie (7/2) raced against each other at this condition on January 16. The two dueled on the lead, and while both were outfinished, Minnetonka finished 1 1/2 lengths clear of Fearless Lassie. She came back to finish second, dueling her rival into defeat while being defeated by a rival who sat a perfect trip. Both of these fillies should race well, but if they tangle again, I trust Minnetonka to have enough left to hang on for the win. If both of them melt down, #4 Gimme's Goldengirl (9/2) has good tactical speed and will sit the trip just off the pace. She's improved her brisnet figure in each of her last three starts and has never lost at this level.
RACE 2: CLAIMING $8,000, 4-YEAR-OLDS AND UP, 6 FURLONGS
2-6-1-7
#2 Pascal Chant (8/5) lasted through fast fractions and held on to win against open claimers last out. Although it's technically a jump in class from the $5,000 level, this field isn't much different than the one he saw last time. #6 My Sacred Place (3/1) tried his best to chase down Pascal Chant last out but couldn't shake him down. He's rated a bit further off the pace than usual in his last few, so he might try to sit just off Pascal Chant and try a similar strategy as last time. #1 Tom Terrific (12/1) has no early speed at all, but his figures fit with these and he could shake up the trifecta or superfecta at big odds.
RACE 3: MAIDEN CLAIMING $25,000, 3-YEAR-OLDS, 6 FURLONGS
3-10-12-2
#3 Remembering Wilbur (9/2) raced wide throughout on debut, but outfinished the rest of the field and finished second, beaten by a free-wheeling favorite. Should improve second time out for Dale Capuano. #10 Rhumjar (5/2) races for the first time since December 30, when he closed for second against better at Aqueduct. He's improved in his last few starts, including a brisnet figure of 81 last out. #9 Dathoss (10/1) goes second off the layoff after a big performance last out where he closed strongly late. Adds blinkers for Cal Lynch, who has him working very well, and gets Jaime Rodriguez in the saddle.
RACE 4: WIDE COUNTRY STAKES, 3-YEAR-OLDS, FILLIES, 7 FURLONGS
1-3-7-5
The first stakes of the day is named after the Maryland-bred winner of the 1991 Black-Eyed Susan Stakes. She won six other stakes races that year, including the only graded edition of the short-lived Pimlico Oaks. All eyes here will be on the rail and #1 Luna Belle (6/5). She's coming in here off a very impressive six-length win in the Xtra Heat Stakes last out. She beat two of her rivals here that day, and earned a career-best figure of 96, the best last-out figure in the race by four points. Her main competition comes from #3 Sandy's Garden (7/2), who set the pace most of the way in the Franklin Square Stakes at Aqueduct last out but tired late. She's run in the 90s in two of her three starts and will try to wire this field. #7 Moody Woman (10/1) made a nifty move to win a first-level allowance contest going away last out. Her figure of 82 is a career-best and a few points below those of the main contenders, but a move like that could get her an exotics spot.
RACE 5: MIRACLE WOOD STAKES, 3-YEAR-OLDS, 1 MILE
9-4-5-2
A field of nine 3-year-olds will contest this race named after a Maryland-bred veteran. Joe may be getting more attention in the Mike Trombetta barn, off his win in the Maryland Juvenile Championship, but #9 Conclusive (7/2) may be the better long-term prospect. He had a statement race last out, winning a first-level allowance optional claiming contest in gate-to-wire style with a figure of 90. Top jockey Victor Carrasco gets the mount for the first time. Without a ton of confirmed speed in the race, Carrasco can hustle him to the front and drop to the rail and the lead from the outside post. He's a Triple Crown nominee; would a win here inspire Trombetta to push onto a Derby prep? #4 Coastal Mission (6/1) was no match for the very impressive Witty in the Spectacular Bid Stakes last out, but he outfinished the rest and ran a solid second while matching his career-best number of 86. I'm not sure if he'll be able to get a mile, considering he tends to make big middle moves and flatten out, but if he keeps improving, he can sustain that move and at least get an exotics piece. #5 Majestic Frontier (6/1) passed his first class test with flying colors last out, upsetting a first-level race at 16/1. Once he found room entering the stretch, he shot through and pulled away. Looks to make another move like that here at another decent number.
RACE 6: NELLIE MORSE STAKES, 4-YEAR-OLDS AND UP, FILLIES AND MARES, 1 1/16 MILES
6-2-3-5
Nellie Morse won the Preakness in 1924, the last filly to do so until Rachel Alexandra, who has a race named after her today at Fair Grounds, did so in 2009. This race was impacted a bit when Frost Point raced yesterday at Aqueduct, ensuring she will not run here. That makes #6 Miss Leslie's (8/5) job easier. She won two stakes in a row here late last year against similar fields, then just missed in the Ladies Stakes at Aqueduct. Although it looked like she'd be well-beaten at the top of the stretch, she rerallied late and lost by just a neck. #2 Kiss the Girl (5/2) handily beat fellow Maryland-breds in the Carousel Stakes last out. She's run in the 90s in each of her last four starts and has good tactical speed. #3 Artful Splatter (9/2) was the runner-up behind Miss Leslie and Kiss the Girl in her last two starts. She tends to rate on or near the early pace, then hang around for an underneath spot. In fact, she hasn't won since September 2020, but has been second or third five times since then.
RACE 7: JOHN B. CAMPBELL STAKES, 4-YEAR-OLDS AND UP, 1 1/16 MILES
6-1-4-2
This race, once one of the biggest races in Maryland, is named after the legendary racing secretary of the first half of the 20th century. #6 Torch of Truth (5/1) took a big step up last out with a determined victory in a n/w3x allowance optional claiming race that was not much lesser in quality than this race. He earned a lifetime-top mark of 102, which is more than good enough to win this race. Most of the money in this race is likely to go to #1 Workin on a Dream (9/5), who was second behind Cordmaker in his last two starts. He's got a great post and should get his trip on the lead and the rail. #4 Galerio (5/2) hasn't quite recaptured the magic from his dominant 2020 season, but he's been getting checks against these and battled gamely in the Jennings Stakes last out.
RACE 8: BARBARA FRITCHIE STAKES, 4-YEAR-OLDS AND UP, FILLIES AND MARES, 7 FURLONGS
3-2-4-8
The first graded stakes of the Maryland racing season is named after a Civil War folk hero. #3 Kaylasaurus (6/1) burst on the scene with a big win in the Willa On the Move Stakes two races back, chasing down the speedy Princess Kokachin to win going away. She had a tough trip in the What a Summer Stakes but closed to get second. She's run career-top figures in two of her last three spots and looks ready to run another huge race. #2 Glass Ceiling (7/5) ships from New York for Charlie Baker, having won three of her last four starts. She won the Garland of Roses Stakes going away last out and similarly crushed a strong n/w3x field last out. She'll sit the trip and has a big chance to mow them down, but will be a very low price. #4 Regal Retort (10/1) was well-bet in the What a Summer off an impressive n/w3x score at Churchill Downs. She made decent ground after a wide move to get fifth, in her first start in more than two months. You'll get a great price if you still believe.
RACE 9: GENERAL GEORGE STAKES, 4-YEAR-OLDS AND UP, 7 FURLONGS
2-7-3-4
This race is, of course, named after the first President of the United States. #2 Cordmaker (7/5) started to blossom last year, with four stakes wins, all of them at 1 1/16 miles or longer. He cut back to a mile to impressively win the Jennings last out, holding on despite drifting out in the stretch. He hasn't gone this short in a while, but he has tons of class. This is a prime spot for him to get his first graded stakes win. #7 Air Token (9/2), the cover horse for this column, has explosive closing speed, but doesn't always show it. He was dominant last out against Borracho, who came back to crush a n/w3x field next out. #3 Shackqueenking (9/2) has hit the board in his last three starts against stakes company and should make a good middle move to secure an exotics spot.
RACE 10: CLAIMING $5,000 (CONDITIONED), 4-YEAR-OLDS AND UP, FILLIES AND MARES, 7 FURLONGS
5-6-3-2
#5 Danny Deep Cuts (5/2) has run in the 70s in three of her last four starts, and is the main speed in a race where she shouldn't have much competition on the front end. #6 Congress Hall (8/5) has just missed against similar in her last few, and cuts back to seven furlongs for the first time since last October. She's shown less early speed than usual in those recent starts; we'll see how well that works at this distance. #3 Family Fortune (9/2) goes first off the layoff and showed good a closing punch throughout her 2021 season, after not racing at all in 2020.
LATEST NEWS