"Big family deal" as Timeless Bounty heads to Gen'l George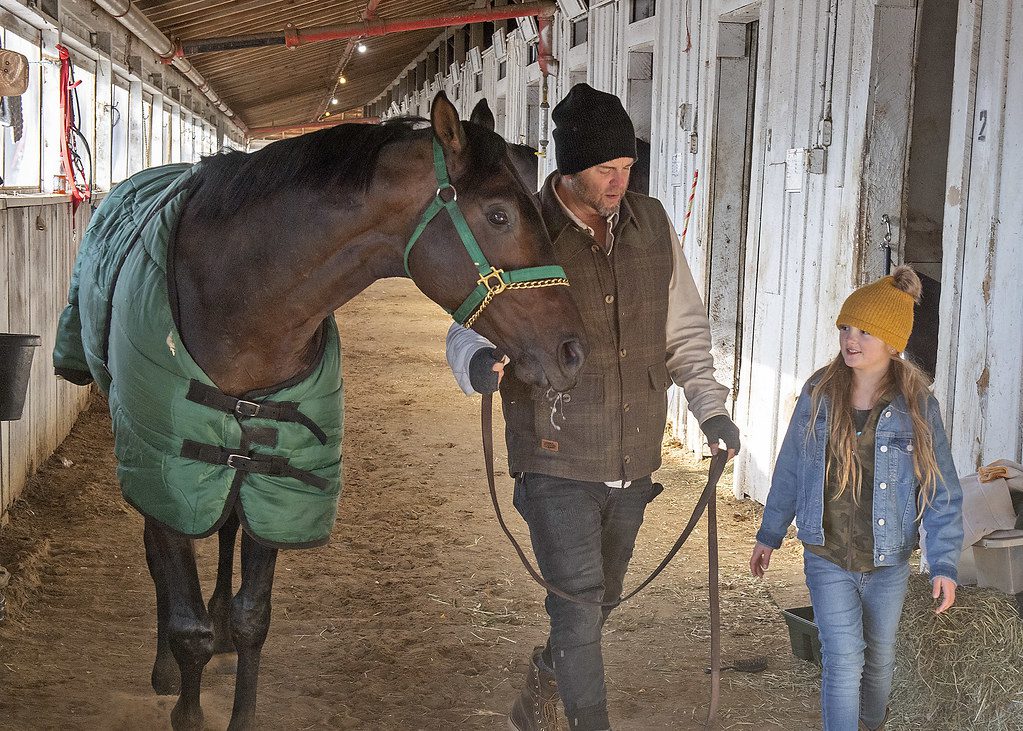 Press Release

February 17, 2022
Making his first visit to Laurel Park, Ohio-based trainer David Wilson Jr. is overseeing precious cargo. There's Timeless Bounty, the horse that brought him here, entered in Saturday's $250,000 General George (G3).
Then there's London, the 8-year-old granddaughter of Gaylene Smith, whose Willow's Green Stables owns Timeless Bounty. Wilson made it a point to have the 4-year-old colt's biggest fan and lucky charm around.
HISA drug rules take effect

A flurry of dueling press releases heralded the onset Monday of the Horseracing Integrity and Safety Authority's (HISA) new drug rules.
"He's her pet. She loves that horse," Wilson said. "He's a personable little horse. He's not mean or anything like that. He'll lay down in the stall and she'll lay down with him, and they'll go to sleep.
"She's the reason I've got a job. She's an 8-year-old young lady that's smarter about horses than most 40-year-olds I know. She's such an inspiration to watch. She is the reason why they started getting horses," he added. "She's a good little kid. She loves the horses and the horses love her. She's a little blond with a little be-bop on her mind. She doesn't ever get in the way. She wants to do everything a grownup can do."
On Saturday, Timeless Bounty will attempt to win the first graded-stakes for himself and his trainer, a 62-year-old Kentucky native that was suddenly and unexpectedly thrust into the spotlight when his stable star sprung a 59-1 upset of the $250,000 Steel Valley Sprint last November at Mahoning Valley.
Among the vanquished horses that day were highly touted and heavily favored Baby Yoda from the barn of Hall of Fame trainer Bill Mott, as well as multiple stakes winners Beren and Jaxon Traveler, the latter trained by another Hall of Famer, Steve Asmussen.
"When I won that race up there I had people kissing me and I had people hugging me that I didn't even know knew who I was, so it was gratifying," Wilson said. "I've done this my whole life and I cried like a little baby in the winner's circle. If you know me, I'm a tough old boy and I don't cry. But I got to thinking about everybody that got me to that point [over] 55 years."
[Play in our free handicapping contest featuring the General George and more!]
Ironically, it was a loss that convinced Wilson to take a shot at Mahoning's biggest payday. Nineteen days after being haltered for $15,000 at Thistledown last October, Wilson wheeled Timeless Bounty back for a $25,000 tag in an optional claiming allowance at Mahoning.
[
General George Stakes quick hits
]
"That was a tough race. I mean, every horse in there had made $400,000 or $500,000. It was all classy horses, and we ran third. He got kind of bad trip that day and he was rolling," Wilson said. "The racing secretary called me about three seconds after the race. We were going to do it, but he said, 'I think you ought to nominate for that stake.'"
Wilson credited Smith's son, Jeremy, for picking out Timeless Bounty, a Michigan-bred son of Elusive Hour that had won four of 11 starts and finished off the board in his only prior stakes attempt, the Tom Ridge last August on the all-weather surface at Presque Isle Downs.
"He really checks into stuff. He told me two months before this horse ran that if they ever run it for a tag that he's going to take it," Wilson said. "I never really thought a lot about it because the guy that had him is a friend of mine. You know how that is; it's kind of hard to claim off your friends.
"Then Anthony Rini claimed the horse and he had him in at Presque Isle and we were going to go get him that day for [$20,000], but then he wasn't eligible for the race," he added. "Then we saw he was in for the [$15,000], so we went and took him. The owner's son keeps up with a lot of horses. He's actually very good at picking horses out. It's just a big family deal and everybody kind of does it together."
Wilson has 11 horses, all owned by Willow's Green. He first became acquainted with Gaylene Smith through his old boss, late Ohio-based trainer Charlie Lawson, who with his late wife, Bonnie, were longtime friends with Smith's parents.
[Barbara Fritchie Stakes quick hits]
Equibase statistics show Lawson, a retired builder and contractor with a farm in Morrow, Ohio and a reputation for extending the careers of older class horses, having won 1,383 races between 1981 and 2019. He passed away last June, less than a month shy of his 93rd birthday.
"It kind of was intriguing for me when I started helping them, because I worked for [Lawson] and we won a couple thousand races, but this has been even more gratifying than that," Wilson said. "We had quit for a year and [Smith] asked me if I could do it and said I couldn't do it as long as Charlie was alive because it kind of felt disrespectful, you know? I've won a couple thousand races in my life and it shows on my [Equibase] record I've won three because I was an assistant trainer back then. But I did it all."
Wilson said he was 7 when he began a life around horses "at a track called Miles Park in Louisville, and most people don't even know where that was at." Located about 10 miles from Churchill Downs, on the banks of the Ohio River, it is now the site of an industrial park.
"I've been around it my whole life," he said. "My mom trained, my dad was a blacksmith, my brother's a blacksmith, my ex-wife trained. It's just kind of like a family deal."
The family factor carried over with Willow's Green, which ran its first horse, Dawn West, last March at Turfway Park. Equibase statistics show the owners with four wins, 11 seconds, three thirds and $237,055 in purse earnings from 40 starters.
"They started out buying one for $7,500 and then we claimed a few. I've got an Indiana-bred that hasn't even run yet and he might be as good or better than [Timeless Bounty]," Wilson said. "We've got decent horses. It's not like they've been doing this 40 years. The horses get the best of everything, nutrition-wise. It's just like one big, happy family."
Timeless Bounty will break from Post 6 of seven in the seven-furlong General George which, with the $250,000 Barbara Fritchie (G3) for older female sprinters, co-headlines a program featuring six stakes worth $900,000 in purses. Malcolm Franklin, a one-time regular at Maryland tracks, will be in town to ride. They are listed at 12-1 on the morning line.
"I think he'll go into the race pretty good. We worked him here the other day and scoped him and all that was clean," Wilson said. "I think he's coming into the race about 99 to 102 percent. [After he worked], he was walking around the shed squealing like E.T. and jumping up and bucking. It didn't hurt him too bad."
Regardless of Saturday's outcome, Wilson is enjoying the opportunity and experience of a lifetime with his horse and the people that own him.
"You can go a long time and never come up with a horse like this. This horse has changed some lives and we've changed his, and it's nothing but a lot of TLC and good nutrition," Wilson said. "It's amazing the way it is, if you really want to know the truth. I respect the whole deal, you know what I mean?
"I've turned down a bunch of horses to train just because I don't want to mess with these guys. They've got some big aspirations," he added. "I'm a Kentucky boy and I won't do this forever, but we pray to find one to run in the Kentucky Derby one of these days. That's my lifetime dream, too."
LATEST NEWS