MID-ATLANTIC THREE STARS: FEBRUARY 9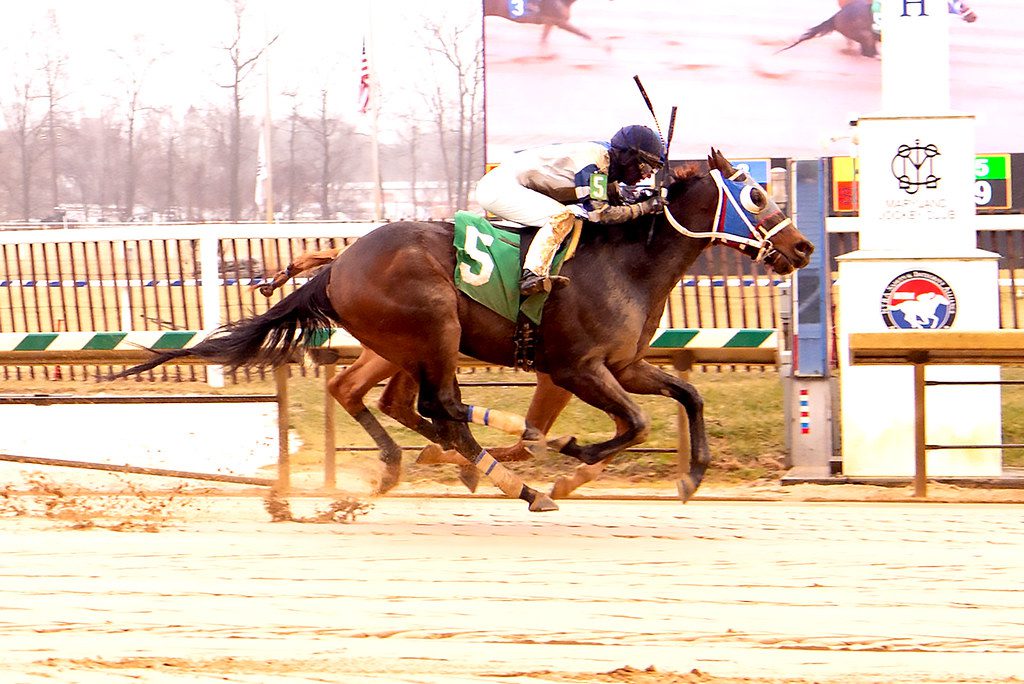 John Piassek

February 9, 2022
Plenty of racing action took place throughout the Mid-Atlantic this past week.
Here's a look at the "three stars" of each track:
Laurel Park
FIRST STAR: FOREST BOYCE. One of the veteran riders in Maryland, Boyce achieved a major career milestone last Thursday when she won her 900th career race. Her mount, Thruster, pulled off the upset in race 1, winning a close photo finish over odds-on choice Johnny Swish. Boyce began her riding career in 2009, and was the leading rider in Maryland the following year. Her most notable year to date was 2013, when she earned $5.5 million and was the regular rider of Eighttofasttocatch.
SECOND STAR: DALE CAPUANO. Also on Thursday's card, Capuano saddled three winners. He got his first victory via disqualification, as Sheriff Chip was put up from second to first in race 4. Jorge Ruiz had the winning mount. Capuano then took race 6 with Pascal Chant, who won in gate-to-wire fashion with Carlos Lopez in the saddle. He completed the hat trick in the 8th race, as Gallinella scored by 2 1/4 lengths with Alexander Crispin aboard. Those were Capuano's first three winners of the meet.
THIRD STAR: BACI. Sunday's feature race, a starter optional claiming contest for fillies and mares at 5 1/2 furlongs, went to Baci in impressive style. She quickly opened up a long early lead, and was four lengths in front by the time they hit the top of the stretch. She ultimately hit the wire 1 3/4 lengths in front, going the distance in 1:06.28 over a track labeled FAST but which had taken substantial rain over the past two days. Jaime Rodriguez had the winning mount for owner Original 6 Stable and trainer Michael Gorham.
Charles Town Races
FIRST STAR: ROOKIE SALSA. This Claudio Gonzalez trainee improved to 2-for-2 on Saturday night with a win in the featured n/w2x allowance optional claiming contest. On a track labeled HEAVY, a rare condition, he moved three-wide on the final turn, opened up a clear lead late, and held off the rally of Fu Man Sue to win by a half-length. He went 6 1/2 furlongs in 1:21.27, for owner Magic Stable LLC and jockey J.D. Acosta.
SECOND STAR: SOMEDAY IS TODAY. This West Virginia-bred filly made her first start off a long layoff on Friday night, in an allowance race at seven furlongs against fellow West Virginia-breds. Despite the long break, she went off as the 2-5 favorite. She made a strong four-wide move to the lead and pulled away strongly from the field, ultimately winning by 6 1/2 lengths in 1:28.74. She's now 2-for-3 lifetime, and it wouldn't be surprising if she had a very successful campaign this year. Andrew Warren is the winning owner, Jeremiah O'Dwyer the winning trainer, and Gerald Almodovar the winning rider.
THIRD STAR: CARSON CASTLE. A field of six lined up in Wednesday night's feature, a West Virginia-bred allowance race at 4 1/2 furlongs. The odds-on choice Carson Castle broke on top, opened up a clear lead, and cruised under the line 6 1/2 lengths in front. After a winless campaign last year, he started this season on a winning note.
Parx Racing
FIRST STAR: DONTMESAWITHME. Making his first start since a disappointing finish in the Blitzen Stakes in late December, Dontmesawithme avenged his defeat at the hands of Dreams Untold with a win in an open allowance last Tuesday. Coming from seventh place, he chased down early leader Fortheluvofbourbon in the seven-furlong contest and got up for a three-quarter length win at 11-1. Dreams Untold, who went off as the odds-on choice, chased the pace and was well-beaten. The winner is owned by Stephen and Debbie Jackson, trained by Flint Stites, and ridden by Abner Adorno.
SECOND STAR: SOLID GOLD DANCER. Last Monday's feature event was a first-level allowance race for Pennsylvania-breds going a mile. The favorites fell flat, and the two biggest longshots in the field finished 1-2. 16-1 Solid Gold Dancer moved up the inside and won by two lengths, while 16-1 Hay Back set the early pace and finished a clear-cut second. The winning mare traveled the distance in 1:43.39, for owner Prima Ventures LLC, trainer Eli Betancourt, and jockey Jeremy Laprida.
THIRD STAR: JAMMINWITHBRANDON. A starter allowance race last Monday saw another upset. Jamminwithbrandon, a four-time winner in 2021, won his first race of the season at 19-1, rallying from well off the pace to win by 1 1/4 lengths in 1:06.35. Early leader Royal Blue Boy dueled early on and opened up a clear lead, but got caught in the stretch and finished second. The winner is owned and trained by Jacinto Solis and ridden by Anthony Salgado.
Region's Best
Forest Boyce- Achieved major career milestone last week.
Dale Capuano
Dontmesawithme
LATEST NEWS