H P Moon set for return in Spectacular Bid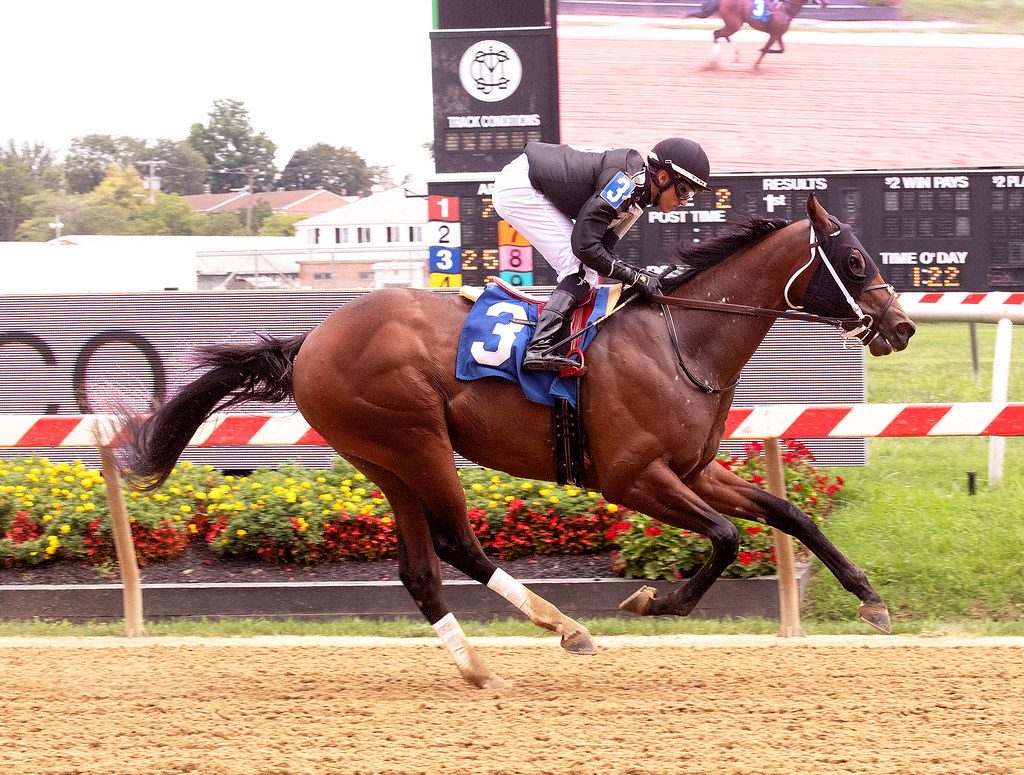 Press Release

January 29, 2022
K E M Racing Stables and Five Hellions Farm's well-regarded H P Moon, eye-catching winner of his lone start last summer, is set to launch his highly anticipated sophomore season Saturday in the $100,000 Spectacular Bid at Laurel Park.
The seven-furlong Spectacular Bid for 3-year-olds and $100,000 Xtra Heat for 3-year-old fillies sprinting six furlongs are among six stakes worth $550,000 in purses scheduled on a 10-race program that begins at 12:10 p.m.
Eleven horses were entered in the Spectacular Bid, the first of Maryland's series of stakes for 3-year-olds that continues with the $100,000 Miracle Wood at one mile Feb. 19, $100,000 Private Terms going 1 1/16 miles March 19, and $125,000 Federico Tesio at 1 1/8 miles April 16.
Seven of H P Moon's rivals have previous stakes experience, including stakes winners Local Motive, Shake Em Loose and Witty. The Spectacular Bid, part of an originally scheduled Jan. 22 stakes slate, will be H P Moon's first race in 162 days.
"Ideally we would have had a little bit more time, but we got really lucky with them pushing the stakes back. It gave us a little bit more time to be prepared for it," trainer Lacey Gaudet said. "We've been training him like a good horse and he's been taking it like a good horse. He's really handling everything that we throw at him well and I think he's telling us that he's ready, so we're going to move forward with it."
H P Moon was set to make his debut last July at Saratoga but an identification mix-up led to his being scratched. Instead, the bay Malibu Moon ridgling was unveiled in an August maiden special weight at Pimlico Race Course, where he aired by 9 ¾ lengths in front-running fashion as the 2-5 favorite, completing six furlongs in 1:10.76.
"We went to Pimlico and he did run the way that we expected him to, but it was rewarding after everything that he had been through to have it happen like that," Gaudet said. "He's a horse that's very adamant about what he wants and what he's going to put out, so he doesn't hold back. He definitely shows you that he's a good horse."
H P Moon went to the sidelines in the fall after having minor surgery to remove an ankle chip, returning to the work tab in mid-December at Laurel. Gaudet has been pleased with his recovery and has named Jevian Toledo – up for the maiden triumph – to ride from Post 3 at 116 pounds.
"He's been working great. He's a fun horse to play with in the morning because he really likes to have a challenge, so we've given him some challenges. We've worked him with some nice older horse sand he's worked very, very impressively," Gaudet said. "Whether it's unfortunate for him or not, we had to give him time when we gave him time. Now everyone is in the position as 3-year-olds that if they're good, they're in stakes company, so he might just have to take two steps instead of one. But if he's the horse that he trains like and that we think he is, it shouldn't be a problem for him."
LATEST NEWS