LAUREL PARK PICKS AND PONDERINGS: JAN. 21, 2022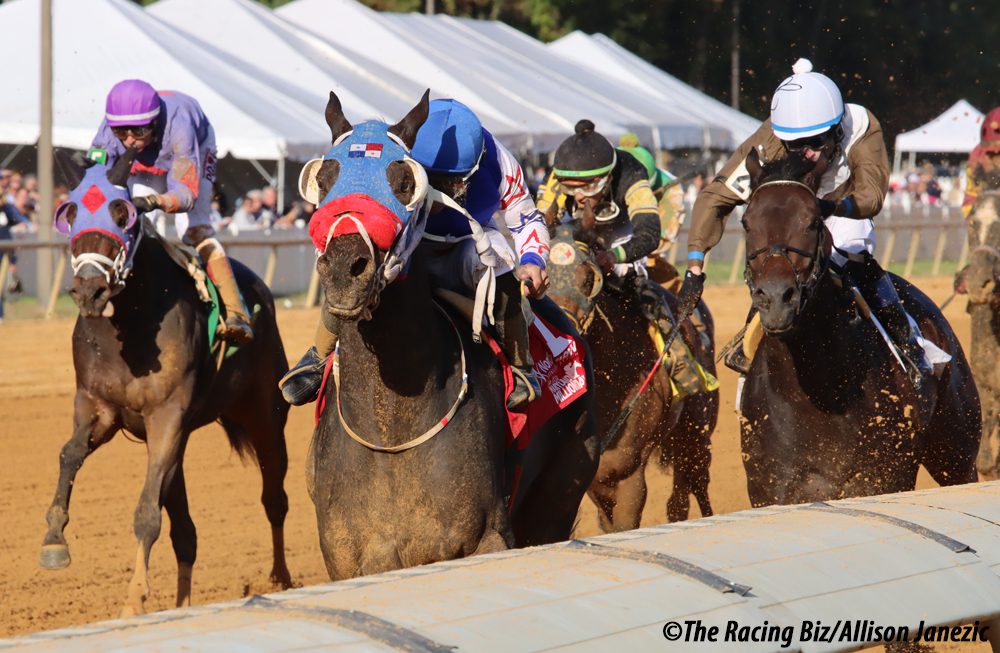 RACE 1: STARTER OPTIONAL CLAIMING $25,000, 4-YEAR-OLDS AND UP, 6 FURLONGS
2-1-3-4
#2 Algebraic (5/2) has run several good races in a row lately while battling on the early lead. Here, he'll have the opportunity to be the controlling speed on the inside. He could prove a tough customer. #1 Annamated Moon (7/2) has won three in a row at Penn National and goes third off the layoff. He's in improving form and will likely sit the trip off the lead on the inside. #3 El Sobreviviente (2/1) ran a game race to win first off the claim for Jamie Ness last out, and will likely provide pace pressure to Algebraic on his outside.
RACE 2: MAIDEN CLAIMING $25,000, 3-YEAR-OLDS, 6 FURLONGS
3-8-9-2
#3 Baton (5/1) goes second off the claim for Michael Pino and races with lasix for the first time. Pino is very tough with both angles. He led most of the way and held on to finish second against straight maidens two back in a big performance. #8 Senator Kelly (5/2) showed some decent stretch kick on debut, getting up for second with a big brisnet figure of 76. He'll be tough if he keeps improving. #9 Mugsy Malone (10/1) got hung wide on the pace last out and stopped badly. He's had some time off since then, and will be a threat if he can save some ground. When he raced closer to the rail in his first three starts at Delaware Park, he ran in the 70s every time.
RACE 3: CLAIMING $8,000, 4-YEAR-OLDS AND UP, 6 1/2 FURLONGS
1-3-8-2
#1 Fort Fortitude (3/1) has run in the 80s in each of his last four starts, the only one in the field who can make that claim. He fell very far behind last out, but closed strongly and got fourth. Ness and Jaime Rodriguez are always a dangerous combination. #3 Captain Fofo (4/1) ships in from Penn National and shouldn't have much trouble getting to the lead and the rail. Looks for a rebound after a tough trip last out. #8 Fast Loaded (7/2) just barely got up to win at Charles Town last out in a game, wide effort. He ran in the 80s and 90s consistently on the big tracks earlier last year, but his figures dropped when he shipped to the Charles Town bullring. We'll see if he improves on this strip.
RACE 4: CLAIMING $5,000, 4-YEAR-OLD AND UP, FILLIES AND MARES, 1 MILE
2-3-5-9
#2 Parched Ghost (7/2) stretches back out to a mile, which suits her closing style much better. She's also enjoyed a lot of success at this level, with a win at this condition three starts back. #3 Postino's Champion (6/1) battled hard on the lead last out before fading down the stretch. She's cutting back from 1 1/8 miles here. She can go to the lead or rate just off the early pace. #5 Congress Hall (6/1) always runs an admirable race, but doesn't enjoy winning. She was 1-for-18 last year, but hit the board ten times. Look for her to pick up a piece of the exotics at decent odds.
RACE 5: CLAIMING $5,000 (N/W2L), 4-YEAR-OLDS AND UP, 1 MILE
13-5-11-4
There's lots of horses in here who don't like to win, so anyone who's even somewhat lightly-raced has the edge in my book. #13 Tradition (9/2) closed for second last out with a wide move, although he was no match for the runaway winner. Johan Rosado gets the mount for the first time. #5 Boondoggle (5/1) has improved in his last three races and will likely be a threat on the early pace. He almost went gate-to-wire two starts back. In contrast, #11 Tiny Tim (6/1) has no early speed whatsoever, but has closed well in his last few and should pick up some pieces late.
RACE 6: MAIDEN CLAIMING $10,000, 4 AND 5-YEAR-OLDS, FILLIES AND MARES, 6 FURLONGS
4-3-11-5
#4 El Bochinche (4/1) made a premature move to the front last out, and held on for second after flattening out late. She'll be a contender if she can manage her speed a bit better. #3 Pearlyville (9/2) has hit the board in four of her last five starts. She likes to rate off the pace and make mild ground to get a piece. A serious exotics contender, but can't trust her to win. #11 Likehail (5/1) dropped to this level for the first time last out, and made a big move on the turn going a mile and stopped late. The shorter distance might be more to her liking.
RACE 7: ALLOWANCE OPTIONAL CLAIMING (N/W3X), 4-YEAR-OLDS AND UP, 6 FURLONGS
1-5-6-2
This story's cover horse, #1 Air Token (3/1), gets the nod here in this competitive allowance contest. He's been impressive against Maryland-bred/sired stakes company, winning the Maryland Million Sprint going away and just missing in the Bender Stakes. He should roll late after rating off the pace. #5 Redeem Eddie (7/2) makes his first start since October 30, and finally broke through at the n/w2x level last out. He'll rate right off the pace on the outside. #6 Arthur's Hope (5/1) made a strong, wide move against a tough field last out and closed for fourth. Should rally for a piece once again.
RACE 8: ALLOWANCE OPTIONAL CLAIMING (N/W3X), 4-YEAR-OLDS AND UP, 1 1/8 MILES
2-1-5-7
#2 Plot the Dots (6/5) makes his third start off an eight-month layoff here. He competed in stakes races in his first two starts off the break, and ran some decent numbers although he was not visually impressive. His mark of 94 last out is good enough to win this one. #1 Gentleman Joe (4/1) won two in a row to start his Laurel fall meet, and just missed against n/w2x types last out. #5 Midnight Act (8/1) has run at least an 87 in four of his last five races and has very strong late pace figures.
RACE 9: MAIDEN CLAIMING $40,000, 3-YEAR-OLDS, FILLIES, 6 FURLONGS
7-6-8-3
#7 Isabella's Glory (9/2) consistently runs in the 70s and has a strong closing punch, but she hasn't shown enough early speed in most of her starts. Will be a serious threat if she can stay closer to the pace than usual. #6 Joe Mike Jim (6/1) goes first off the claim for Claudio Gonzalez and was a solid-closing third last out while improving a bit from her debut. #8 Market of Stocks (5/2) was well-supported on debut in late November, and made a big move to get third. She's in with a big chance, but is likely to get overbet due to the Brittany Russell factor.
RACE 10: CLAIMING $5,000 (CONDITIONED), 4-YEAR-OLDS AND UP, 1 MILE
9-10-5-11
#9 Hayne's Fever (5/1) dropped to this level last out and ran a gutsy race, battling in the stretch to get second. He was in steadily good form most of last year; will need to transfer his grinding style into victory. #10 Edict (9/2) has also been consistent lately, with figures in the 70s in each of his last six starts. He just missed behind Hayne's Fever last out. #5 Jungle Warrior (5/2) has towering figures but hasn't raced in almost a year. Can he bounce back first off such a long rest?
LATEST NEWS