LAUREL PARK PICKS AND PONDERINGS: JAN. 20, 2022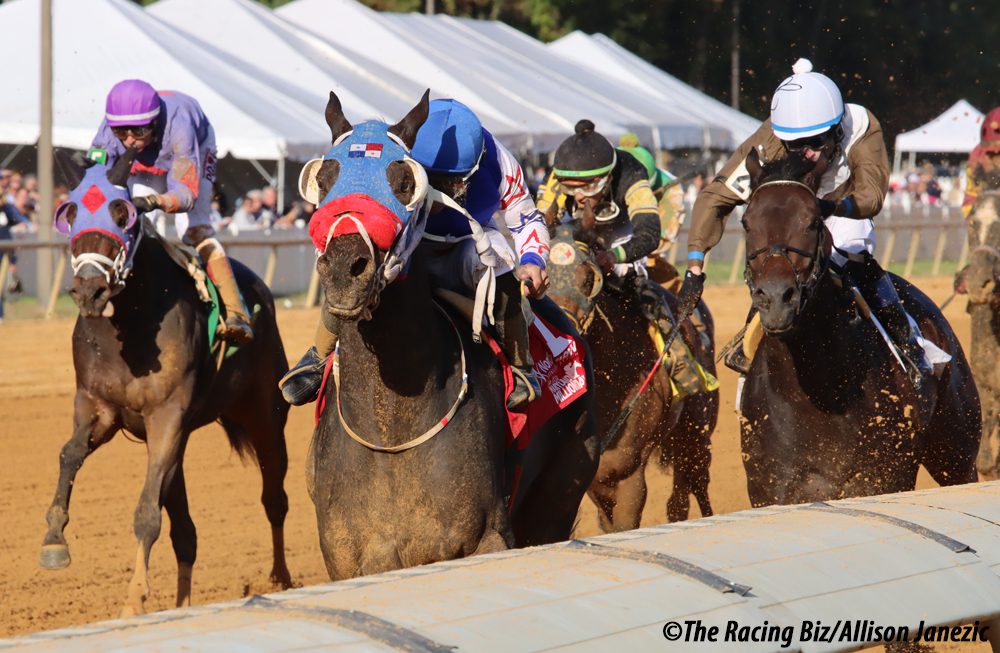 RACE 1: MAIDEN CLAIMING $16,000, 4 AND 5-YEAR-OLDS, FILLIES AND MARES, 1 MILE
10-9-6-5
#10 Birthday Wish (3/1) has gone off as the favorite against better twice in a row and was flat both times, albeit with brisnet figures that are competitive with these. Claudio Gonzalez is 24% stretching out horses from a sprint to a route. #9 Bellswillberinging (8/1) also drops to a career-low tag, with similar figures, and will try to sustain her tactical speed. #6 Secret Prize (7/2) races first off the claim for Anthony Farrior and cuts back around one turn, where she's run her best race.
RACE 2: STARTER OPTIONAL CLAIMING $25,000, 4-YEAR-OLDS AND UP, FILLIES AND MARES, 7 FURLONGS
1-2-3-7
#1 Factor In (5/2) crushed the field at this level last out, in her first start for Brittany Russell. Anything near her 5/2 morning line would be generous. #2 Behind the Couch (3/1) has gotten checks consistently against these, usually rating off the pace and flattening out. Should hang around for a piece once again. #3 Combat Queen (7/2) ran a big race on the lead last out, hanging on to finish second behind Mending, who was coming off a win.
RACE 3: MAIDEN SPECIAL WEIGHT, 4 AND 5-YEAR-OLDS, FILLIES AND MARES, 5 1/2 FURLONGS
3-2-5-7
Lots of interesting firsters here, but I'll give #3 Maggie's Bid (8/5) one more shot. She's run in the 70s three times in her last four races, including a career-best mark of 76 earned in a gutsy performance last out. She's had some time off but has worked well at Penn National getting ready for her first start in more than two months. #2 Knot Anymore (2/1) goes first out for Brittany Russell, and catches a field that, with the exception of Maggie's Bid, is not terribly imposing. Watching the board on her. #5 Haleigh B (6/1) races first out for Dale Bennett and has some good workouts in her lines.
RACE 4: CLAIMING $25,000, 3-YEAR-OLDS, 6 FURLONGS
7-9-3-2
#7 All For Love (4/1) has just missed in his last two starts at this level, chasing a loose leader last out while finishing clear of the others. He's run between a 71 and a 76, inclusive, in his last six starts. #9 Dontcrossfuzzy (5/1) has the most early speed in the race but not an ideal post from which to flaunt it. He got burned up on the lead against better last out, however, he has gone gate-to-wire against winners in the past. #3 Heavenly Trip (9/2) ran a big race against similar two back, narrowly missing against Dontcrossfuzzy, but was very dull last out. Has every right to rebound.
RACE 5: MAIDEN CLAIMING $10,000, 3-YEAR-OLDS, FILLIES, 7 FURLONGS
9-10-11-14
#9 Miss Seductive (6/1) improved sharply second time out, running fourth at this level despite a traffic-filled trip. #10 Camelia Rod (6/1) exits the same race as Miss Seductive. She debuted in that race, and made decent ground on the outside to get fifth. Has every right to move forward here. #11 Heliacal Rising (10/1) has run a career-best mark in each of her last three starts and was claimed out of her last start by Claudio Gonzalez.
RACE 6: CLAIMING $5,000 (N/W2L), 4-YEAR-OLDS AND UP, 5 1/2 FURLONGS
9-2-1-3
Lots of horses who hate winning in this one. #9 The Big K (5/1) goes second off the layoff and takes a big drop in class. His last race wasn't good, but he was hung wide on a fast pace and backed up. With a more reasonable pace scenario, he'll almost certainly improve. #2 Pepe and Haywood (5/2) will also show speed from the inside and just missed at this level two back. #1 Lifespan (9/2) made a solid rally to get third against similar last out and will likely rally for a piece.
RACE 7: MAIDEN CLAIMING $25,000, 3-YEAR-OLDS, 6 FURLONGS
5-14-7-15
#5 Addy's Lady T N T (2/1) returned from a brief break last out and ran a career-best figure of 82 when second at this level. The rest are running for second if he keeps it up. #14 Winston's Gold (10/1) ran a huge second last out when coming from behind. Could upset the exotics at a price. #7 Dathoss (5/1) drops for a tag for the first time and has been working well since his last try, back in mid-November.
RACE 8: CLAIMING $5,000 (CONDITIONED), 4-YEAR-OLDS AND UP, FILLIES AND MARES, 5 1/2 FURLONGS
2-5-7-6
#2 Joyful Noise (5/2) was visually unimpressive in her most recent race, but consistently runs in the 70s and takes a drop from the open $12,500 level. #5 My Way Or Else (8/1) has hit the board in her last six and flew late to earn a career-top mark of 77 in her most recent outing. #7 Jeanie's Angel (2/1) also takes a big drop in class and has the speed to take them gate-to-wire.
RACE 9: STARTER OPTIONAL CLAIMING $16,000, 4-YEAR-OLDS AND UP, 5 1/2 FURLONGS
2-1-3-4
#2 Nashvegas (5/2) has run at least an 86 in each of his last four races and has good tactical speed from the inside. The rest of the field struggles to run an 86, so as long as he keeps up his form, he's in good shape. #1 Big Tall Dawg (12/1) ran a gutsy race on the lead to win a conditioned claiming race two starts back. His figures are just a notch below those of Nashvegas and can round out the exacta at a decent price. #3 Spitball (7/2) has steadily improved in his last three races, including an 87 earned in a desperate n/w3L win last out. Notably, Horacio Karamanos, who had been riding him, jumps off to ride Nashvegas. Denis Araujo picks up the mount.
RACE 10: MAIDEN CLAIMING $10,000, 4 AND 5-YEAR-OLDS, 6 FURLONGS
9-10-5-1
#9 Little Sir John (8/1) returned from a layoff last out and earned a career-best figure when closing for third. You don't see Jerry Robb and Xavier Perez horses at 8/1 on the morning line too often. #10 Wonderville (7/2) showed speed and tired going a mile in his dirt debut. He should improve on the cutback. #5 Callyourightback (4/1) closed for second on debut at 5 1/2 furlongs but was dull in his next two dirt starts. A claim on him was voided in his last start; he's dropping in class from that race and has worked well since then.
LATEST NEWS