SURPRISING COMMAND THE CAT ON A GOOD ROLL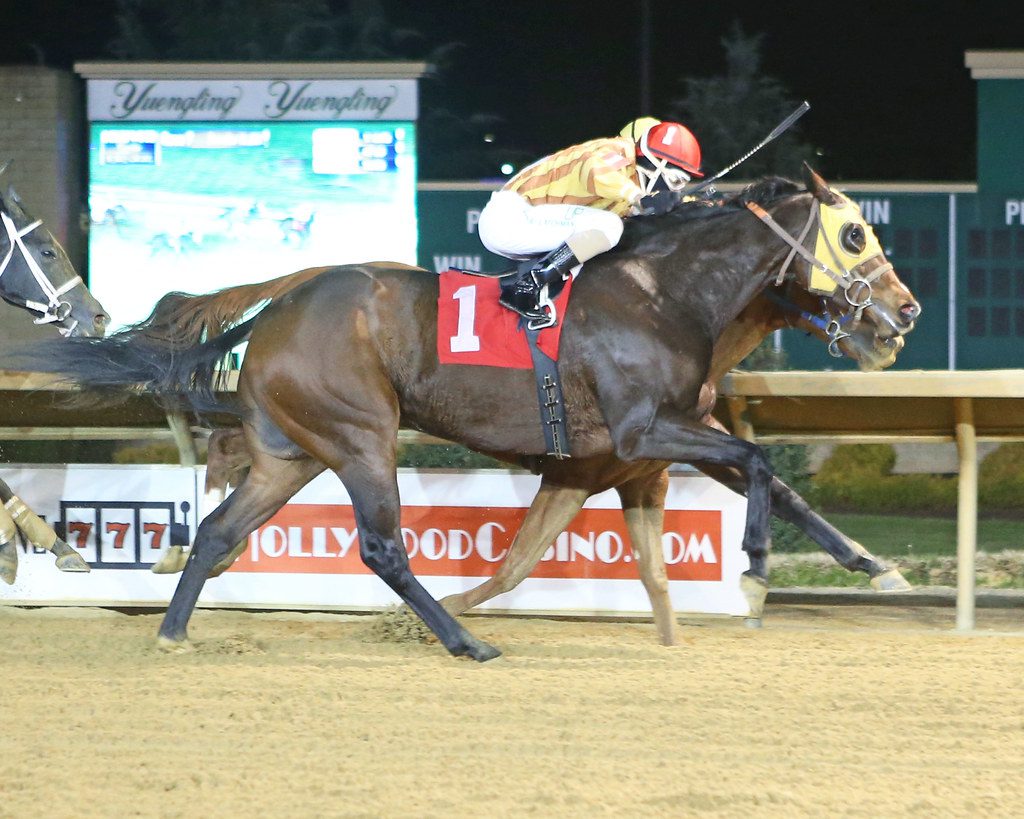 Command the Cat will try to pick up where he left off Jan. 14 in a starter allowance. He is the 9-2 second choice in a full field. Reshawn Latchman will ride.
In the December 15 race, Command the Cat had led through the first three calls, yielded the advantage to William and Mary inside the sixteenth pole after drifting off the rail, but battled back to overtake that one in the final 100 yards for his third straight score.
"One of my pet peeves among riders is that they don't get passed on the left," McKee said. "I was so mad when that other horse got through along the rail turning for home and went by us. I was happy to see my horse fight back and win it, but it was tougher than expected. One thing about Command the Cat is that he was never really going to be one of my best ones, but he's turned out to be okay. He's had a better career than I expected."
Command the Cat was no better than fifth in three tries against maiden special weight company at age two during the summer of 2019, so McKee gave him the entire fall and winter off. When he returned to the races the following May, Command the Cat dropped to the bottom, prevailing in his seasonal debut by graduating against maiden $5,000 claimers.
"I really didn't know what to expect from him when he came back at three," McKee said. "I put him in for maiden $5,000 thinking he had a chance at that level. He won that night, then he came right back to win against $5,000 claimers again, and then I thought he might fit in at the allowance level. He was a lot more competitive than I thought, especially in those 4 1/2 races up here."
Command the Cat recorded his final victory of 2020 by defeating allowance rivals easily on Aug. 22, getting the 4 1/2 furlongs in 51.95. A couple of races later, he ran third in the one-turn WVBC Dash for Cash, soundly beaten by local one-turn titan Dr. Feelgood.
Command the Cat's three-race win streak capped off a busy, 16-start 2021 campaign. In addition to his three final wins, he had recorded two allowance victories earlier in the season. He won another one-turn allowance March 18 in 52.43. His next victory occurred two months later when Command the Cat captured a two-turn allowance in 1:20.25. In September, he finished a solid second in the $40,000 Last Enchantment, named for another past McKee trainee.
McKee decided to try Command the Cat in the seven-furlong Onion Juice, rather than the 4 ½-furlong Dash for Cash on WVBC night. That resulted in a fourth-place finish, though he was just a half-length out of second.
"I probably entered him in the wrong race on Classics night," McKee said. "But I didn't think he had the earnings to make it into the [Dash For Cash] 4 1/2. I thought he ran okay in the Onion Juice. [Trainer] Jeff [Runco] had the best one in there [Penguin Power] and my horse ran okay. But he's been good since then."
He has been good since then, in fact, the best of Master Rick's offspring, And if you're wondering why you haven't seen too many Master Rick's out there, turns out there's a good reason for that.
"I don't have too many by Master Rick," McKee said. "He made over $500,000 racing, but he's mainly used as a teaser stallion up here."
Command the Cat, who finished the 2021 campaign with $120,000 banked from 16 seasonal outings, now sports an 8-4-8 slate and over $170,000 bankroll from 28 career tries. Not long after running fourth in the Onion Juice he prevailed in a two-turn starter allowance on October 30, came back five weeks later to take a similar event on Dec. 3, and then returned less than two weeks later to prevail in his season finale.
"Some of those races came up tough," McKee said. "I thought his race came up really tough. I like to see the guys ride my horses aggressively up here, especially when they draw inside. I thought he was the best in there. Turning for home when that other one [William and Mary] got the jump on us along the rail, I thought we might get beat. But he battled back."
LATEST NEWS