TIMEISGOLDEN HAS KNACK FOR SILVER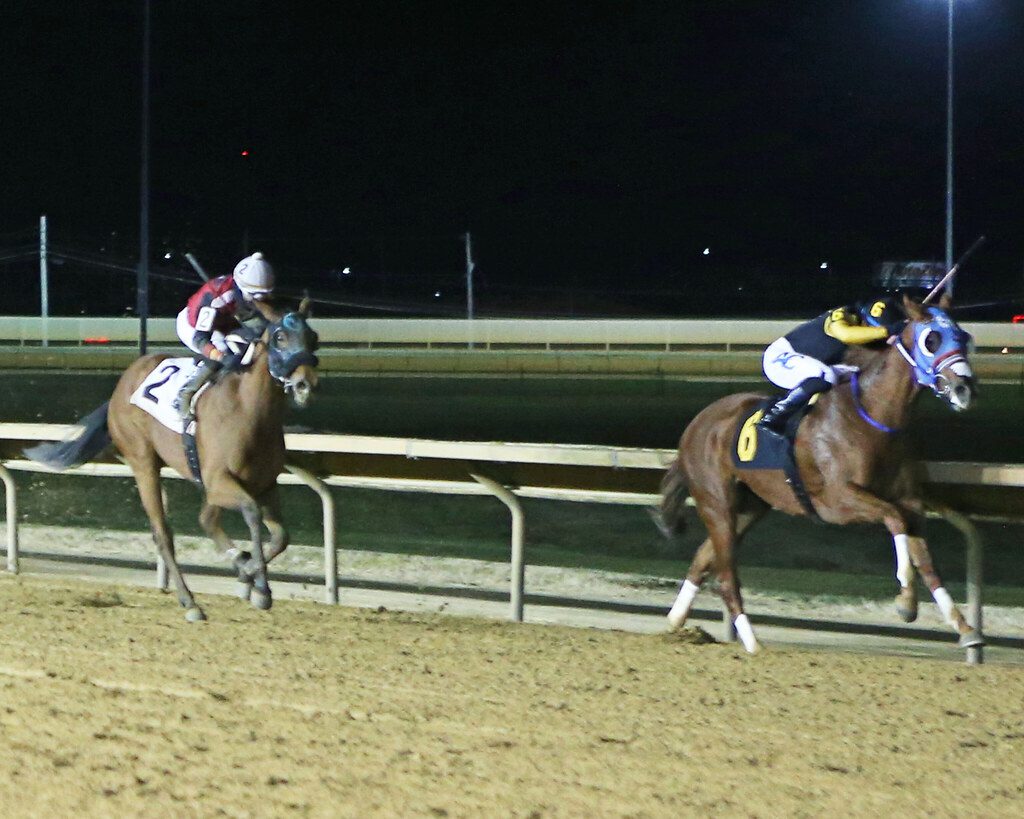 When the gates opened in the seven-furlong maiden special weight event for two-year-old fillies, Timeisgolden broke a step slow – not the first time she has done so – and spotted her foes at least two lengths and maybe three. The favorite found her stride passing the finish line the first time, continued to improve her position through the clubhouse turn, and eventually worked her way into second, just behind 7-5 second choice Jacrodra's Devil, leaving the quarter pole.
But she could never overhaul that one in the lane.
"She's been training great, but she's a little bit of a head case," said Viands, who earned local acclaim courtesy of the late Parisian Diva, who concluded her career with a 9-4-2 slate and nearly $272,000 banked from 17 starts for owner-breeder Melinda Golden. "She's got a lot of ability, but she hasn't been able to put it all together. She ran a great race two starts back when Jackie the Joker just beat her, but before that she missed the break and spotted them 20 lengths."
Viands expects Timeisgolden to have her next crack at putting it all together in an upcoming maiden contest at either Penn National or Charles Town.
Timeisgolden may not have spotted her foes 20 lengths last out, but her slight hesitation at the break might have meant the difference between victory and her fourth straight runner-up effort. She had also finished second on November 27, October 16 and September 25 in two-turn maiden special weight events. Twice she has been upended by runners trained by Anthony Farrior: Jackie the Joker on Nov. 27 and Moody Woman on Sep. 25.
"She's really just been so unlucky at this point, but she has basically done that to herself," Viands said. "I keep taking her back to the gate to make sure she's sharp and alert at the break and she's been doing great in the mornings. But she just has not been able to put it all together at night. Maybe it's the lights or the position of the starting gate, which she didn't like going 6 1/2. But she does everything right in the morning then finds ways to get beat at night."
In her previous outing on Nov. 27, Timeisgolden gained command soon after the break and engaged in an extended duel with even-money choice Jackie the Joker before yielding late and settling for a second-place finish in a 6 1/2-furlong maiden special weight event. One start earlier on October 16, Timeisgolden completely missed the break – the Equibase chart's first comment is "dwelt" – but rallied from well off the pace to finish in a dead-heat for second with Stacias Ruby, beaten just a neck by 32-1 outsider Wicked Wisdom.
Three weeks earlier, Timeisgolden rallied from midpack to surge to command at the head of the lane only to be nailed late by Moody Woman in another 6 1/2-furlong maiden special weight event. But that effort marked a considerable improvement over her first two outings on July 29 and August 19 when she finished fourth and sixth, respectively.
In each of her four starts since, however, Timeisgolden has delivered winning efforts that ended up painfully short of victory as she concluded her freshman campaign with four straight runner-up finishes and her bridesmaid status still intact.
"I was really hoping that she would win for Troy Rankin," Viands said of her owner-breeder, whose top horse to date, Skipping the Score, finished eighth in the West Virginia Derby 10 years earlier. "Ever since he sent her to me, I've been telling him how well she's doing. She trains great in the morning and she's run well at night. But she's kind of a head case and I keep waiting for her to put it all together."
LATEST NEWS