LAUREL PARK PICKS AND PONDERINGS: JAN. 7, 2022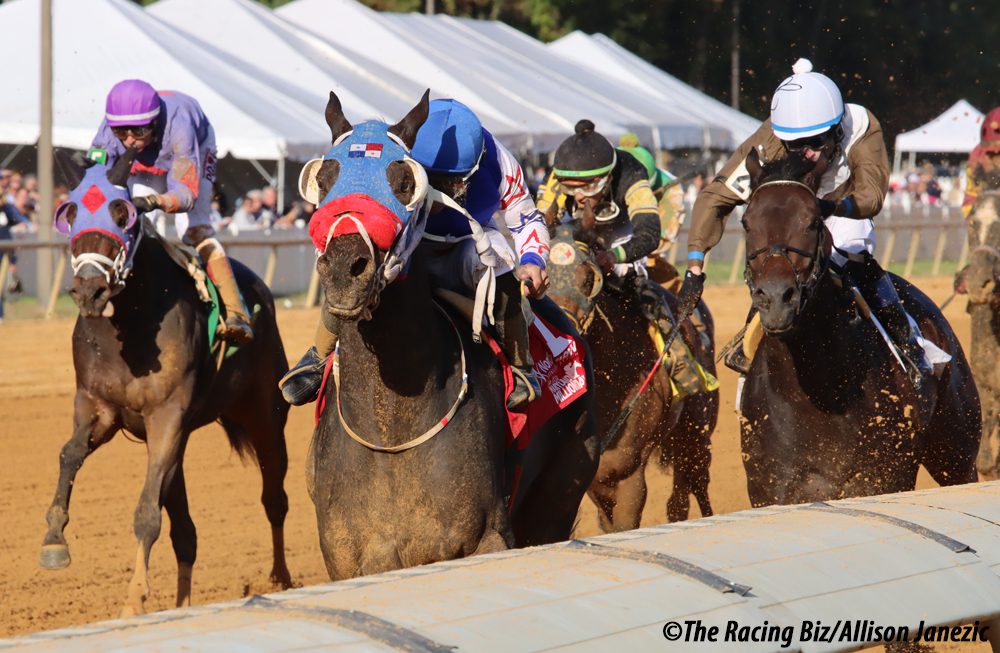 RACE 1: MAIDEN CLAIMING $10,000, 3-YEAR-OLDS, FILLIES, 1 MILE
2-5-4-3
With snow in the forecast, it's not clear as of writing time (Thursday night) whether this card will happen. Nevertheless, we press on. #2 Legs Like Shack (8/5) pressed the pace and faded in her local debut and faded. She held in better at Woodbine earlier in the year, and should improve against this bottom-level bunch. #5 Party Monster (3/1) exits the same race as Legs Like Shack, where she was also well-beaten. She ran a respectable brisnet figure of 60 on debut, however, and has every right to bounce back. #4 Icy Reply (7/2) adds blinkers and hopes for a clean break. Interestingly, she'll be ridden by her trainer, Kirsten Swan.
RACE 2: CLAIMING $5,000, 4-YEAR-OLDS AND UP, 1 1/16 MILES
2-5-4-6
#2 Flatexcel (7/2) has abundant early speed and is a serious threat to take them gate-to-wire for Jamie Ness and Jaime Rodriguez. His biggest challenge on the lead might come from #5 My Secret Place (4/1), who has won three times in the past seven months while racing on or near the pace. Last out, he had a terrible trip and stopped badly. While he might get stuck to the outside of Flatexcel early, he shouldn't lose nearly as much ground as last time. In contrast, #4 Lectric Choke (9/5) has a strong closing kick and will take advantage if the top two burn each other out. If he wins this one, it's likely going to be in a photo finish, given his lack of early speed and subsequent need to make up a lot of ground in a short amount of time.
RACE 3: MAIDEN CLAIMING $40,000, 4 AND 5-YEAR-OLDS, FILLIES AND MARES, 7 FURLONGS
2-4-3-5
Despite what the condition says, only one horse in this race is in for the tag. Six of the seven horses are Maryland-bred or Maryland-sired, and as such are exempt from the claiming price. #2 Utterly Courageous (8/5) earned a very solid brisnet figure of 73 on debut last out, and now returns from a brief break. Jevian Toledo gets the mount for the first time. #4 Island Philo (7/2) made a big, bold rally last out to get second with a career-top mark of 76. That represents improvement from her first dirt start, where she was flat. #3 Polish Cookie (7/2) runs consistently middle-of-the-road figures and should be good for an exotics spot.
RACE 4: CLAIMING $10,000 (N/W2L), 4-YEAR-OLDS AND UP, FILLIES AND MARES, 5 1/2 FURLONGS
3-4-6-5
#3 Little Miss Cat (3/1) is the primary speed horse in the race, and shouldn't have any trouble crossing over to the lead and establishing control. Last out at Woodbine, she dueled on the lead and was clear late, only to get caught in the last sixteenth. #4 Easy On the Sugar (5/1) ran a big race on the lead last out at Charles Town to break her maiden, in her first race in almost six months. She'll likely rate right off Little Miss Cat. #6 Hufflepuff (9/5) hit the board nine times from twelve starts last year, but didn't win once. She's taking a big drop in class from the Maryland-bred allowance level and has the figures to at least get a piece.
RACE 5: MAIDEN CLAIMING $40,000, 3-YEAR-OLDS, 7 FURLONGS
9-11-2-3
This is a tough field for the level. #9 Senator Kelly (8/1) rated off the pace and held on well to finish a clear-cut second with a figure of 76. He'll be a threat if he keeps up his form from that race. #11 Off Course (3/1) improved sharply from his debut last out. He doesn't have much early speed, but has great late pace figures and should be rolling late. Notably, Johan Rosado rode Senator Kelly on debut, but jumps off to ride Off Course. #2 Make the Way Clear (15/1) dropped for a tag for the first time last out, and ran a career-best mark of 76 with a strong-closing fourth-place finish. He's very interesting at a good price.
RACE 6: CLAIMING $10,000 (N/W2L), 4-YEAR-OLDS AND UP, FILLIES AND MARES, 1 MILE
8-7-2-4
#7 Tuff But Fair (8/1) and #8 My Super Sally (6/1) are the only two horses in the field who have raced fewer than ten times, which is always advantageous in a race like this. I give a slight edge to My Super Sally, who has improved sharply in her last two races and should relish the long stretch of the one-turn mile. Tuff But Fair struggled badly in her last start without an apparent excuse, but races second off a brief layoff and gets to stay at this level. #2 Positive Power (7/5) just missed at this level two starts back and drops back in after a try against starter optional claiming types. She has very competitive figures, but it's hard to take a low price on a 1-for-29 horse.
RACE 7: STARTER ALLOWANCE $5,000, 4-YEAR-OLDS AND UP, 6 FURLONGS
3-4-1-7
It's no fun talking chalk on top, but it's hard to see past #3 Beverly Park (1/2), who ships from the midwest. He won eight in a row last year, with all of those wins coming against similar horses to those he'll see here. If he shows up at all, he'll take them gate-to-wire without breaking a sweat. #4 Kingston Pike (3/1) stalked the pace and made a bold move to crush a similar field two races back, and rallied for second behind Super Garner last out, who came into that race with similar form as Beverly Park. I'm expecting a similar result here. #1 Rock and Fellers (8/1) tends to show speed and back up in the stretch, while holding on to an exotics spot. He might get outrun by Beverly Park early, but at least has the advantage of early speed and the inside draw.
RACE 8: ALLOWANCE OPTIONAL CLAIMING (N/W1X), 4-YEAR-OLDS AND UP, FILLIES AND MARES, 1 1/16 MILES
6-5-8-4
#6 Peyton Elizabeth (8/5) has won three of her last four starts by open lengths at Parx for Ness. She has standout figures and will be tough to beat if her form transfers over here. #5 Pettigo Girl (9/2) has also been in good form at Parx, winning her last two starts there by a combined 7 1/2 lengths. #8 Lady Fox (6/1) scored a nice bounce-back win last out at Penn National, and will likely come from off the pace.
RACE 9: MAIDEN CLAIMING $10,000, 4 AND 5-YEAR-OLDS, FILLIES AND MARES, 7 FURLONGS
13-6-2-11
#13 Bellswillberinging (7/2) drops to this level for the first time and stays at a sprint, where she earns her best figures. The post is the only major obstacle. #6 El Bochinche (5/1) has shown speed and faded in her last few starts, but gamely held on for second last out despite a wide trip on the pace. #2 Pearlyville (9/2) has hit the board in four of her last five starts and is slowly improving form.
LATEST NEWS