PRINCESS KOKACHIN, HELLO BEAUTIFUL TO SQUARE OFF AGAIN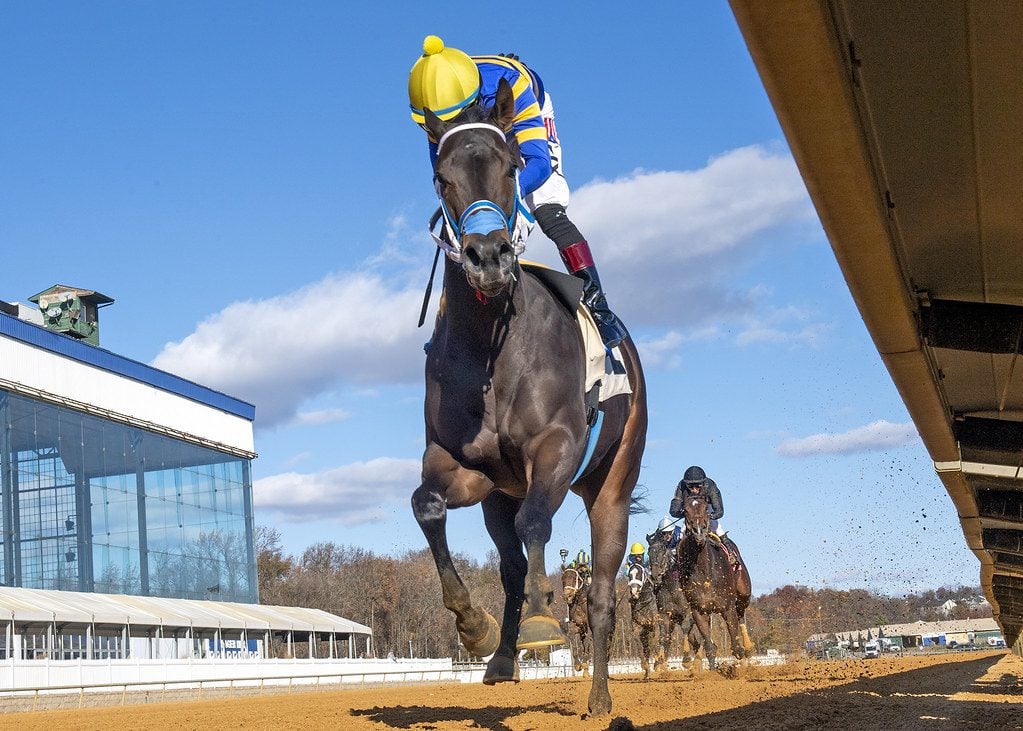 The Biz

December 22, 2021
Late last month, Princess Kokachin and Hello Beautiful met for the first time, in the Nov. 26 Politely Stakes at Laurel Park.
Princess Kokachin, a three-year-old Maryland-bred Graydar filly, got the jump on her more decorated rival that day, powering to an easy victory while Hello Beautiful faded to last as the 1-5 favorite. Those two will renew acquaintances Dec. 26 at Laurel Park's $100,000 Willa On the Move Stakes.
In the Politely, Princess Kokachin, breaking just outside of Hello Beautiful, was able to outfoot her rival for the early advantage. That proved key, as rider Xavier Perez was able to move to the rail, and Hello Beautiful quickly found herself surrounded by rivals.
"I thought I'd outrun her," Jerry Robb, trainer of Princess Kokachin, said afterwards. "My filly's quick. I didn't know if I'd be able to keep going with her, but I think the one-hole hurt her."
The Politely marked the stakes debut for Princess Kokachin. She set testing fractions of 21.98 and 45.12 seconds before finishing up in 1:11.22 to win by 5 ½ lengths.
Eric Rizer's homebred Princess Kokachin will break inside Hello Beautiful from Post 3 under regular rider Xavier Perez, looking to extend her win streak to six races, with all of those victories coming against older horses. The impressive win streak has given Princess Kokachin seven wins from 12 career starts and pushed her lifetime earnings to $218,875.
With post positions flipped this time around – Hello Beautiful will break from the six-hole – extending the streak will be no mean feat.
Madaket Stables, Albert Frassetto, Mark Parkinson, K-Mac Stables and Magic City Stables' Hello Beautiful had a three-race win streak snapped when she finished last of five as the favorite in the six-furlong Politely Nov. 26 at Laurel. Trainer Brittany Russell said the Golden Lad filly came back well, if agitated, from the performance.
"She was very unhappy after the race, in a just [ticked] off kind of way. She knew that it wasn't supposed to go like that," Russell said in a release. "When I went back to check on her, it wasn't her normal munching her hay. It was like, 'Get away from me.' The important thing is she's doing well, and she's still Hello Beautiful.
"She's been fine. She really only ran about a quarter of a mile, if you really look at how it went down," she added. "She came back no worse for the wear. She's doing fine, and she's trained well since."
Prior to the Politely, Hello Beautiful was a front-running winner of the Alma North at Pimlico Race Course and the Weather Vane and Maryland Million Distaff to put her career win total at 10, eight of them in stakes, and she's earned $584,820. She is one of only seven horses in event history with three Maryland Million victories.
Hello Beautiful broke from the rail and found herself atypically behind horses in the Politely, outrun to the lead by Princess Kokachin. Jockey Jevian Toledo opted to drop back and then make a run that never materialized.
"I probably should have been a little more clear with Toledo to just kind of stay on that filly. We know our filly. She was a step slow that day, but you've got to go. You've got to go with her," Russell said. "They were moving, they were going quick, but that's our game, too. When she kind of got checked out of there, it was over."
Toledo climbs back aboard for the fourth straight race in place of Russell's husband, injured jockey Sheldon Russell, and they drew Post 6 in a field of eight at 124 pounds, a topweight she shares with Call On Mischief and Jakarta.
"You can look at it all different ways, but had our filly drawn outside that filly that day, it might have been a different outcome, too. It's fine. It happens," Russell said. "You better learn how to lose races, because we lose a lot more than we win. Just be a good loser and hopefully she bounces back next time."
Also signed on for the Willa On the Move are multiple stakes winner Dontletsweetfoolya, graded stakes-placed Jakarta, and stakes winner Call On Mischief among others in a field of eight.
LATEST NEWS