DELAWARE PARK HANDICAPPERS' NOTEBOOK 2021 VOL.19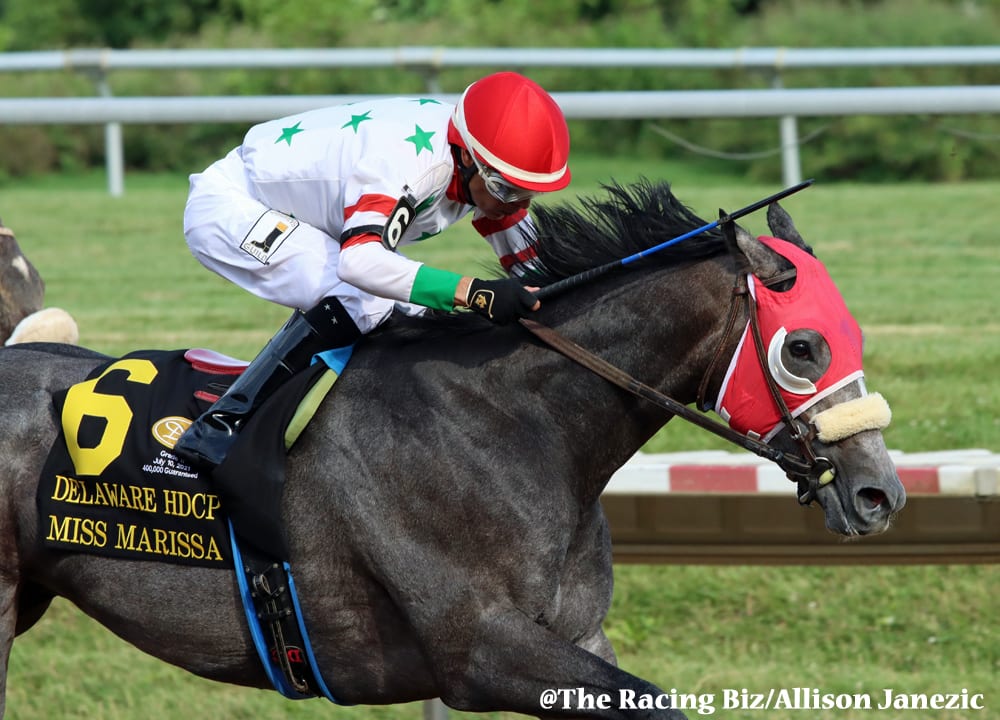 Notable races and trips
OCTOBER 6 – OCTOBER 11
Turf racing has concluded for the year. Because the turf course at Delaware Park seems fragile, perhaps track management could consider not using it from mid-July through August. This would give the course time to heal following the two big stakes weekends and have it healthy for the fall, which is prime turf racing season. In addition it would allow Delaware not to go head-to-head with the Colonial Downs turf meet, which is expected to expand next year.
OCTOBER 6
Race 3: Although the race was moved from the turf to the dirt, 11 runners remained, leading to a mad dash to the first turn in this mile event. The first four finishers were 7 wide, 4 wide, 5 wide and 6 wide, respectively ,into the first turn. Normally I would assign extra points for a wide journey, but if you look more closely at the race, you will see that the rest of the field consisted of horses that went off at odds from 10-1 to 66-1 and one low-odds horse that was vanned off. In addition, the outside paths on the track played very fairly all day. In conclusion, the performances for Barberini, True Dakotan, Menelao and Shot Time were fine but less impressive than the wide comments might suggest.
OCTOBER 7
Race 8: Despite breaking slowly with Cash Kid, veteran Jockey and new father Daniel Centeno continued to urge his horse throughout the race and ultimately took the lead in deep stretch. At that point the horse veered in and Centeno lost his balance when he looked behind him to make sure he was clear. Thankfully, he was not seriously hurt despite falling hard and being struck in the head by a trailing horse. Some on social media concluded — stupidly, in my view — that he fell off the horse on purpose, For those folks, I would suggest that handicapping may not be the game for you.
OCTOBER 11
Race 2: We have previously commented that all-star trainer Michael Stidham has not had the best of meets. Through October 12, he has had five winners from 59 starters. In this race for $15,000 maiden claimers, he sent out favored She's a Rebel with Carol Cedeno astride. The connections were most likely responsible for the odds, but a closer look at the racing form revealed that this first time starter was originally purchased for the claiming price. One would have to assume that if the ownership was willing to lose the horse for a price that did not recoup any of their expenses over the purchase price that this horse most likely was entered in hopes that she would be claimed. She ran poorly, finishing next to last, and will go off at higher odds next time. I would advise not playing this beaten favorite next time out.
Jockey and Trainer of the Week
Jockey Jaime Rodriguez won on 8 of his 24 mounts this past week and had 10 second place finishes. With 98 wins through October 12, he should, barring injury, finish with over 100 wins for the meet.
Veteran trainer Gary Capuano had three winners with his five starters this week. He now has 14 winners for the meet which puts him among the top group of those trainers who are not named Jamie Ness.
Handicappers' Toolbox
With no turf and the meet nearing its end, the handicapper's hunt for value becomes even more important. Two upcoming baby stakes — the White Clay Creek October 13 and Rocky Run October 16 — may provide good betting opportunities. As for the future, tread carefully when betting back any horses that win at short odds over the next few weeks, especially if their follow up race is at Laurel or Parx. And make special note of field sizes; you may want to discount wins earned against small fields.
LATEST NEWS