FOR SOME, VIRGINIA DERBY A HOMECOMING OF SORTS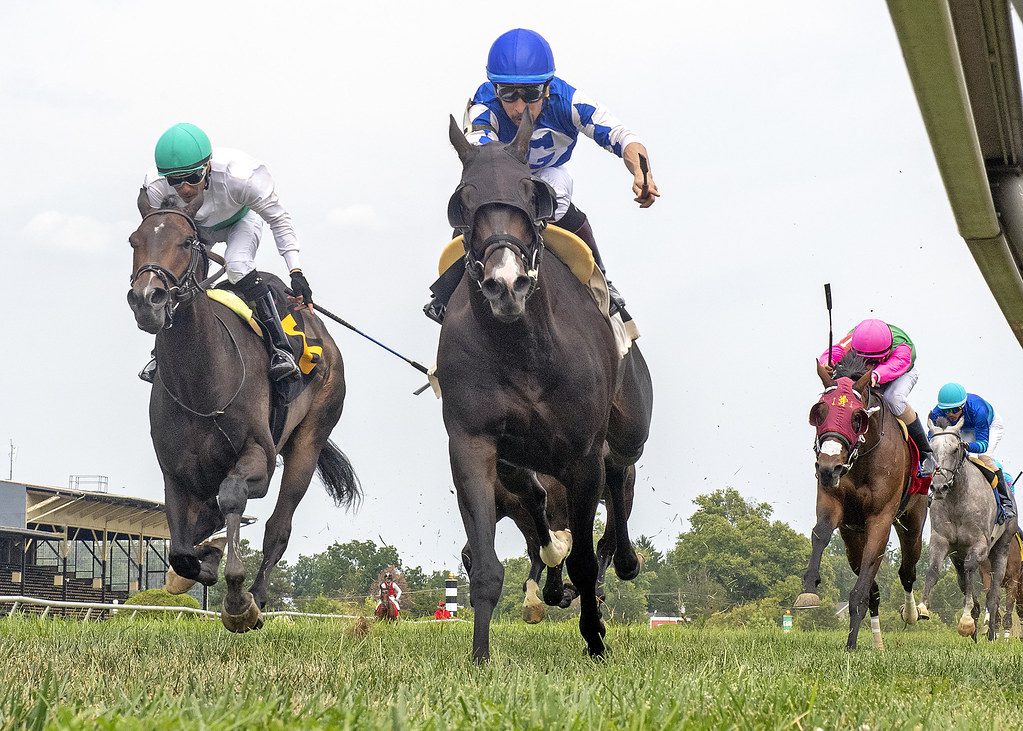 While perhaps short a signature star, this year's event has drawn the most entrants since in 1999, all hoping to use to the 1 1/8-mile Virginia Derby to launch their careers.
Of the dozen trainers engaging the Virginia Derby, three have nostalgic ties to Colonial Downs either in the Virginia Derby or to the track itself. Trainer Graham Motion exorcised his Virginia Derby ghost in the most recent running in 2019, when English Bee held off Jais's Solitude.
"Winning with English Bee was huge because we had a couple tough beats including Bay Eagle (2001) who was beaten right on the wire. That was a tough pill to swallow that year," recalled Motion on Off to the Races on Saturday, August 28.
Motion brought English Bee came back to Colonial for the first time since his Virginia Derby victory on August 24 for what turned out to be a happy homecoming.
"I was obviously thrilled to get him back in the winner's circle. It hadn't dawned on me that he was still the reigning champion Virginia Derby winner, so that was cool to bring him back down and get a win in what was a really solid allowance race," praised Motion. "It was really gratifying to win it with English Bee, who is one of our favorites. He's a hard knocking, blue collar, horse. I thought he was very game the other night and very brave."
Motion will saddle Wootton Asset, a horse that was bred and raced in France, in the Derby and his approach is guarded with heaping doses of optimism. Wootton Asset is owned by Madaket Stables, LLC and will received the jockey services of Jose Ortiz.
"I know he hasn't won since he came to America, but he's been very consistent in his placings," explained Motion. "He really came to this country to run on firm ground and hasn't come up on firm ground that often. The turf course is beautiful. It's always in great shape. Even if we get some rain, it holds its condition really well. I think it's a good distance for him."
Motion isn't the only trainer with hands-on knowledge of Colonial's turf. Trainer Jonathan Thomas is the son of the innovative and long-term caretaker of the Secretariat Turf Course, J. D. Thomas, who used practices ranging from applying minute applications of crumb rubber to the more visible brush storm burnings of the turf leaf in early spring. Thomas, who'll saddle morning line favorite Experienced (7-2), doesn't necessarily consider it a home-turf advantage, however.
"I think it's a little extra-special," Thomas said. "He took such good care of it and it's always gotten rave reviews. I don't let the emotional side get to me. I like to think the horse has a shot on its own merits. We'll obviously see when the day comes. It's a wide-open affair. Probably by the time odds are in, I know don't know if we'll go off favorite, but we're certainly happy to bring a horse down there we think has a shot."
Thomas trains for Augustin Stable, who won two of the early editions of the Virginia with Crowd Pleaser (1998) and Potaro (2001), the latter narrowly bettering Motion's Bay Eagle in the fourth running of the Virginia Derby. With a win, Augustin Stables would match the three Derby titles won by Peter Vegso with Orchard Park (2002), Silver Tree (2003) and Go Between (2006).
"We're very, very lucky to train horses for Mr. Strawbridge," said Thomas. "It's quite an honor. He's done more in his career than we can even think of. To be a small part of something like that would be tremendous."
It will only be the third start for the inexperienced Experienced, who was coming gamely in the $100,000 Bald Eagle Derby at Pimlico and finished less than a length behind winner Indian Lake, also entered in the Virginia Derby. Experienced finished more than two lengths ahead of Motion's Wootton Asset in that key race. The mile-and-a-half Bald Eagle forwarded its top three finishers to the Virginia Derby, an anomaly in this year's field that has imported horses from eight different states.
"He won nicely first out," Thomas said of his charge. "I thought he ran very well second out. He got a little unlucky. He just got up and missed. You could make a case had he gotten going a little earlier he would have gotten up to win."
The old adage "pace makes the race" will be critical for Experienced, Thomas believes.
"I think the main thing for him, he's a horse that seems to come from out of his races, probably a little pace-dependent," the trainer said. "It looks like there is pace on paper, but obviously until that happens on the day you don't know. It's a big ask. You're only three once, and he deserves a shot."
It there is a trainer that exemplifies the Colonial comeback story best, it could be Michael Dickinson who returned to New Kent for the first time since 2007 with two three-year-olds on August 10, winning with both of them.
Joe Rocco, Jr. broke Search for Truth's maiden by over 11 lengths at a mile and an eighth completely on the front end for Gallaghers Stud. The three-year-old colt drew the rail in the Virginia Derby. Dickinson's other winner that day was the three-year old filly, Belle Belisa, who will start in the $150,000 Virginia Oaks. She was ridden by Charlie Marquez. Those have been Dickinson's only starters at Colonial this season, and he isn't changing jockeys for Tuesday's card.
Dickinson helped put Colonial Downs on the map in 1998 when he placed his 1996 Breeders' Cup Mile winner Da Hoss into a legendary allowance win over millionaire John's Call, the horse's one and only start between his '96 BC Mile win and his '98 BC Mile triumph.
It seems like Dickinson doesn't forget a favor. He's returning Rocco to the Virginia Derby mount after the facile maiden-breaker. Rocco guided the Dickinson-trained Bestowed to a win in the 2006 Da Hoss Stakes, the annual stakes run in the name of Dickinson's Breeder's Cup winner.
"The horse is doing well. We're happy with him, but he should have come out of his last race well because it was relatively easy for him," observed Dickinson. "It's a huge step up going from a maiden to a graded stake, huge. You can do it as a two-year old when all the horses have run a race or two, but we're running against horses that have run six or eight times so we're giving up a lot of experience."
Dickinson chose to run Da Hoss at Colonial not for fitness, as that could have been done anywhere, but "to run the ring-roughness out of him." As lightly raced as Search for Truth may be, Dickinson may hope that Search for Truth has moved forward from his ring-roughness with the win earlier in the meet.
"We realize it's a brave move, bold, and its not going to be easy. It's a big step up. We hope he runs his race and improves a little from his last race," wishes Dickinson.
As an aside, Charlie Marquez returns to ride Belle Belisa in the Virginia Oaks. His father Carlos rode Da Hoss in that 1998 allowance win.
The Virginia Derby field includes Eye of the Cat, to be ridden by jockey Horacio Karamanos, who won the 2007 Virginia Derby with Red Giant who set the track record covering the race's former distance of 1 ¼ miles in 1:59.62. Eye of the Cat (15-1) is trained by Wayne Catalano for Carmen Catizone.
Trainer Doug Matthews will send out Draft Capital (15-1) under Sheldon Russell for Savesnine Corporation. Draft Capital has won fourth straight races this summer at Arlington Park. Slicked Back (12-1), It Can Be Done (10-1), Hard Rye Guy (10-1), Doubleoseven (12-1), Shady McGee (15-1) and Hidden Enemy (8-1) complete the field.
Times have changed since those earlier runnings of the Virginia Derby, but this year's edition is shaping up to be as compelling as ever.
LATEST NEWS