BILL MOTT TRIO POINTED TO COLONIAL STAKES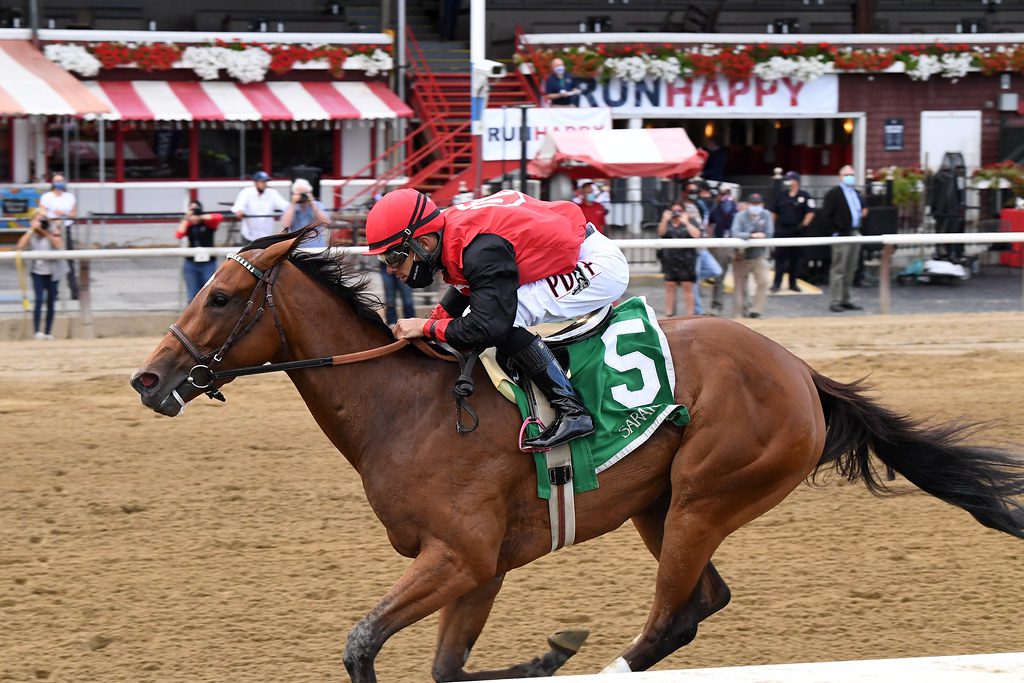 Frank Vespe

August 22, 2021
Trainer Bill Mott hasn't started a horse at Colonial Downs since 2011, a streak that, if all goes according to plan, will end Monday.
Mott has runners entered in three of the four MATCH Series stakes to be conducted at Colonial Monday. Two of those horses — Frank's Rockette in the Seeking the Pearl Stakes and Paris Lights in the Love Sign — are favored, while South Bend is the 3-1 second choice in the Victory Gallop.
"We wanted to try to have them someplace where we thought they would be competitive," Mott said Saturday on Off to the Races Radio. With two favorites and a second choice, he certainly seems to have accomplished that goal.
Mott, of course, is no stranger to accomplishing goals. The three-time Eclipse Award winner as outstanding trainer entered the Hall of Fame in 1998 and has won more than 5,100 races in his career.
What's more, despite limited opportunities, he enjoyed plenty of success at Colonial Downs in its earlier incarnation. Mott posted three wins in the Virginia Derby and another in the Virginia Oaks.
Of Monday's trio, Frank's Rockette looks to have the best shot at giving Mott his latest New Kent triumph. The four-year-old filly by Into Mischief has won eight of 15 in her career while amassing $821,103 in earnings. She has won three graded races in her career and enters off a win in the Saylorville Stakes at Prairie Meadows.
Mott took a swing with Frank's Rockette to conclude the 2020 season, running her against the boys in the Grade 1 Breeders' Cup Sprint. She finished 11th in that contest but hasn't skipped a beat this year.
"She's a very nice filly that tries every time," Mott said. "She shows up for work every day, and every time we lead her over there she puts in a good effort."
Since the July 3 win at Prairie Meadows, Frank's Rockette has put in four breezes, the most recent of which, August 13, was a half-mile move in 47 ⅗ seconds that was the fastest of 51 at the distance over the Belmont training track that day.
Frank's Rockette, owned by Frank Fletcher Racing Operations Inc., is 3-5 on the morning line and will have Junior Alvarado up.
One race prior, in the 1 1/16-mile Love Sign, Mott will saddle 5-2 morning line favorite Paris Lights. Outside of a clunker in the Grade 1 La Troienne on the Kentucky Oaks undercard earlier this year , the four-year-old Curlin filly hasn't done a thing wrong, winning four of seven, including last year's Grade 1 Coaching Club American Oaks at Saratoga.
"She was a nice filly last year," Mott said, pointing to the Grade 1 victory, which was her final start of the year and capped a three-for-four campaign.
Paris Lights kicked off her 2021 campaign with a win in the Grade 3 Distaff Handicap at Aqueduct April 2 before getting thrashed in the La Troienne. She finished sixth that day, beaten 11 lengths by winner Shedaresthedevil.
"I ran her in a tough spot in the race at Churchill Downs and she didn't do too well," Mott allowed.
She followed that up with a third-place finish in the Shawnee at Churchill but has not raced since May 29 and is showing some solid works in the interim.
Alvarado also has the mount on Paris Lights, who's owned by WinStar Stablemates Racing.
Mott and Alvarado will also team up in the Victory Gallop Stakes to send out South Bend, the 3-1 second choice. The Algorithms colt, a stakes winner at two, has kept exemplary company while earning nearly $500,000. Most recently he was sixth, though beaten just four, in the Lure Stakes at Saratoga.
Cordmaker is favored in the Victory Gallop. The Rodney Jenkins-trained Maryland-bred has earned more than $600,000 in his stellar career. Last time out he was third behind Harpers First Ride in the Deputed Testamony at Pimlico.
It's been a while between trips to the Colonial Downs winner's circle for Bill Mott. But his Monday lineup rates a big chance to give him a return visit.
"The conditions of the races that were available are what attracted us," Mott said. "The horses are all doing good, and hopefully the races suit them."
LATEST NEWS