DELAWARE PARK HANDICAPPERS' NOTEBOOK 2021 VOL. 10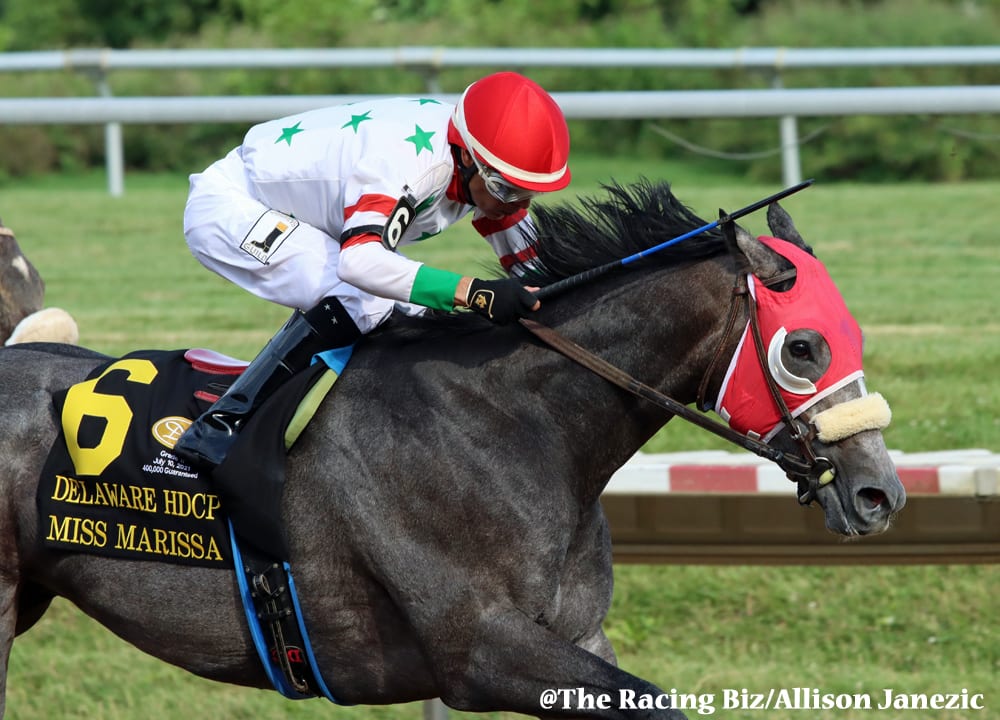 Notable races and trips
JULY 28 – AUGUST 2
On Saturday the turf course was firm and two of the three races were captured by a wire-to-wire winner. The total recorded rainfall on Sunday was less than 0.2 of an inch yet for some reason the races on Monday were taken off the turf. The turf course has been consistently favoring early speed so I don't anticipate this to change. During this last week, Colonial had a storm so heavy that they cancelled two races and paused using the course for over one hour. The races resumed on the course that day and the course was listed as firm the very next day. Given the fact that turf races consistently produce higher handle it perplexes me that many tracks do not invest more capital to ensure they get maximum usage out of their turf course like Colonial does.
JULY 28
Race 1: Jockey Aubrie Green appears to be most effective when she can get a horse out on the lead and either control the pace or use her talent to keep a horse going. In this one mile dirt race she went wire to wire with Epic Luck. Each of the first three quarters was run at a pace exceeding 25 seconds. Kudos to the jockey in controlling this race but when this horse runs back, the 10 3/4 length victory needs to be discounted slightly.
JULY 29
Race 8: I have commented how weak the fields have been in many of the maiden $5,000 claiming races this year. This race was no exception, The favorite, Maliciosa broke so badly that she was more than 10 lengths back at the start. Despite that, veteran jockey Daniel Centano was able to keep his cool and rally the horse to a victory. The chart comment "bad start, surged clear" will likely cause this horse to be over bet in its next start when in reality the win was more a testament to the jockey and the weak field.
JULY 31
Race 5: Trainer Christophe Clement entered Spatial in this MSW field that contained a number of horses better suited for the maiden claiming ranks. The horse was a deserving favorite and won as expected. Now that she is eligible to run against winners it will be interesting to see if Clement runs her at Saratoga and what level she races at. For me this horse is a bet against in allowance company at a tougher circuit.
Jockey and Trainer of the Week
Jockey Angel Suarez started the year at Delaware Park coming back from a serious leg injury suffered at Fair Grounds during the winter. This week he displayed the form he had demonstrated last year at Delaware. He had 7 wins in 19 starts and is poised to finish up the season strong if his agent can get him a share of live mounts.
Trainer Gary Contessa was hired to be the private trainer for Bell Gable Stables this year after he previously announced his retirement from the game, His two wins this week gave him a very solid nine wins for the meet with a 20% winning percentage. He has continued this ownership's strategy of running horses where they belong, and there is no reason to assume his win rate will slow down.
Handicappers' Toolbox
A number of my handicapping friends stick solely to playing bigger circuits. While I refuse to play the bottom level tracks, there are good reasons to play mid-level tracks like Delaware. Most days at Delaware provide two or three value plays. If you isolate your play to races that have overlays, you can show a profit at tracks of various class levels. By overlays I am not talking about extremely high odds horses. It is my experience that there are few horses that go off at 20-1 or higher that are really 10-1 horses. It is very common, however, to get horses that are between 10-1 and 3-1 that are slightly underbet. These are horses that provide the most value regularly at any track of respectable quality with legitimate pool sizes.
LATEST NEWS