LOVELL, NAGLE RIGHT AT HOME AT COLONIAL DOWNS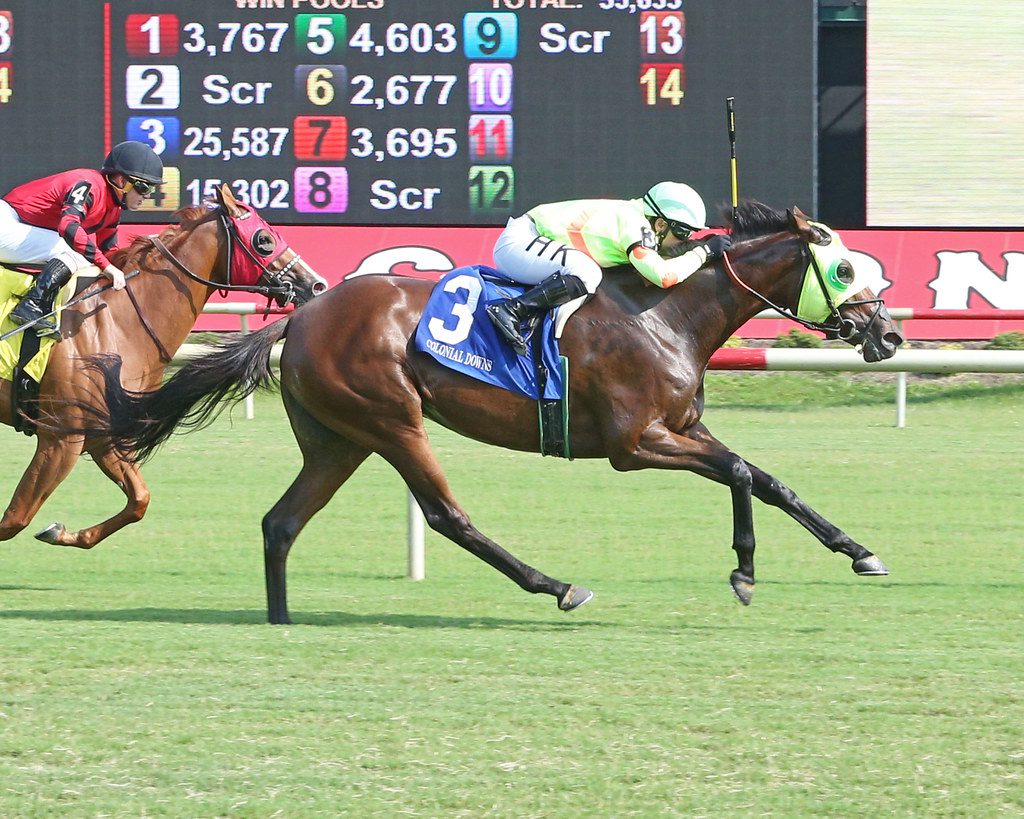 Local Motive, owned by Bird Mobberley LLC, took the day's final stake, the $100,000 Hickory Tree for two-year-olds going five furlongs on the outer turf, wearing down Roll Dem Bones to win by a half-length under jockey J. D. Acosta. The time of the race, 57.52 seconds, was exactly one second slower than juvenile fillies had recorded one race prior.
"I'm not so sure he took to [the turf] as well as it looked," Salzman said of a runner who had won on dirt first time out and is now two-for-two. "This was a little easier race."
Local Motive, who now has earned over $86,000, has helped propel his sire, Divining Rod, to the top of the Mid-Atlantic first-crop sire list. Divining Rod's four winners to date have earned over $191,000 combined.
Local Motive won't likely be back to Colonial Downs, though. Salzman, who with the closure of Laurel Park has been training at Timonium, said he would instead point Local Motive to the Timonium Juvenile Stakes August 29. That race carries a base purse of $75,000, which rises to $125,000 if the winner is Maryland-bred and Maryland-sired.
"He's training at Timonium every day," Salzman said. "He's Maryland-bred and Maryland-sired, and so definitely that's my next spot that I'd look at with him. The track's been slow, really slow there, but he loves it."
Nagle's Cavalier Cupid and Lovell's Just Might, on the other hand, look to be taking full advantage of their Colonial sojourn.
Cavalier Cupid won the Keswick Stakes for two-year-old fillies in 56.52 seconds for five furlongs to become the first two-time winner of the Colonial Downs meet. The race was a virtual replay of Cavalier Cupid's prior race here July 19. In both she rallied from fourth to overhaul a stubborn Rambert, and in both, Rambert in turn was well clear of the rest.
"She hasn't done a single thing wrong, and she's a pleasure to train," Nagle said afterwards. "If they were all like this, it'd be a whole lot easier."
Cavalier Cupid, a homebred daughter of Quality Road for Big Lick Farm, was ridden by Horacio Karamanos and now has two wins from three starts and earnings of more than $93,000. Cavalier Cupid has helped give Nagle three wins from six starters at the meet; only Michael Tomlinson, with four wins, has more.
Nagle's Virginia-based operation has recorded three of its eight 2021 victories during the Colonial Downs meet. Cavalier Cupid's win also made Nagle the first trainer to register two stakes victories this season.
While Lovell's Just Might has only run once at the meet, his win in Monday's Da Hoss Stakes was the trainer's third from nine starters at the meet. The win was Just Might's second consecutive victory, but it wasn't easy.
Just Might and jockey Colby Hernandez first had to outslug a stubborn foe in Francatelli. They then had to wait out an objection by Sheldon Russell, rider of fourth-place finisher Boldor, who alleged interference near the eighth pole.
"It was truly a rollercoaster," Lovell said afterwards. "I told Colby, if… we're not on the lead, just ride your race from there, [and] he rode him perfectly. And then I thought, 'Is he gonna kick today?' When he started coming on, I really thought we could get the win."
They did, but then the objection light came on, and Lovell was left to sweat it out.
"You know, when you're only riding your horse like I was, I didn't see anything happen, so I was sweating that out a little bit," she added with a relieved laugh.
Like Cavalier Cupid, Just Might is a homebred for Lovell and Griffon Farms. He's now won six times and earned over $460,000.
"He's been such a blessing for myself and my partner," the trainer said. "He's just been a really awesome individual, a very sound, very healthy horse, so we've been really blessed, and him being a homebred, it's just like icing on the cake because we got to do it from very beginning."
LATEST NEWS