JOY AND TEARS AS CARAVEL sets sail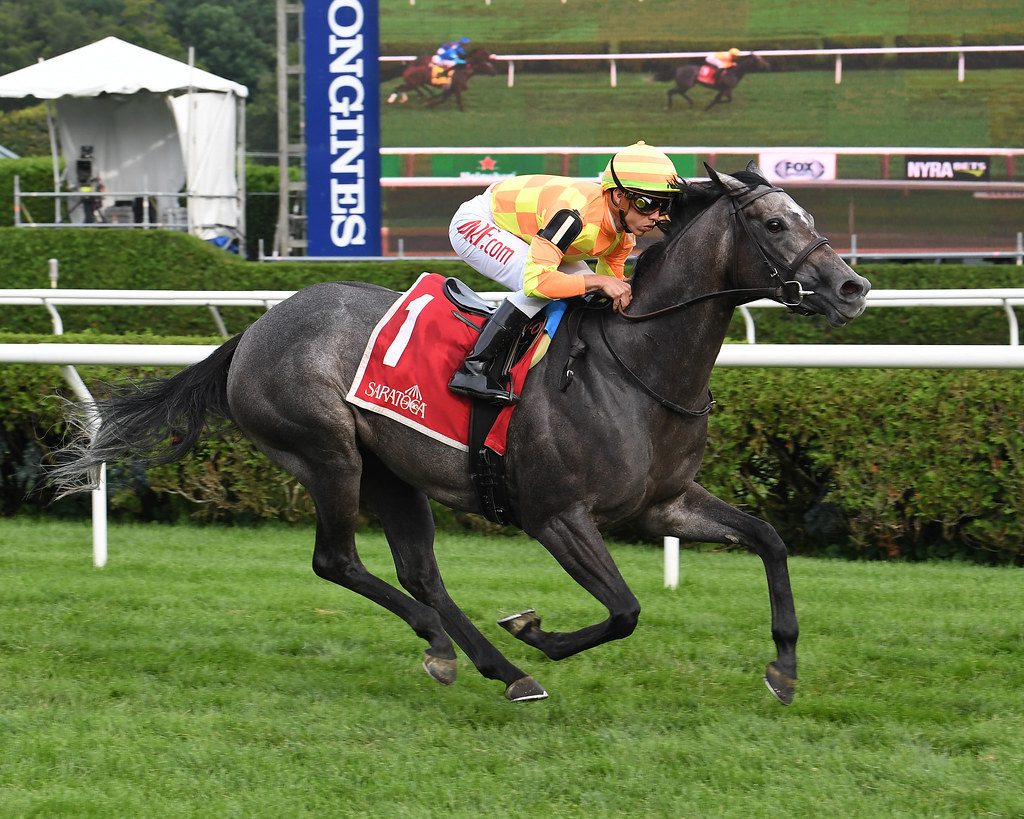 Teresa Genaro

July 27, 2021
On Saturday morning on the backstretch at Saratoga Race Course, July 24, Maddie Rowland held the shank as trainer Elizabeth Merryman bathed her filly Caravel. The gray/roan filly extended her neck straight up, turned her head in profile, and posed.
"She knows when the camera is out," said Rowland. "It's like she's saying, 'I'm beautiful, look at me.'"
Ten hours later, Rowland and Caravel posed for another picture, this one in the winner's circle for the Caress Stakes (G3) for the filly's first graded win.
Rowland was the first down the clubhouse steps, shank in hand, her face awash in tears and emotion, and it was she, a few minutes later, who guided Caravel and Irad Ortiz Jr. in to get their picture taken.
"When we were in the barn before we headed to the paddock," she said, "I got really emotional—not crying, but emotional. I wasn't scared that she wouldn't do well; it was that she wouldn't be coming home with us."
"Home" is trainer Elizabeth Merryman's barn at Fair Hill; Merryman bred Caravel and, after a 4 1/4-length win in the Goldwood Stakes at Monmouth Park on June 25, sold a 75% interest in her to Bobby Flay, retaining 25% for herself.
As part of that deal, Merryman agreed to transfer the horse to trainer Graham Motion, her neighbor at Fair Hill, after the Caress.
"It's hard," said Merryman of having to part from the filly she's known since birth. "But I'm OK with it. I knew going in that it would be this way."
Before coming to Saratoga, Caravel had won six of eight starts, four of them stakes, and Merryman had long been fielding offers for her. She discussed her options with Motion, who expressed his own interest in training her.
"I had all these people pushing and shoving for her and getting upset when I put them off," she said. "Graham wasn't like that."
Merryman had nearly sold Caravel once before. A Pennsylvania-bred by Mizzen Mast, she is the first foal out of Zeezee Zoomzoom (Congrats), whose dam Zee Zee (FL) was a multiple stakes placed turf runner that earned $380,000.
"When she was a foal, I was like, 'Damn, this mare throws pretty correct babies.' She really impressed me and I figured I should sell her," she said.
"Then," she added with a smile, "she started cribbing and I thought, 'Shucks, I've got to keep her. I won't get any money for a cribbing turf horse.'"
Caravel was Merryman's only foal that year, so she headed to the Timonium yearling sale to purchase a companion and training mate for her. But she liked her own yearling so much more than any horses she saw that she went home alone, and Caravel was raised as "an only child who acts like it."
Rowland knows that personality well; the daughter of trainer Paul Rowland, who died when Maddie was only eight years old, she began galloping for Merryman just as the pandemic hit last year. Caravel hadn't begun racing yet, and while Rowland wasn't the filly's main rider, she got on her enough times to feel a connection.
"We have a similar attitude," she said. "Nope, you're not going to boss us around. We stick up for ourselves and have some fight in us."
Rowland rode with the filly from Fair Hill to Saratoga, by some miracle avoiding traffic throughout the 300-mile trip. Traveling on Friday, Merryman wasn't quite so lucky. Fortunately, Caravel's 5 1/2-furlong trip around Saratoga's turf course resembled Rowland's to upstate New York: sitting in third under jockey Irad Ortiz Jr., the filly saved ground on the inside before heading to the three-path. A gorgeous burst of acceleration propelled her past her rivals, and she finished in front of them by 2 1/2 lengths.
"The whole turn, she was on the bridle waiting for the time to go," said Ortiz. "I wanted to make sure to go around the horses like she did last time at Monmouth. As soon as I asked, she gave me a really good kick – a good turn-of-foot."
Rowland had visited Saratoga before, but only as a spectator. This time was different.
"Completely different," she said, "being on the end of the shank with a horse like that. When I walked in the paddock, I was like, 'Wow—this is a graded stakes and I'm a part of it.' I get to be a part of this horse, to watch her grow and train and run. I couldn't be more grateful."
Seventeen years old and approaching her senior year in high school, Rowland began online education when she was in 10th grade, long before the rest of the country joined her. That's when she started galloping horses in the morning and taking classes in the afternoon, all part of her plan to become a jockey.
"I was either going to become a jockey or join the military," she said. "I talked to Lizzie about it, and she said, 'You're going to be a jockey.'"
In addition to working for Merryman, Rowland also rides horses for trainer Keri Brion, who won the Grade 1 A.P. Smithwick Memorial Steeplechase in her first start as a trainer at Saratoga on July 22, and for Michael Dickinson.
"Caravel has taught me so much about horses," she said. "She's sassy and she can be difficult to work around. Those are the ones that teach you the most."
Joyful tears mingled with melancholy ones in the winner's circle, as Caravel's connections celebrated the biggest win of the filly's career and optimism in her future at the same time that they dealt with the sadness of not having her as part of their daily lives any longer.
"I had lots of offers for her, and I mulled it all over," said Merryman. "A big part of me wanted to roll the dice and keep her, but I knew and everybody told me, that I couldn't do that. I had more lucrative offers, but what's best for her and what's best for me is that she go to Graham."
"He's in the barn next to me at Fair Hill," she added. "It'll all be good."
LATEST NEWS