BACKTRACKS: WHAT A SUMMER, WHAT A HORSE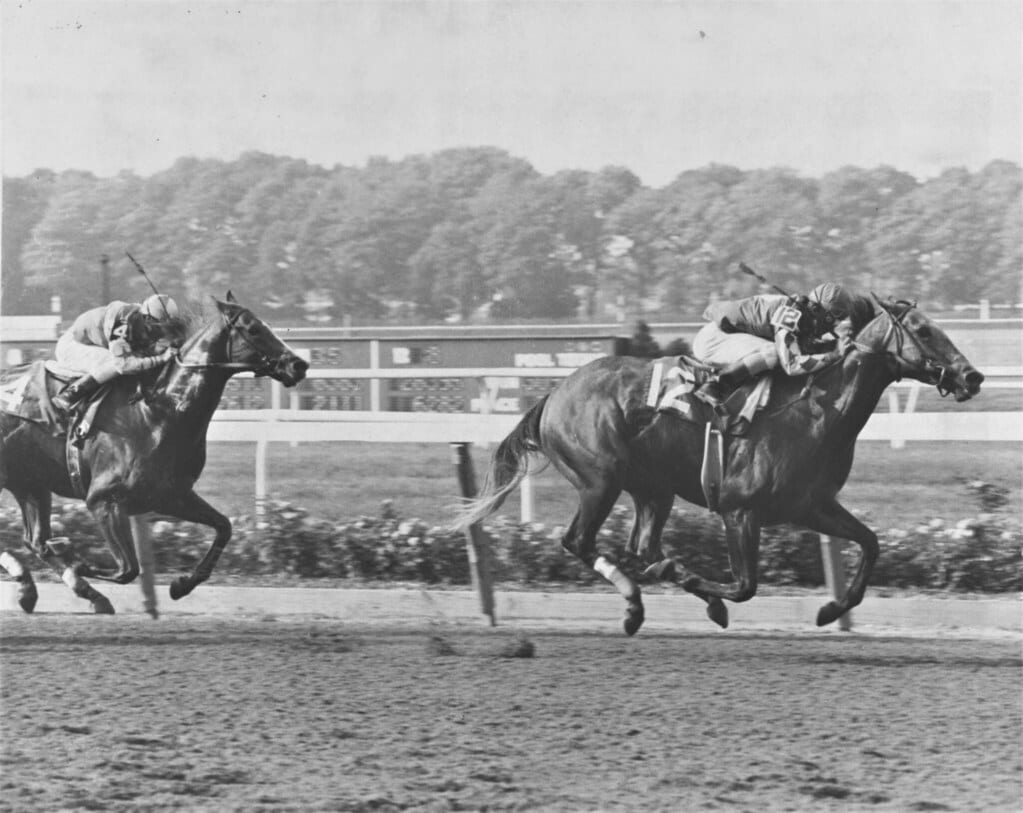 Deep roots
Milton Polinger was born in Virginia, the son of Abraham Polinger, who owned a fleet of taxis that serviced Washington, DC. After graduating from Columbus University, the younger Polinger started his career in real estate, joining with his brother Howard in a general contracting company in 1947. His success enabled him to indulge in his favorite hobby, horse racing. He and wife Helen bought a farm in Olney, Maryland, and, in the late 1960s, converted the property to a modern breeding operation, complete with a five-stall barn for their stallions, including What Luck.
Bred by the Phipps family, What Luck was a son of Bold Ruler out of the 1960 Acorn Stakes winner Irish Jay and a full brother to 1964's two-year-old champion filly Queen Empress. What Luck himself had promised quite a bit at age two, but did not manage to win more than an allowance race. Nevertheless, those bloodlines made him a promising stallion for a nascent breeding operation, so Polinger bought What Luck and brought him to Maryland. He stood at the Polinger's farm from 1971-1973, not long enough to realize the potential of the foals that he would produce. They paired him with the mare Summer Classic in 1972, but, by the time their foal What a Summer made her debut, What Luck was standing in Kentucky at Walmac Farm.
Unraced at two, What a Summer started her racing career in a maiden race at Pimlico on April 10, 1976. She won by eight lengths. Two more wins, both by five lengths, in allowance races set her up for a try at a stakes race. The day before the 1976 Preakness Stakes, What a Summer won the Black-Eyed Susan at Pimlico, surprising the previous year's juvenile filly champion Dearly Precious to win by a nose. Unfortunately, she developed a splint, a bony growth on the inside of a horse's foreleg. She would have no trouble racing again, but What a Summer would need time for this injury, common in young horses, to heal. She would not be seen on the track again until October.
Fate intervenes
What a Summer returned with a win in an allowance race in October 1976, but suffered the first loss of her three-year-old season in her next race at Keystone Park, finishing a length-and-three-quarters behind Forlana in the Heirloom Stakes. She then came back to win an allowance race and the Anne Arundel Handicap.
In her last start of the year, What a Summer was four lengths in front of the field when jockey Chris McCarron's saddle slipped. Unable to control the filly, McCarron held on as What a Summer drifted to the outside rail, finishing ninth. A defeat was not the way that Bud Delp wanted his filly to end her season, but the bad luck on the track mirrored the tumult off the track.
About six months after his divorce from his wife Helen, Milton Polinger passed away from complications after open heart surgery in mid-December. At year's end, with the three-year-old filly championship in Maryland secure, the estate had told Delp to continue racing What a Summer according to plans already laid out.
But the filly was for sale. She went on the auction block with other Polinger horses at Hialeah Park in January 1977, selling for $275,000 to Bertram and Diana Firestone, who sent the daughter of What Luck to their trainer LeRoy Jolley's barn. She was a New York girl now.
A Jolley Good Filly
Under Jolley's tutelage, What a Summer's transition from Maryland to New York was a smooth one. She won four of her first six starts for the Firestones, among them the Grade 3 Distaff Handicap at Aqueduct. To that point, the filly had remained in her division, facing only fillies and mares in her fifteen starts, but, in late August 1977, Jolley put What a Summer and her sprinting abilities to the test, this time in the Fall Highweight Handicap, at the time one of the nation's most important sprints.
Six furlongs equals 1320 yards, the length of just over thirteen football fields. At Belmont Park, a six-furlong race starts on the mile-and-a-half oval's backstretch, with one sweeping turn rather than the more succinct bends of tracks like Aqueduct and Saratoga. A sprinter on such a track would face a far different test traversing that gradual curve, requiring a jockey familiar with the nuances of racing over a broader turn than most would ever run on. Jacinto Vasquez was the right jockey, his experience riding around the historic track including turns on horses like Ruffian, Forego, and Foolish Pleasure. What a Summer would benefit from his experience, especially given the burden she was to carry.
At 134 pounds, she technically was not the highest weighted horse in the field of twelve – that would be Quiet Little Table with 138 pounds – but, had she been a colt, she would have been. Instead, she received a five-pound break in the weights given to fillies when they face male competition.
As the field strode out onto the track, as the twelve lined up in the starting gate on Belmont's backstretch, What a Summer was rated the best horse on that track and she showed it. She broke fast from the outside post, Vasquez putting in the middle of the field, biding his time. Coming out of that sweeping turn, What a Summer found her stride, taking the lead from favorite Broadway Forli by a head and widening that advantage in the stretch. Her win in the Fall Highweight Handicap was the seventh win by a filly or mare in the last decade.
What a Summer finished 1977 with three more starts, including a win in the Maskette Stakes at Belmont Park and a second in the Beldame, to round out a campaign that earned her an Eclipse Award for Champion Sprinter. From unraced at two to champion sprinter at four, What a Summer had come a long way from the Polinger's Maryland farm to the Jolley barn, where she joined other Firestone stakes winners like Honest Pleasure and Optimistic Gal.
Swan song
At five, What a Summer won six of her twelve races, going out west for her second Silver Spoon Handicap before heading back to Belmont Park for another go at the Fall Highweight Handicap in late August. This time, she faced a field of seven others, including J. O. Tobin, the horse who handed Seattle Slew his first career defeat the year before, who was to carry 140 pounds to What a Summer's 134.
When rain drenched Belmont Park, J. O. Tobin scratched out of the race, leaving What a Summer to repeat her victory in the Fall Highweight Handicap in 1:09 2/5, her time just 2/5 of a second off the stakes record despite the sloppy track.
"I never rode a mare who went so far," jockey Angel Cordero, Jr. said after the race. "Going three-quarters [of a mile], there's not a horse on the grounds that can beat her. And she was carrying a lot of weight."
Despite her impressive victory, the absence of J.O. Tobin, who went on to be 1978's co-champion sprinter, hurt her chances for a second championship. In her last season on the racetrack, though, a repeat in the Fall Highweight Handicap was the feather in her cap. She is still the most recent two-time winner of the Highweight.
She finished out the season with one more win in the First Flight Handicap and another Maryland championship.
With that, her racing was done. The gray mare started her broodmare days at the Firestones' Catoctin Stud in Virginia before being sent to Ireland to their breeding operation at Gilltown Stud in County Kildare. Though none of her foals duplicated her successes, What a Summer herself remained high on the list of great Maryland breds, eventually being inducted into the state's Thoroughbred Hall of Fame in 2020. The Firestones went on to have other great horses, including a Derby-winning filly named Genuine Risk, and What a Summer was among their long list of champions in the 1970s and 1980s.
From an obscure sire and dam came a gray streak of speed, a sprinter who was at her best at six furlongs. She raced on grass and dirt, against her division and in open company, sometimes carrying the highest of weights in the field, and still she won and won often. Her story is one deep in mid-Atlantic roots, a grand example of the great horses that Maryland has turned out for three centuries.
Sources
PRINT SOURCES
Austin, Dale. "'Summer' Wins Feature at Laurel." Baltimore Sun. December 12, 1976.
Austin, Dale. "'Summer' Is Upset At Laurel." Baltimore Sun. December 28, 1976.
Boniface, William. "Polinger Is Solid Commission Pick." Evening Sun (Baltimore, MD). June 7, 1971.
Boniface, William. "State's Bad Luck: Losing What Luck." Evening Sun (Baltimore, MD). August 18, 1976.
Boniface, William. "Injury Sidelines What a Summer." Evening Sun (Baltimore, MD). June 2, 1976.
Boniface, William. "Delp Should Have a Red Hot Summer." Evening Sun (Baltimore, MD). May 19, 1976.
"Mare Again Wins Fall Highweight." Newsday. August 29, 1978.
"Md-Bred Wins Upset in 'Susan'" Baltimore Sun. May 15, 1976.
"Milton Polinger dies; builder, on racing body." Baltimore Sun. December 21, 1976.
O'Day, Joe. "What a Summer Rallies To Win Belmont Opener." Daily News (New York, NY). August 30, 1977.
"'Summer' Bought for $275,000." Miami Herald. January 30, 1977.
"Tobin Bronze Departs, What Luck Arrives." Lexington Leader (Lexington, KY). September 17, 1975.
"What a Summer Maintains Fillies' Domination in Cap." Newsday. August 30, 1977.
LATEST NEWS