CHARLES TOWN PICKS AND ANALYSIS: JULY 10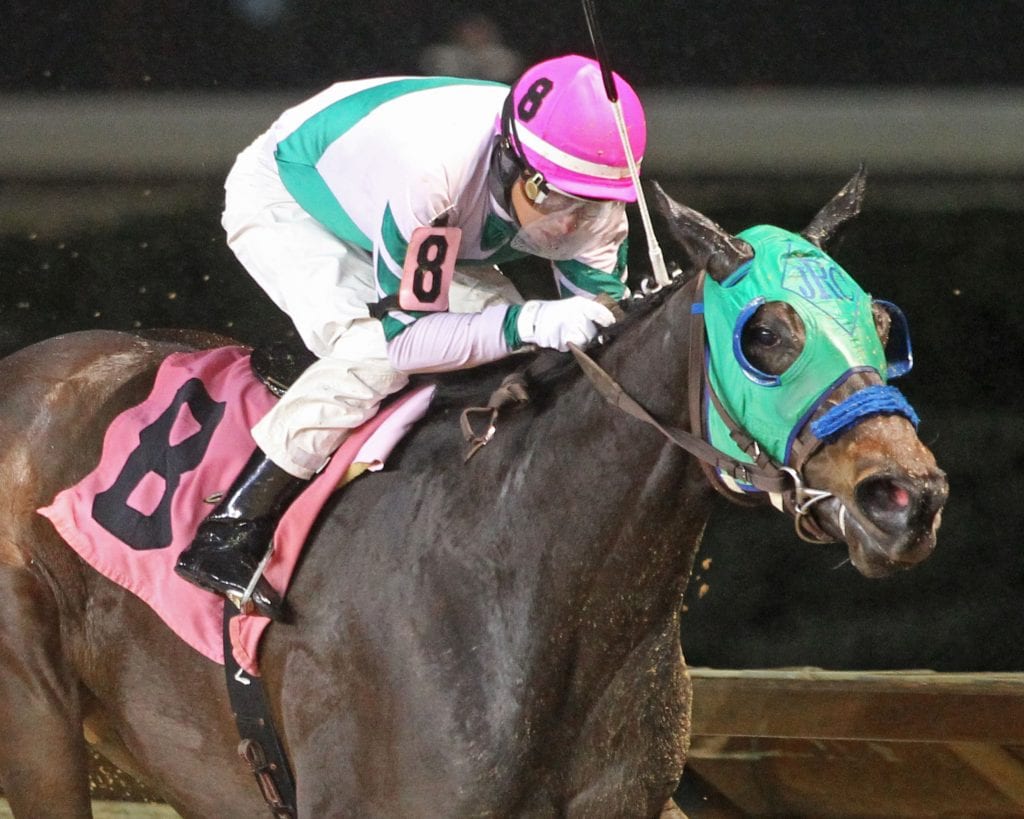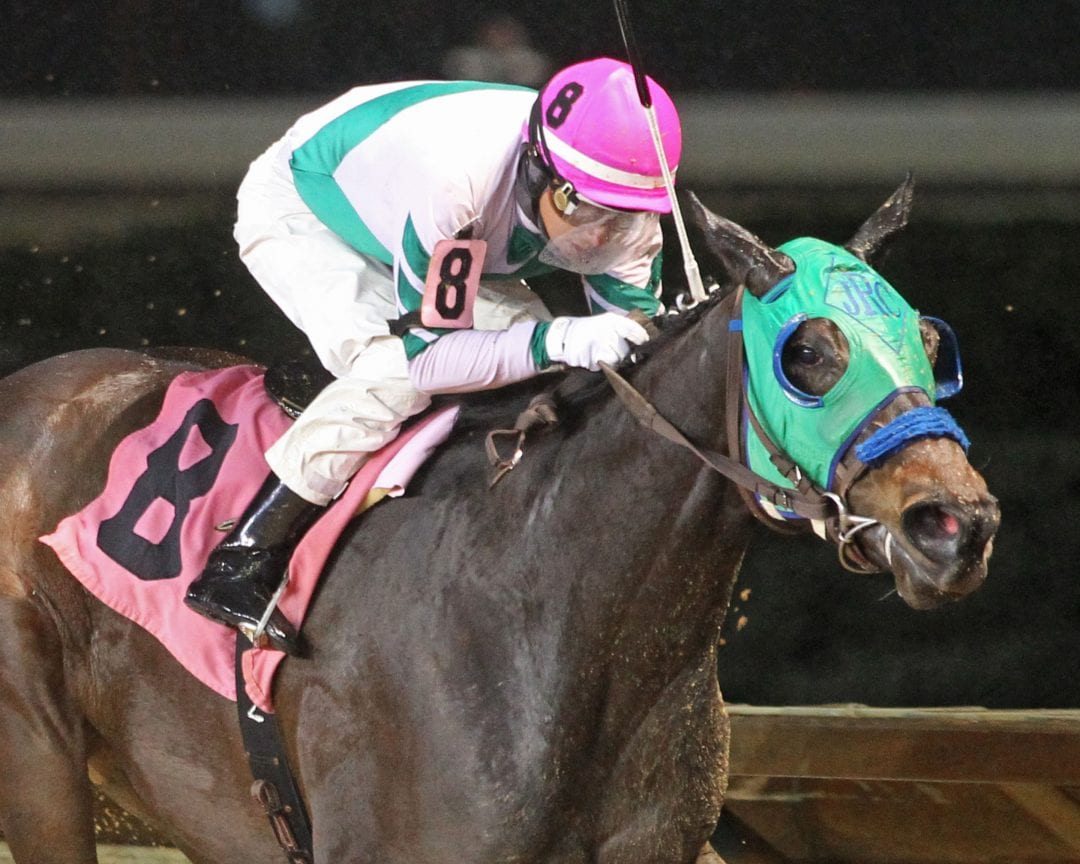 RACE 1
4-1-2-5
In this competitive, two-turn allowance for state-bred older males, #4 Ellie's Lil Man (9-5) continues to improve with each start of late for trainer Ronney Brown and could finally attain first win in eighth seasonal outing. #1 Cayenne Creek (7-5) has been second in each of his last two starts against similar and gives Brown serious chance to run one-two here. #2 Golden Appeal (5-1) has been third five times in eight tries this year and current Mike Jones, Jr. trainee was former Brown homebred protege. #5 Black Steel (8-1) won most recent outing against claiming company and could forge modest upset here for trainer Monolo Mangual.
RACE 2
8-5-1-2
In this one-turn dash for $5,000 claiming, state-bred fillies and mares, #8 La Rufina (5-1) exits tougher last three and looks to regain winning winter form here with favorable outside draw for trainer Ollie Figgins III. #5 Quite Suggestive (9-5) was so-so sixth last out but makes first start off the claim for trainer Kevin Patterson and looms the likely choice here. #1 Shesauptowngirl (7-2) was solid third last out at this level and certainly merits respect in this spot. #2 Charm Weaver (4-1) is genuine hit-or-miss proposition and gives Brown outside chance to sweep early daily double.
RACE 3
3-10-8-9
In this two-turn event for maiden $5,000 claimers, #3 Amber Rose Adam (4-1) makes career debut off sharp, bullet half-mile gate work for owner-trainer Patrick Jenkins and appears poised to graduate at first asking. #10 Ravioli Mama (3-1) has been second in each of her last two outings and could garner her diploma here for owner-trainer Adam Ingram. #8 Anshi (5-1) makes belated return following five-month freshening for trainer Yolanda King but merits upset chance if ready. #9 Coffee and Her (7-2) was sixth while well-backed in debut against maiden $12,500 company and looms a serious contender for trainer Anthony Farrior.
RACE 4
5-2-1-7
In this two-turn event for $5,000 claiming fillies and mares, #5 China Cat (3-5) arrives off two good efforts at Pimlico and returns to site of two consecutive scores during the winter for Farrior and looms the shortest-priced favorite of the night. #2 Petes Pride (5-1) also arrives from Pimlico but does make local debut in this spot for trainer Jonathan Maldonado. #1 Your Eyes to Mine (8-1) was good third last out for trainer John McKee and could forge mild upset here. #7 Put Position (15-1) was good third last out as well and could round out the gimmicks at a very generous price.
RACE 5
7-8-11-4
In this intriguing, open two-turn maiden special weight event for males, #7 D'Wicked (7-2) arrives off debut effort against MSW foes at Churchill Downs for trainer Joe Sharp and looms the one to beat here in local debut. #8 American Piper (5-2) was second in his only previous local outing and could occupy the favorite's role for trainer Rick Buckley. #11 Dejohn (3-1) makes local debut after efforts in Illinois and Kentucky and certainly merits respect here for Farrior if he draws in off the AE list. #4 Don't Dare Me (4-1) was solid second in local debut for Farrior but has regressed in last two tries.
RACE 6
4-8-10-6
In the lone, three-turn event on the card, #4 Merry Merry Mojo (4-1) won last out and drew well to enhance chances of second straight score here for trainer Jack Hurley. #8 Carter's Run (9-2) has displayed a fondness for finishing fourth this year but has every right to improve in this spot for Brown. #10 Prince of Windsor (7-2) is consistent sort for Figgins who looms a threat if he can overcome outside draw. #6 Feisty and Sassy (8-1) has yet to prevail from seven previous outings this year for Casey but could forge mild upset here.
RACE 7
4-7-6-8
In this two-turn, starter optional $10,000 claiming event for older males, #4 Take Me Home (5-2) already boasts five wins in nine starts this year for Farrior and looks to regain winning ways in this spot as the likely choice. #7 Dazzle Me (4-1) won two back and looms a threat here for trainer Mike E. Butts. #6 Bird Traffic (3-1) finished third against allowance company last Saturday and returns to face foes similar to those he defeated two back. #8 Union Song (9-2) has finished first and fourth in last two local outings and gives Farrior chance to run one-two here.
RACE 8
2-3-6-8
In the Saturday night finale, a two-turn event for $5,000 claimers, #2 Flashy Ready Rick (3-1) exits allowance company last out and won two starts back for trainer Curtis Bass and gets the nod to forge mild upset here. #3 Meltech (5-2) has shown a tendency to run second often – 10 times in 22 career starts – but gives Brown chance to post bookend victories on the card. #6 Fibertown (8-1) won last out and could repeat here at a generous price for trainer Anthony Rideoutt II. #8 The Seven Five (6-1) has been third three times in five winless starts this year for owner-trainer MIguel Ramos Agusto but merits respect in this spot.
LATEST NEWS