THE FAREWELLS OF DINOSAUR BEN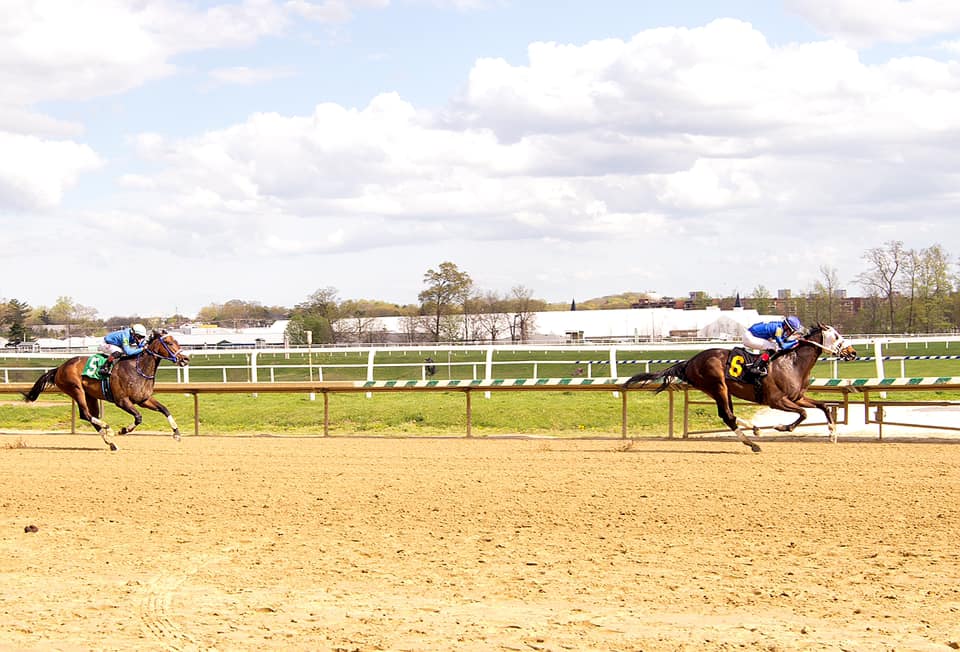 Teresa Genaro

July 8, 2021
It's fair to say that in the grand scheme of racing, not many people knew of Dinosaur Ben. The Ontario-bred began his career at Woodbine, winless in his first three starts, finishing second shortly before the end of Woodbine's 2020 season, and Ralph Santella was paying attention.
"There are always horses for sale at the end of that meet, and I try to buy there. Last year, there were two horses I saw that I liked," said Santella, founder of Ultra Championship Racing, a small racing partnership.
One of the horses he liked was a two-year-old Graydar filly; Santella's Maryland trainer Anthony Aguirre liked the horse, too, as did an Ultra Champion Racing partner.
The other was Dinosaur Ben.
"He was a super well-bred maiden," said Santella. "Lightly raced, by Blame, out of a Cozene mare. He ran on turf for his first start at seven furlongs, then went on the Poly, dropped in class, and ran a bang-up second in a race in which he broke slowly and ran four- and five-wide."
Santella grew up on Long Island, and his father took him and his sister to the races, and while his sister Melissa enjoyed those trips, it was Santella who really caught the bug.
"I outgrew the possibility of being a jockey by the time I was seven years old," he joked. "And now I don't want to wake up at 4 a.m., so I can't be a trainer. I thought about becoming a vet, but I passed out watching a woman give birth. So I decided to buy horses."
As Santella debated which horse to buy, his sister Melissa was at New York City's Memorial Sloan Kettering Cancer Center being treated for pancreatic cancer.
"I had set her up with a TVG account so she could watch the races," he said, "and I asked her which horse she thought I should buy.
"Within a second, she said Dinosaur Ben. So I told my partner and my trainer that they were overruled."
The bay gelding with the memorable name won first-out for his new connections in a maiden claimer at Charles Town, finishing 11 1/2 lengths ahead of the runner-up on January 14.
C Z Rocket tops General George noms

C Z Rocket, a multiple graded stakes winner who was second in the Breeders' Cup Sprint, tops 36 nominations to the G3 General George at Laurel.
Melissa watched the race, watched the horse she'd chosen win so impressively. She would not live to see Dinosaur Ben's second start two weeks later.
He finished third in that race, then won twice at Laurel in starter optional claimers, running without a tag: on March 14, he won by 11 lengths; on April 11, he kept it close, winning by a mere 3 3/4 lengths.
On the strength of those successes, Santella and trainer Anthony Aguirre entered Dinosaur Ben in an allowance race on the Black-Eyed Susan undercard. Sent off as the favorite, he sustained an injury approaching the far turn and was pulled up by jockey Jorge Ruiz.
"As soon as I saw the way he was pulled up, I knew it wasn't good," said Santella.
"He broke his cannon bone and had a condylar fracture," said Aguirre. "It wasn't like a little spiral fracture. There was a significant break. To me, the prognosis wasn't good. Normally, you have to consider, 'I love you, and the best thing I can do for you is put you down.'"
Then The Stronach Group stepped in.
Dr. Dionne Benson is the chief veterinary office for 1/ST Racing, the consumer-facing racing arm of The Stronach Group, which owns Laurel Park, Pimlico Racecourse, Santa Anita Park, and Gulfstream Park et al.
"I was at Pimlico and I reached out to the trainer," said Benson. "I asked if they would be willing to try to save the horse's life and told them that we would cover the costs of any treatment in exchange for their signing the horse over to us."
The Stronach Group began making such offers at Santa Anita Park in 2019, when an unusually large number of injured horses were getting injured at the California track. About six months ago, it implemented similar programs their tracks in Florida and Maryland.
"We're trying to make sure that the financial implications of trying to save a horse that is likely never to race again does not weigh into whether that horse should be saved," said Benson.
Under Benson's guidance, the program requires an initial, immediate set of radiographs that are reviewed by three equine surgeons. If two of the surgeons agree that the horse has at least a 50% chance of becoming at least pasture sound, The Stronach Group offers its assistance. The program helped about 17 horses in two years at Santa Anita, and three in Maryland over the last six months, Benson said.
Both Santella and Aguirre accepted the offer, with the hope that Dinosaur Ben could recover enough to live at Santella's farm, and the horse was moved to the University of Pennsylvania's New Bolton Center and the care of Dr. Dean Richardson.
On May 17, Santella posted a video on Instagram with an update:
"Everything was going really well," said Santella, who was unable to visit Dinosaur Ben because of Covid restrictions. "The surgery was perfect, and he was improving, and then he took a turn for the worse. We got a call in late June suggesting that euthanasia was the best way to go."
He requested and was granted permission to be there.
"It was very said," said the owner. "He looked tired and he was wobbly. I fell apart."
He posted a poignant, achingly sad update on the partnership's various social media channels, writing, "I will be eternally grateful for the memories you gave my sister [and] how you helped me get through her passing. I appreciate you allowing me to give you hugs and the countless memories. I look at your pictures daily, but still can't watch your replays. I hope you are racing against my favorites on the other side of the rainbow bridge…I hope my sister has been giving you some tours. Thank you and sleep easy my friend. Love ya bud."
We regret to share with you that due to complications stemming from Dinosaur Ben's injury, he was laid to rest. We appreciate the countless memories that Ben provided & the outpouring of support from the horseracing community. Rest easy, Ben. ?? #RIPBen #SleepEasy #LoveYaBud pic.twitter.com/bhIUzNx0lq

— Ultra Championship Racing (@Ultrachamps) June 29, 2021
"He was going to be my first [equine] pet," said Santella, noting that the breaks had continued to heal well, but that Dinosaur Ben had developed severe laminitis, which is what led to the decision to euthanize him. "I'm emotional with all my horses; they all become my buddies. The connection to my sister made it even worse. I wanted to write from the heart and to give him the kind of sendoff I'd give a family member or a friend."
For Aguirre, the extra time Dinosaur Ben got made his eventual death even harder, especially initially.
"In the back of my mind, I thought that [The Stronach Group] stepped in just so they didn't have another horse dead on Preakness weekend," said the trainer, referencing the 2016 Preakness day when two horses died. "Part of me was kind of mad at them for even trying, because when he died, I had to go back through all the emotions. It's hard, because I'm revisiting all the things I did when he got hurt."
But, Aguirre said, a discussion with Santella helped.
"I left there the other day, and then my owner is, like, reassuring me, 'Listen, would you rather them just put him down that day, or actually taking a shot of saving his life?'" he remembered. "And I'm like, Well, of course, saving his life. And then he says, 'Well, then don't be upset.'"
While some horsemen shared that skepticism about the goals of the program, suggesting that The Stronach Group's efforts are less about helping horses and owners and more about keeping equine fatalities out of The Jockey Club's equine injury database (only horses that die within three days of a racing injury are included), Santella has nothing but praise for Dr. Benson and everyone else who tried to help his horse.
"A lot of tracks talk about doing things for horses and never do anything," he said. "The Stronach Group gets a lot of negative press, and they did everything humanely possible for our horse."
LATEST NEWS