DELAWARE Oaks Day FEAtuRED IN HANDICAPPING CONTEST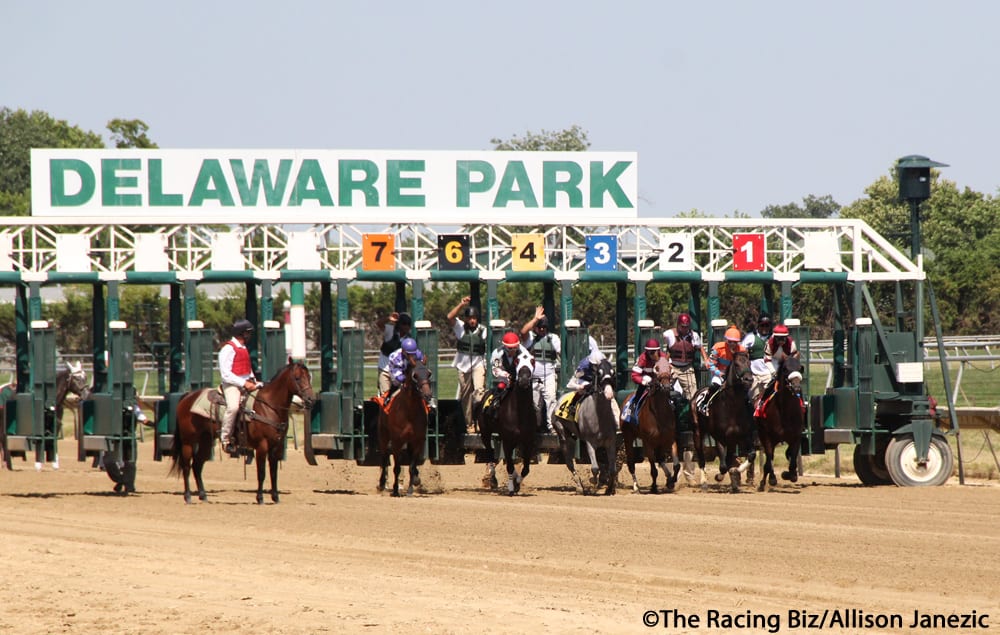 The Biz

July 3, 2021
The Racing Biz and Delaware Park will team up to offer a free handicapping contest on Saturday, July 3. The contest will feature eight races from Delaware Park, topped by the $300,000, Grade 3 Delaware Oaks.
Prizes will include swag from Delaware Park and The Racing Biz. The contest is a mythical two-dollar win-place wager contest. To see the rules, click here. You can enter below or at the Contest Central page.
Winning Time scores in PA Nursery

Debut winner Winning Time handled the step up to stakes company with aplomb, winning Tuesday's $200,000 Pennsylvania Nursery Stakes at Parx.
CONTEST LEADERBOARD
| | NAME | SCORE |
| --- | --- | --- |
| 1 | William Fuchs | $57.90 |
| 2 | Charles Helms | $56.80 |
| 3 | Charles Helms | $53.60 |
| 4 | Gary Fitzpatrick | $53.40 |
| 5 | William Fuchs | $52.50 |
| 6 | THOMAS PERROT | $51.60 |
| 7 | Jann Lunny | $50.60 |
| 8 | Jim Oller | $48.80 |
| 9 | KevinJordan | $48.80 |
| 10 | scott koerner | $48.40 |
| 11 | Laura Woodside | $47.60 |
| 12 | drake rogers | $46.90 |
| 13 | Tony Mohutsky | $46.70 |
| 14 | Lisa voss | $46.50 |
| 15 | Bob Lunny | $46.20 |
| 16 | Joanne Tierney | $46.00 |
| 17 | nick churlin | $44.40 |
| 18 | George Dowden | $44.20 |
| 19 | Dennis Murray | $43.10 |
| 20 | Timothy Shellock | $42.50 |
| 21 | Stuart Hoff | $41.80 |
| 22 | kaleka rogers | $41.60 |
| 23 | mark kauffman | $41.60 |
| 24 | KevinJordan | $41.40 |
| 25 | Beth Kornbau | $41.40 |
| 26 | Michele Mathews | $40.60 |
| 27 | scott koerner | $40.60 |
| 28 | Bob Lunny | $40.40 |
| 29 | Sheila Fuchs | $39.70 |
| 30 | Jolyan Butler | $39.10 |
| 31 | DJ Burnham | $38.90 |
| 32 | Charles Warner | $38.80 |
| 33 | Francis Larson | $38.60 |
| 34 | kaleka rogers | $38.40 |
| 35 | Sheila Fuchs | $37.10 |
| 36 | Joe DeVivo | $36.80 |
| 37 | Jeff Klahr | $36.40 |
| 38 | Jim Cassedy | $36.30 |
| 39 | Jade Larrabee | $34.90 |
| 40 | Mud Rhoads | $34.90 |
| 41 | Steve ridgway | $33.60 |
| 42 | John Fleming | $33.40 |
| 43 | John Gradzki | $33.40 |
| 44 | Octavio | $33.00 |
| 45 | SR Vegas | $33.00 |
| 46 | John bykowski | $32.90 |
| 47 | Kali Lyles | $32.90 |
| 48 | Donald Petrosky | $32.70 |
| 49 | Andrew Rdesinski | $31.60 |
| 50 | john churlin | $31.60 |
| 51 | Paula Young | $31.60 |
| 52 | David Molenda | $31.40 |
| 53 | Joanne Tierney | $31.40 |
| 54 | Joe DeVivo | $30.70 |
| 55 | Robert Archangelo | $30.60 |
| 56 | Mike Nagle | $30.40 |
| 57 | Bill McGirr | $30.20 |
| 58 | Bill McGirr | $30.20 |
| 59 | Joe Lloyd | $30.20 |
| 60 | Lance Bradley | $29.80 |
| 61 | THOMAS PERROT | $29.70 |
| 62 | Jeff Klahr | $29.60 |
| 63 | Joe Lloyd | $29.40 |
| 64 | Edward DeMatteo | $29.10 |
| 65 | Barbara Sargent | $28.80 |
| 66 | Diane Obusek | $28.70 |
| 67 | Joseph Boemmel | $28.70 |
| 68 | rick meckley | $28.60 |
| 69 | Donald Petrosky | $27.40 |
| 70 | Douglas stillions | $27.10 |
| 71 | Lisa voss | $26.70 |
| 72 | DJ Burnham | $26.20 |
| 73 | rick meckley | $25.80 |
| 74 | Dennis Starr | $25.80 |
| 75 | richard allen | $25.50 |
| 76 | William Petrosky | $25.50 |
| 77 | Francis Larson | $25.40 |
| 78 | ROBERT FLEMING | $25.40 |
| 79 | ROBERT FLEMING | $25.40 |
| 80 | Jim Harper | $25.20 |
| 81 | Mark Davis | $24.80 |
| 82 | RDC | $24.60 |
| 83 | David Molenda | $24.60 |
| 84 | Frank Ferrandino | $24.50 |
| 85 | padraig gavin | $24.50 |
| 86 | John Robison | $24.40 |
| 87 | Bill Juhasz | $24.30 |
| 88 | SR Vegas | $24.20 |
| 89 | Scott voss | $24.00 |
| 90 | Jann Lunny | $23.90 |
| 91 | Jodi Hartlep | $23.60 |
| 92 | Kenny O'Hanna | $23.50 |
| 93 | tony calabrese | $23.50 |
| 94 | Paul Kisner | $23.40 |
| 95 | Lewis Near | $23.40 |
| 96 | Dennis Hilgart | $23.20 |
| 97 | Poulos III | $23.20 |
| 98 | Dennis Robinson | $23.20 |
| 99 | tommcnally | $23.20 |
| 100 | Lawrence Simonsom | $22.90 |
| 101 | Paul howard | $22.90 |
| 102 | Jim Cassedy | $22.70 |
| 103 | Robert Archangelo | $22.60 |
| 104 | Francis Baker | $22.60 |
| 105 | jim daraklis | $22.20 |
| 106 | Michele Mathews | $22.10 |
| 107 | drake rogers | $22.00 |
| 108 | Jolyan Butler | $22.00 |
| 109 | Mud Rhoads | $22.00 |
| 110 | Mark Bowers | $21.70 |
| 111 | Jodi Hartlep | $21.70 |
| 112 | Steven Davis | $21.60 |
| 113 | Dennis Robinson | $21.50 |
| 114 | Jade Larrabee | $21.50 |
| 115 | Douglas stillions | $21.40 |
| 116 | Arnold | $21.40 |
| 117 | Charles DiVenti | $21.20 |
| 118 | Ron Yonker | $21.00 |
| 119 | Charles Warner | $21.00 |
| 120 | Richard Stamper | $21.00 |
| 121 | George Ekaitis | $20.90 |
| 122 | Beth Kornbau | $20.70 |
| 123 | padraig gavin | $20.40 |
| 124 | John bykowski | $20.40 |
| 125 | Charles k | $20.30 |
| 126 | Laura Woodside | $20.10 |
| 127 | art hilt | $20.00 |
| 128 | hunter robison | $20.00 |
| 129 | Dennis Nichols | $19.70 |
| 130 | Lewis Near | $19.40 |
| 131 | Gary Quill | $19.30 |
| 132 | Kenny O'Hanna | $18.80 |
| 133 | tony calabrese | $18.40 |
| 134 | ted groff | $18.40 |
| 135 | Bill McGirr | $18.30 |
| 136 | Bill McGirr | $18.30 |
| 137 | joe saia | $18.20 |
| 138 | Jacqueline Routhier | $18.10 |
| 139 | Bob McGrath | $18.00 |
| 140 | Jeanne Wolverton | $17.90 |
| 141 | DeNnIS pHiLlIS | $17.80 |
| 142 | Scott voss | $17.70 |
| 143 | nick churlin | $17.60 |
| 144 | Susan Loaiza | $17.40 |
| 145 | Dell Yount | $17.40 |
| 146 | Diane Obusek | $17.40 |
| 147 | Dell Yount | $17.40 |
| 148 | Steven Davis | $17.30 |
| 149 | Stuart Hoff | $17.30 |
| 150 | Ken Faris | $16.70 |
| 151 | mike morgan | $16.50 |
| 152 | Douglas Kavanagh | $16.50 |
| 153 | Alice Edwards | $16.40 |
| 154 | Chris Lewis | $16.30 |
| 155 | Joseph Bahadoor | $16.30 |
| 156 | Mary Ellen Safchick | $16.30 |
| 157 | Richard Stamper | $16.30 |
| 158 | Anthony Vendetti | $16.30 |
| 159 | Pete childs | $16.30 |
| 160 | Poulos III | $16.30 |
| 161 | jim daraklis | $16.30 |
| 162 | mark kauffman | $16.10 |
| 163 | Kali Lyles | $16.00 |
| 164 | Paul Kisner | $16.00 |
| 165 | Bob McGrath | $15.60 |
| 166 | Frank Ferrandino | $15.30 |
| 167 | Susan Loaiza | $15.20 |
| 168 | Mike Nagle | $14.90 |
| 169 | Blair Monroe | $14.20 |
| 170 | Douglas Stillions | $14.00 |
| 171 | Thomas Kearney | $13.80 |
| 172 | Michael Harris | $13.60 |
| 173 | Lawrence Simonsom | $13.60 |
| 174 | Charles k | $13.60 |
| 175 | George Ekaitis | $13.30 |
| 176 | Jeanne Wolverton | $13.30 |
| 177 | Harry Young | $12.90 |
| 178 | Anthony Vendetti | $12.50 |
| 179 | ROBERT FLEMING | $12.50 |
| 180 | ROBERT FLEMING | $12.50 |
| 181 | Mark Davis | $12.50 |
| 182 | joe saia | $12.10 |
| 183 | Douglas Kavanagh | $12.10 |
| 184 | Octavio | $11.70 |
| 185 | karl deppen | $11.70 |
| 186 | Jacqueline Routhier | $11.10 |
| 187 | Jim Harper | $10.80 |
| 188 | Bill Juhasz | $10.00 |
| 189 | William Petrosky | $10.00 |
| 190 | Blair Monroe | $9.90 |
| 191 | Mark Meszaros | $9.50 |
| 192 | tommcnally | $9.50 |
| 193 | Dennis Hilgart | $8.90 |
| 194 | Douglas Stillions | $7.50 |
| 195 | Pete childs | $6.80 |
| 196 | Timothy Shellock | $6.20 |
| 197 | Joseph Boemmel | $5.70 |
| 198 | Paul howard | $5.30 |
| 199 | art hilt | $5.30 |
| 200 | David Beighle | $5.30 |
| 201 | Charles DiVenti | $2.10 |
| 202 | john churlin | $2.10 |
| 203 | hunter robison | $0.00 |
| 204 | DeNnIS pHiLlIS | $0.00 |
| 205 | John Robison | $0.00 |
LATEST NEWS