BACKTRACKS: MONGO AND MARION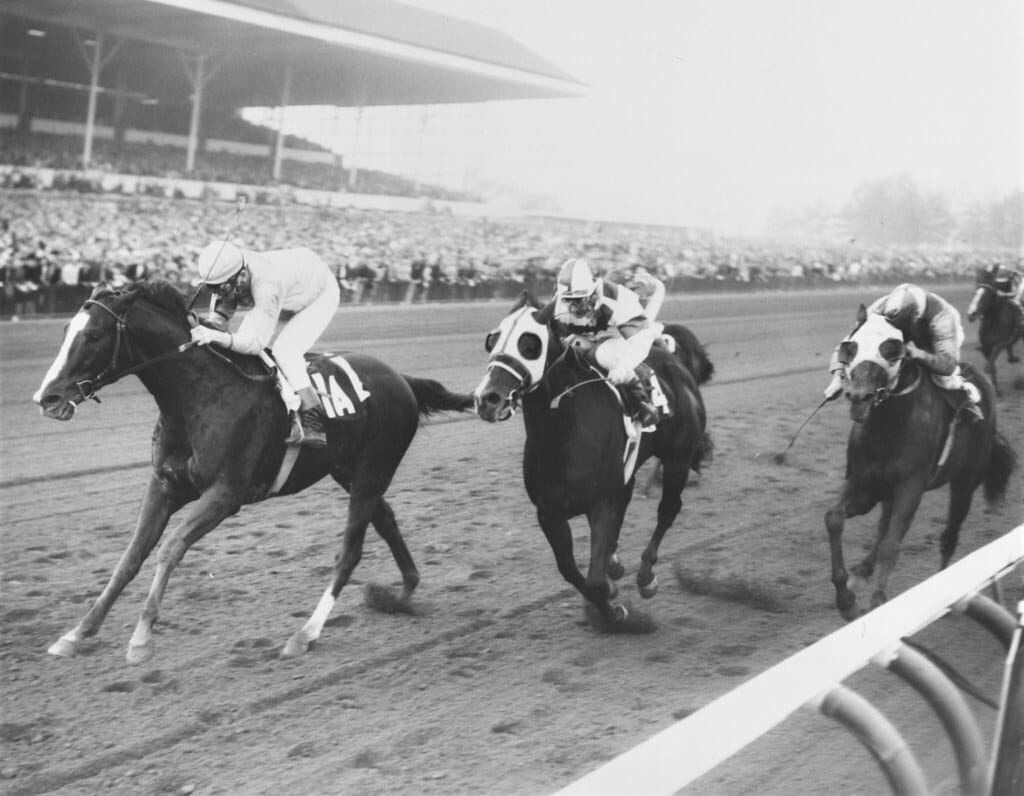 Her legacy as part of one of America's wealthiest families enabled her to devote her life to horses, building a stable of champions like the legendary Battleship, winner of both the English and the American Grand National, and Mongo, a dual-surface threat who bested some of his era's biggest names, including one five-time Horse of the Year.
Foundations of Excellence
Accra was not a gifted racehorse. Racing for Scott's Montpelier Stable, she tried racing both over the hurdles and on the flat, but she managed only three wins in her fourteen starts. After her racing days were done, though, Accra shined: she produced ten foals, including Neji, three-time champion steeplechaser, and became Scott's foundation mare at Montpelier. On the flat, the best of Accra's get was Mongo, a chestnut colt by the British stallion Royal Charger, foaled in 1959.
Sired by the legendary Nearco, Royal Charger did not show much talent for classic distances, but showed his best turn of foot in sprints, winning the Queen Anne Stakes and Coronation Plate in England. Sold by owner Sir John Jarvis to the Irish National Stud, Royal Charger outbred his career on the racetrack, siring Happy Laughter, winner of the 1953 One Thousand Guineas, and Turn-to, who won the Saratoga Special and the Flamingo Stakes and later sired First Landing (sire of Riva Ridge) and Hail to Reason (sire of Halo, Personality, and Proud Clarion). With a pedigree that included Ascot Gold Cup winner Solario and the speedy Mumtaz Mahal, Royal Charger's success at stud was no surprise, leading to his sale to American owner Neil McCarthy and move to Spendthrift Farm in Kentucky.
Marion duPont Scott valued soundness in her horses: "Always, though, I made sure the mare and the sire were physically sound. […] If a horse isn't sound, he's no good to me." That emphasis on soundness coupled with her fondness for the Fair Play sire line led her to buy two sons of Man o' War, American and English Grand National champion Battleship and Accra's sire Annapolis and, coupling that with the speed and stamina inherent in Royal Charger's pedigree led to the fleet and flexible Mongo.
Time to Grow
At two, Mongo started fast, winning his five-furlong debut at Pimlico by ten lengths, but only won one more time in 1961, a six-furlong allowance at Laurel Park that fall. Trainer Frank Bonsal, a former steeplechase rider nicknamed "Downey," was Scott's trainer for her flat racing division, while Ray Woolf, Sr. worked with her chasers. Like other Accra foals, Mongo was a challenging horse at age two, still in need of time to grow and mature before his three-year-old season. Bonsal elected to give the son of Royal Charger five months off, waiting until early April 1962 to debut Mongo at Laurel.
Mongo started his preparations for Maryland's Triple Crown classic with the six-furlong Eddie Arcaro Purse on April 6th. In a field of nine, Mongo hung out in the middle of the pack and made his move on the final turn. He powered from fifth to second, challenging Bullfinch for the lead and passing him in the final strides to win by a length. Mongo followed that win up two weeks later with another victory in a six-furlong allowance for three-year-olds at Laurel.
After a mid-June runner-up effort, Mongo met Christiana Stables' Cyane at Delaware Park. Finally able to stretch out to a mile after running all his starts at seven furlongs or shorter, Mongo started fast, taking the lead within the first half-mile, to beat Cyane and five others by eight lengths. The next week, Cyane would go on to win the Dwyer Handicap over Crimson Satan. Mongo moved on to Aqueduct, winning the Lexington Handicap, before finally getting a chance to try the turf at Atlantic City.
Patience Pays Off
At 1 1/16 miles, the Ventnor Turf Handicap would be the longest race of Mongo's career to that point and his first on the turf. At the break, Our Twig rushed to the lead, with jockey Charlie Burr and Mongo taking up position behind him. On the backstretch, Burr surged his mount past Our Twig, opened up a two-length lead, and never looked back. In the end, the winning margin was ten lengths, a dominant performance that gave him five wins in his last six starts. Finally, Mongo had found his stride.
Burr, the jockey, saw it too, commenting that "[Mongo] certainly has developed into a fine three-year-old."
After Mongo turned in an out-of-the-money appearance in the Jerome Handicap on the main track, Bonsal returned Mongo to the turf in the United Nations Handicap. There, he would meet T.V. Lark, 1961's champion turf horse and winner of the 1960 edition of the United Nations.
Over a mile and three-sixteenths on the Atlantic City turf course, three-year-old Mongo carried 117 pounds to five-year-old T.V. Lark's 123. This chestnut son of Royal Charger took advantage of every pound.
Breaking from post position five, Burr put Mongo in position on the outside, hanging out mid-pack and waiting for their chance to bid for the lead. Six furlongs in, Burr sent Mongo to the front, just a head over second-place Wise Ship. He maintained that advantage through the stretch, outlasting a surging T.V. Lark. At the wire, the margin of victory was a neck.
Marion duPont Scott was thrilled by Mongo's victory, gushing about her three-year-old's surprise victory over a top field of older horses: "This is one of the biggest thrills of my life. My three-year-old beating all those good horses from all over the country – it surely was marvelous."
Mongo would bring Scott many more thrills over the next two seasons.
In the Trenton Handicap at Garden State Park, Mongo beat 1961 Kentucky Derby and Preakness Stakes winner Carry Back by nose, another win on a dirt track. He rounded out his three-year-old season with two more wins and came back at four to more starts over both dirt and turf, including a repeat victory in the United Nations Handicap. He rounded out 1963 at Laurel in the Washington, DC International, where he would face 1962's Horse of the Year Kelso. The two had met before, in Bowie's John B. Campbell Handicap in March, with Kelso winning and Mongo finishing fourth.
This time, though, Mongo would meet Kelso on the turf with a chance to turn the tables on the dominant champion.
Mongo took the lead from the start, controlling the pace and able to make every pole a winning one. Kelso challenged a mile into the mile-and-half International, but was unable to close the gap, leaving Mongo to win by a half-length. After winning three handicaps on the turf that year, Mongo ended 1963 as champion turf horse. The following year would bring more chances to dominate and another meeting with Kelso, who would take home Horse of the Year for 1963.
Final Bow
At age five, Mongo continued his winning ways, logging four victories in eight starts to begin the year. In mid-July, he and Kelso headed a field of five for the mile-and-a-quarter Monmouth Handicap, which also included future Hall of Famer Gun Bow and fair handicappers Olden Times and Dean Carl. With his reputation preceding him, Kelso carried 130 pounds, while Mongo was just a notch below him at 127. The five loaded into the gate for this $100,000 dirt feature, with Mongo on the outside in post five and Kelson on the rail in post one.
Gun Bow sprinted out to the lead at the break, with Mongo and Kelso hanging toward the back of the small field. With early fractions of :22 1/5 for the first quarter and :45 1/5, the speedy pace set up well for Mongo's closing kick. At the six-furlong mark, jockey Wayne Chambers gave Mongo the signal to go, moving within a head of Gun Bow by the mile mark. In the stretch, Mongo took over the lead for good while Kelso began his late move for the front, but the son of Royal Charger held on, beating Kelso by a neck.
Scott and Bonsal wanted to send Mongo back to the DC International in November 1964, but an infection in August necessitated a change in plans. Instead, Mongo would say goodbye to the racetrack at season's end. He went out a winner, taking a second Trenton Handicap at Garden State and then retiring to Blue Ridge Farm to stand stud. After four seasons and twenty-two wins in forty-six starts, Mongo left the track with little fanfare but a deep resume, a dual surface specialist that would go down as Marion duPont Scott's best flat racer.
Mongo and Marion
At stud, Mongo would not log the success that his sire did, but he did get Mongo Queen and Bushongo, both Grade 1 stakes winners. He would live out his days at Blue Ridge, passing away at age 24 in 1983. Montpelier Stable would have other winners, including Proud Delta, 1976 champion older mare, and Soothsayer, 1972 champion steeplechase horse. Scott passed away the same year as Mongo, leaving her Montpelier estate to the National Trust for Historic Preservation and creating the Marion duPont Scott Equine Medical Center in Virginia. The Montpelier Hunt Races still go on at the historic estate, a yearly celebration of the sport that Scott devoted her life to, her ultimate legacy in mid-Atlantic racing.
It takes quite a horse to win on dirt and turf, battling classic winners and champions and beating them to the wire. Mongo carried on the legacy of his dam Accra and sire Royal Charger, proving once again that greatness can come from unexpected places. His story is quintessentially of the mid-Atlantic with an owner and trainer who dedicated their lives to the region, supporting the sport with their time and money at every turn. When you think of Montpelier and Mongo, think of the name duPont and Delaware Park and remember those names that make the mid-Atlantic essential to racing in America.
Sources
PRINT SOURCES
"8-1 Mongo 1st by 10; 5th Win in 6 Starts." Daily News (New York, NY). August 12, 1962.
Austin, Dale. "Mongo Beats Bullfinch in Laurel Race." Baltimore Sun. April 7, 1962.
Boniface, William. "No Fanfare Marks Mongo's Retirement." Evening Sun (Baltimore, MD). November 23, 1964.
Boniface, William. "Mongo Puts Mind on Job, and Wins." Evening Sun (Baltimore, MD). April 26, 1962.
Foley, Red. "Mongo Outhoofs Kelso In 107G Monmouth 'Cap." Daily News (New York, NY). July 19, 1964.
Golden, Ed. "They're Off!" Courier Post (Cherry Hill, NJ). November 10, 1964.
"Kelso's Late Rally Fall Head Short As Mongo Cops Monmouth Handicap." Asbury Park Press. July 19, 1964.
Klessel, Steve. "Taking a Rider at His Word." Philadelphia Daily News. August 13, 1962.
Klessel, Steve. "Bright New Turf Star." Philadelphia Daily News. September 17, 1962.
Klessel, Steve. "Matured Mongo Heads Ventner." Philadelphia Daily News. August 11, 1962.
Klessel, Steve. "U.N. Shapes Up As Wide-Open Race." Philadelphia Daily News. September 15, 1962.
Klessel, Steve. "Mongo: Retire or Rebound?" Philadelphia Daily News. October 29, 1964.
Klessel, Steve. "Mongo's Last Race?" Philadelphia Daily News. November 11, 1964.
McCulley, Jim. "Mongo Hangs On In 'Cap." Daily News (New York, NY). July 26, 1962.
"Mongo Proves Horses for Courses." Lancaster New Era (Lancaster, PA). November 12, 1963.
Robertson, Orlo. "Kelso, Mongo Meeting Tops Big Day Of Racing." Lexington Herald. July 18, 1964.
Smith, Ron. "30,026 See Mongo Shatter Garden Record in Last Race." Philadelphia Inquirer. November 12, 1964.
LATEST NEWS