Mid-Atlantic Three Stars: June 2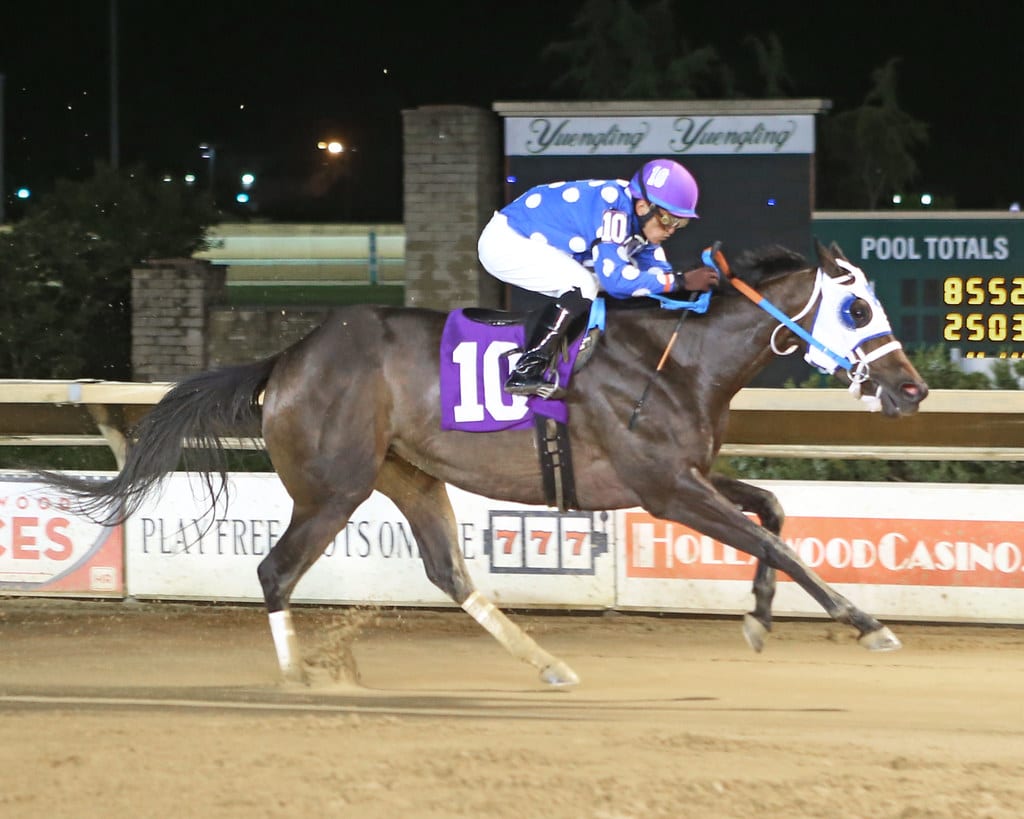 Our Diamond Girl won at Charles Town on Saturday night. Photo: Coady Photography.
Plenty of racing action took place throughout the Mid-Atlantic this past week.
Here's a look at the "three stars" of each track:
PIMLICO
FIRST STARS: EXCULPATORY. Friday's card featured a massive late pick 5 carryover worth more than $115,000, and the sequence was highlighted by a n/w1x allowance race for 3-year-olds. Exculpatory, shipping in from Parx, pulled off a 12/1 upset in the five-horse field. He rated about five lengths off the lead in the early stages, then moved to challenge the leaders as they entered the stretch. Under urging from Charlie Marquez, Exculpatory wore them down in the last length and won by 1 1/4 lengths. The winner is owned by Grace Merryman and trained by Mark Reid. His victory helped trigger a pick 5 payoff of more than $3,800. 
SECOND STAR: DOUBLEOSEVEN. On Saturday, Doubleoseven came back from Belmont Park and won a Maryland-bred n/w1x allowance race by half a length. He rooted off loose longshot leader He's Orientate, then wrested control away in the stretch. Despite some challenges from Dream Big Dream in the stretch, Doubleoseven held on for the victory. He's owned by David McCarty, trained by Jerry O'Dwyer, and ridden by Johan Rosado.
THIRD STAR: JERRY O'DWYER. O'Dwyer pulled off a training double on Saturday. In addition to his win with Doubleoseven, he won race 3 with maiden winner Blushable, ridden by Jevian Toledo. O'Dwyer has had a great Pimlico meet, with six wins from fourteen starters. 
CHARLES TOWN RACES
FIRST STAR: OUR DIAMOND GIRL. On Saturday night, the West Virginia-bred filly Our Diamond Girl won her fourth race of the year, and her first stakes race. She took the Fancy Buckles Stakes at 4 1/2 furlongs by 1 1/2 lengths, stopping the clock over a muddy track in 52.97 seconds. Breaking from the outside post position in the field of ten, she got into a speed duel with Good Karma, then poked a head in front of that rival in the stretch. Under urging from Fredy Peltroche, she pulled clear for the victory. She's owned by Grams Racing Stable and trained by Tim Grams.
SECOND STARS: DAZZLE ME. Earlier on the Saturday card, Dazzle Me came from behind to win a n/w1x allowance optional claiming race by half a length. After sitting in last early on, she stormed five-wide down the center of the track to win, edging out pace-setting Lady Valentina. Ramon Maldonado had the winning mount, for owner John Kenworthy and trainer Mike Butts.
THIRD STAR: PEPPA STARR. On Thursday, Peppa Starr won a West Virginia-bred allowance by 4 3/4 lengths, in a sharp gate-to-wire effort. She broke on top in the 4 1/2-furlong contest, and never looked back, opening up with every stride in the stretch. She improved to 3-for-5 lifetime, and bounced back nicely after a fifth-place finish in the Its Binn Too Long Stakes last out. Breeze Easy LLC is the winning owner, Javier Contreras the winning trainer, and Antonio Lopez the winning jockey.
  MONMOUTH PARK
FIRST STAR: IT'S A GAMBLE. Opening weekend at Monmouth Park saw cool, wet conditions prevail. Friday's feature, the Jersey Derby, was moved from grass to dirt. It's a Gamble, coming off a second-place in the Woodhaven Stakes at Aqueduct, saved ground all the way and came through to win by 1 3/4 lengths. He covered one mile over a track officially labeled FAST, but being pelted by rain, in 1:40.70. Jose Baez won his first race at Monmouth Park, for Mr Amore Stable and Kelly Breen. 
SECOND STAR: WIND OF CHANGE. In Saturday's feature, the Mr. Prospector Stakes, Wind of Change ran them off their feet to win the six-furlong contest by 6 1/4 lengths. Breaking from the inside post, he received pace pressure on his outside from Always Sunshine and Awesome Anywhere. As they turned for home, Wind of Change brushed off his rivals, and drew off, covering the distance in 1:09.60. He's owned by Daniel Alonso and trained by Saffie Joseph Jr.
THIRD STAR: MISS AURAMET. Sunday's feature, the Politely Stakes, was scheduled to be run at five furlongs on the grass, but was moved to the dirt thanks to the torrential rain. Under Dylan Davis, Miss Auramet rallied from mid-pack to win by 1 1/2 lengths, in her second stakes victory of the year. She covered the distance over a sloppy track in a sharp 57.60 seconds, for owners Melin, Ellman, and Plesa and trainer Kathleen O'Connell.
DELAWARE PARK
FIRST STARS: JAMIE RODRIGUEZ. On Saturday, the second day of the Delaware meet, Rodriguez had a huge afternoon in the saddle. He rode five winners on the nine-race card. He won race 3 in the photo with Glowing Star, edging out Shake D Moon in the stretch for trainer Jamie Ness. He teamed up again with Ness in race 5 on Shane's Jewel, and took race 4 on Jeff Poole trainee Foggy Flight. In the 7th race, he completed the grand slam on first-time starter Vikram, trained by Jonathan Thomas. He wrapped up the five-bagger in race 9, winning on Muchacho Macho, trained by Ness, by 3 1/4 lengths. 
SECOND STAR: JAMIE NESS. Ness had a training grand slam on Saturday's card. In addition to his three wins on Rodriguez-ridden horses, he won race 8 with Beautiful Grace, in a gate-to-wire performance under jockey Raul Mena. Ness has won six races over the first three days of the Delaware season, far and away the most of any trainer.
THIRD STAR: JOSH BROWN. For the first time since 1982, a voice other than John Curran's greeted Delaware Park fans on opening day. Josh Brown, who was the racing analyst at Delaware last year, was named the new track announcer last November, and announced his first day on Wednesday. He has worked in various racetrack management roles over his career, and most recently announced at Presque Isle Downs in 2019. 
PARX RACING
FIRST STAR: DIXIE DRAWL. Tuesday's feature, an open allowance at a mile on the dirt, saw a dramatic multi-horse photo finish. Zoomer, and Wentz contested the pace the entire way, never straying far from each other's sights. Dixie Drawl enjoyed a good trip stalking their pace battle in third place As they entered the stretch, the top two continued their duel, while Dixie Drawl and Alwaysmining both moved to engage the leaders. With a wide bid, Dixie Drawl got up just in time for the victory. Zoomer held second, with Wentz third and Alwaysmining fourth. The winner has now won three times this year from six starts. Jorge Ruiz had the winning mount, for owner Mopo Racing and trainer Dale Capuano. 
SECOND STAR: STILL HAVING FUN. Earlier on Tuesday, Still Having Fun won a n/w2x allowance optional claiming race by two lengths, in his first victory since the 2018 Woody Stephens Stakes. He pressed pace-setting Foolish Ghost most of the way, then ran him down late and opened up, covering six furlongs over a fast track in a bruising 1:08.91. He's owned by Gap View Stables and Jagger Inc, trained by Jamie Ness, and was ridden by Ruben Silvera. 
THIRD STAR: SILVESTRE GONZALEZ. Gonzalez had a big afternoon last Monday, riding three winners. He swept the early double, winning race 1 on Sizzling Roma for trainer Mario Dominguez and race 2 on Dr Grunseich, trained by Ron Dandy. Gonzalez completed the hat trick in the first grass race of the season, race 4, on Guadalupe Preciado trainee Lease.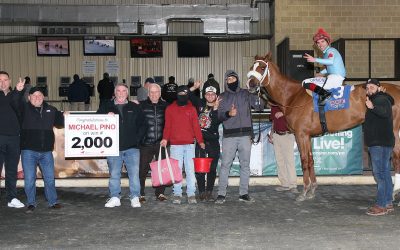 Trainer Michael Pino went 2-for-2 today at Parx Racing to reach 2,000 wins in a career which has seen his runners earn over $43 million.