PIMLICO: BANDITS WARRIOR STEALS THE SHOW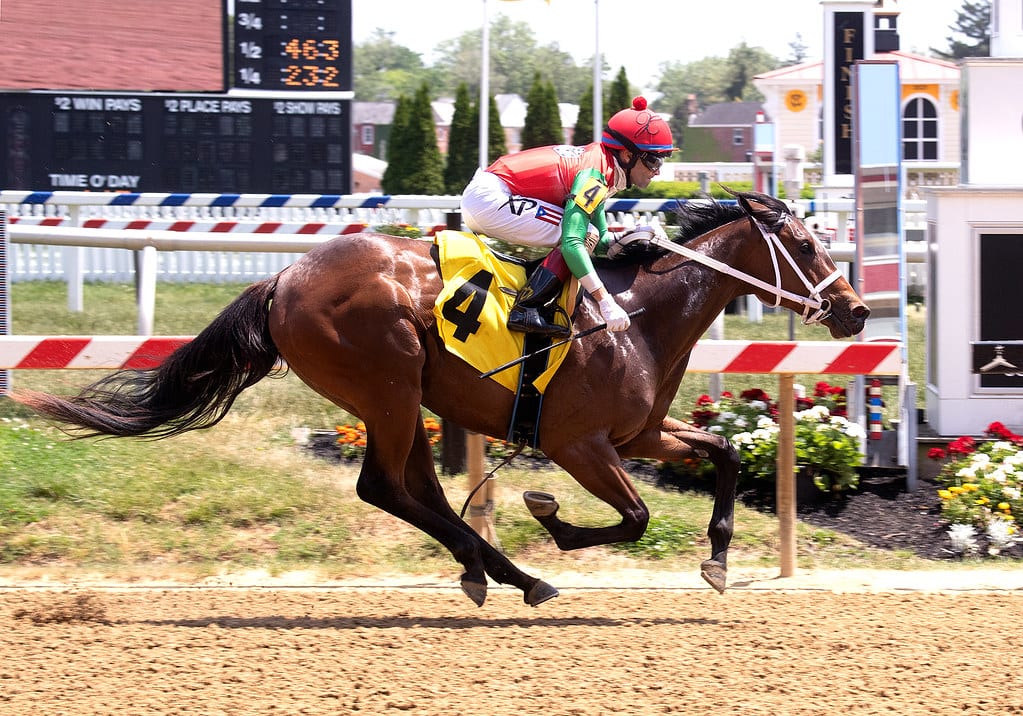 Onearmedbandit's the dam of the now seven-year-old mare Anna's Bandit, an earner of nearly $800,000. Her three-year-old, Little Bold Bandit, broke his maiden May 15 at Charles Town. And Sunday at Pimlico, Onearmedbandit's latest to race, two-year-old Bandits Warrior, a filly by Mosler, ran 'em off their feet to win at first asking.
"It pays the bills," Robb said with a laugh after the race. "I'm tickled, couldn't be happier."
The win came five years and 17 days after big sis Anna's Bandit broke her maiden, also at first asking. In an odd coincidence, both fillies paid the same amount to win: $9.60.
That's where the similarities end, though, Robb said.
Bandits Warrior "probably trained a little better than her sister," he explained. "Anna's Bandit, when she won her first race, surprised everyone. I think we had three in the race and bet on the other two. She just never showed anything in the morning; this filly showed some good works."
Robb and his wife Gina breed and race as No Guts No Glory Farm, and while barn star Anna's Bandit is herself nearing a return to action, Bandits Warrior served notice that she may just be a horse to reckon with among the juvenile set this year.
"This filly does everything right," Robb said. "Wasn't sure how fit she was, but she ran big, and fast."
Indeed.
Under the barn's first-call rider, Xavier Perez, Bandits Warrior broke running and never stopped in the 4 ½-furlong contest, just the second baby race of the year in Maryland. She led by three lengths after an opening-quarter mile in 23.50 seconds, went the half in 46.64, and finished the race in 52.59 seconds.
For comparison purposes, the earlier two-year-old race was a full two seconds slower, though it was contested on a sloppy, sealed track. Today, on a hot Baltimore day, the track was fast.
Bandits Warrior was more than two lengths in front of runner-up Buy the Best, and that runner was nearly five clear of show horse Cabra Chica in the well strung-out field. Favored Tessa P, off at 6-5, finished fifth.
Off as the second choice in the field of seven, Bandits Warrior paid $9.60 to win and topped an exacta, with the Cal Lynch-trained Buy the Best in second, that returned $19.80 for a dollar.
While Jerry Robb is generally taciturn, Gina Robb showed plenty of emotion for both of them, entering the winner's circle in tears.
"Anna's Bandit is getting an award today in West Virginia, older horse of the year," she said. "And her sister wins here in Maryland and she's a Maryland-bred; you can't be any happier."
LATEST NEWS