PIMLICO PICKS AND PONDERINGS: MAY 15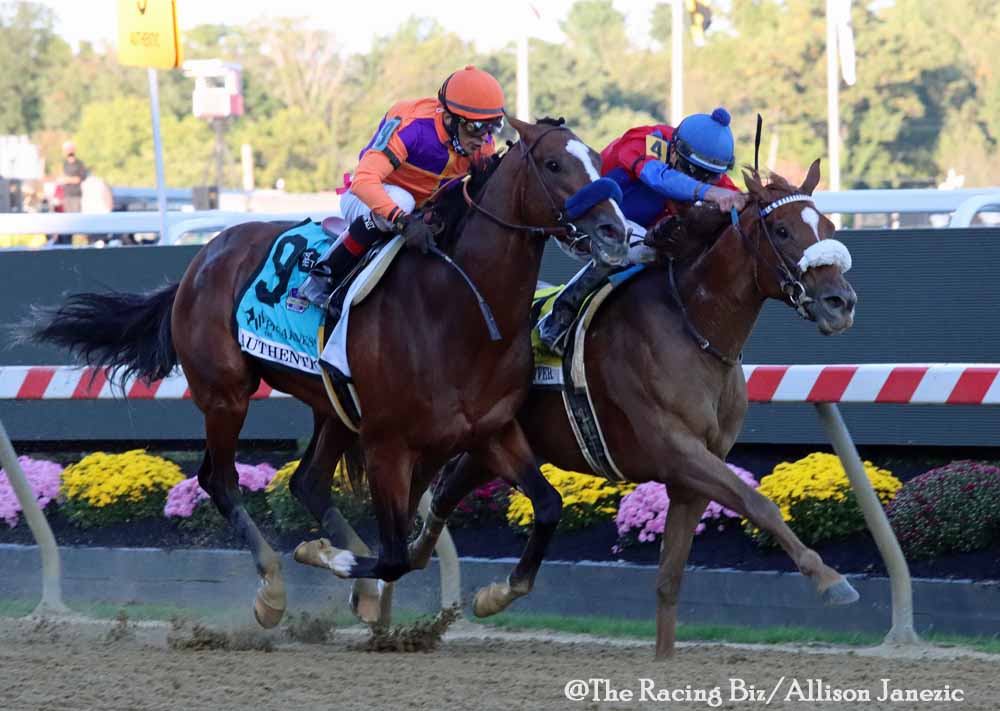 RACE 1 – SIR BARTON STAKES
4-6-3-5
Got crushed in the Arkansas Derby, but #4 Hozier (2/5) looks to be the overwhelming favorite here, dropping from two straight graded tries, including a second to Concert Tour in the Grade II Rebel in March. Not a lock to win by any means, but his best is better than what any others have shown so far. #6 Dream Big Dreams (15/1) made a huge move last time to win coming from eleven lengths back to break his maiden, and should be one to appreciate this distance. Could benefit from some inside pace here, but still faces an uphill battle in his first stakes try. #3 Market Cap (15/1) gets first time lasix and ran a respectable fourth in a stakes try last time out, but comes off a long layoff and needs a good stalking trip to win here. Has had the same jockey in all five starts though, and is most familiar with this distance.
RACE 2
10-5-3-7
In one that lacks any clear cut pace-setter, #10 Oceans Map (3/1) could take advantage of this field, having won wire to wire twice in September at Monmouth. He also closed well last time out, and new jockey Jose Ortiz can give him the right trip to lead to a breakthrough win for a gelding that has had some recent trouble finding the winner's circle. First time gelding #5 Tapwood (6/1) didn't run well last time out, but seemed to be turning a corner this year with two good efforts in a row including a breaking his maiden at Tampa Downs. This should be the perfect distance for him as he looks to sit in second or third early, ready to make a charge in the stretch and pick up his second victory. #3 Speed Game (10/1) returns to the turf after a tough effort on an off track last time, and despite possibly being past his prime, he has two wins in three tries at Pimlico and is one that might not win but can be played in exotics to finish in the money.
RACE 3 – G3 CHICK LANG
6-4-2-3
This one appears to be a three horse race, with #6 Willy Boi (3/1) undefeated at six furlongs in three tries. Comes off a layoff, but has shown enough speed to contend with the likely favorite #4 Jaxon Traveler (4/5) or even have the early lead, and has also won sitting in second or third early. Jaxon Traveler is one that has won four out of five, all of which were wire to wire efforts. Broke his maiden impressively at Pimlico, but in the one where he missed the break, he didn't quite have enough to get up for the win, which could be a problem here if Willy Boi beats him early. #2 Mighty Mischief (5/2) comes off of a bullet work for Asmussen, but is probably a tick slower than stablemate Jaxon Traveler. Still has won his last two comfortably, and can win with improvement and possibly showing a new style sitting off the two leaders.
RACE 4
6-13-12-8
#6 Judi Blue Eyes (9/2) has a strong jockey trainer combo for this meet, and despite coming home slow in her last race win, a second straight try on turf should be good here, and she should at least hit the board. #13 Deciding Vote (5/1) has run her best efforts off a layoff, and can win here if some others provide good fractions to close into. To her inside is #12 Out of Sorts (6/1) who will run on turf for the first time after a second and third in stakes races at Laurel Park. Adding Lasix should help this filly improve, and she could be one to surprise and go out for the early lead even with her running style showing otherwise.
RACE 5
5-10-2-6
A field full of runners who have trouble winning, #5 Going to the Lead (5/1) has been as consistent as any here, finishing in the money in every try on dirt. Comes off his second career win after a year-long layoff, where he went wire to wire at Pimlico and keeps Karamanos in the irons. #10 Abuelo Paps (6/1) also crossed the wire first last time out, but was disqualified to second in an allowance try at Pimlico the day before Going to the Lead ran. Has had some quality efforts this year and is usually in the mix. Trainer Ron Moquett has been trying to get #2 Breaking News (5/2) to win a non-winners allowance for two years now, and even with a lack of winning efforts, Rosario should have this one closing into the money here for exotics plays. 
RACE 6 – G3 GALORETTE
3-1-5-6
Tough field where almost anyone could win, but #3 Flighty Lady (4/1) could be a solid number on the board for Chad Brown, and can win with continued improvement in her second start in North America. Won relatively comfortably last time out at this distance in an allowance try, and finished in the money in all graded tries in France. #1 Vigilantes Way (5/1) has actually been involved in the quickest early paces of this group, but has also shown versatility in coming from off the pace including a good effort in October at Pimlico. She could sit off of the leaders, or make things difficult for #5 Mean Mary (6/5), who has had most of her success going wire to wire against tougher fields. Mean Mary wins here if she runs her best, but her best efforts all came last year at longer distances as she comes off a long layoff for trainer Graham Motion. If she slows down the group in the early going, this could be one where she pulls away in the stretch for her first win this year.
RACE 7
5-10-2-3
Having finished in the top two for his last six, #5 McElmore Avenue (4/1) seems to be in the best form of this group, with the ability to win on the front-end and as a closer. Luis Saez tends to be aggressive, which is likely a good thing as he could control the pace along with Shane's Jewel. He is the most likely to be holding off likely favorite #10 Mischief Afoot (3/1) in the stretch. Mischief Afoot hasn't won this year due to a recent disqualification, but likes this distance and held his own against Cordmaker in March at Laurel Park in a stakes try. The other with some upside to win here is #2 Burning Bright (8/1) who has finished in the money in four of five lifetime starts. He does switch back from an artificial surface to dirt, and picks up Javier Castellano in the irons. Burning Bright could offer good value for exotics plays and a stalking style that may be perfect to take advantage of this field.
RACE 8 – MURPHY STAKES
3-2-8-1
#3 Kasim (8/1) stretches out in distance having never run two turns, but has shown signs to trainer Michael Maker that more ground to close into could be the winning formula he needs. Two back at Gulfstream Park, he picked up more than five lengths in the stretch but still couldn't hit the wire first. A similar outcome occurred three back, and the added distance from off the pace sets him up for a good run at a price here. #2 Outadore (7/5) looks to be the most likely winner here, and should have his way with a stalking-style trip or control of the pace early with softer fractions. He returns to the turf where he has run best for trainer Wesley Ward, and the surface change could start a streak of back to back wins here. #8 T D Dance (7/2) hasn't been as quick as some others and probably needs to show some improvement here, but looks to be one to sit a good trip and finish in the money, even if he doesn't have the most upside here.
RACE 9 – SKIPAT STAKES
8-1-2-5
Even in a six furlong sprint, two or three runners here, including the likely post time favorite, need to have the front-end to win, which sets up well for a stalking-style trip. #8 French Empire (3/1) isn't quite as classy as the others, but comes off of four straight wins and loves this distance. One that seems to be at the top of his game and can win here if the step up into stakes company isn't too much to handle. #1 Club Car (8/1) has finished no worse than fourth since September, and is another that has run well this year, with seven of nine races at this distance finishing in the money. He comes out of one of his better efforts, pulling away in the stretch to win by four at Keeneland a month ago. Another that likes the distance and could benefit from a pace duel, #2 Casual (9/2) has also shown a penchant for finishing strong, but may not be the most likely winner here, and needs a couple things to go his way to pick up his first stakes win.
RACE 10- JIM MCKAY TURF SPRINT
4-2-13-12
Likely favorite #4 The Critical Way (5/2) gets a good post and should get the lead with Luis Saez. Has enough speed to go wire to wire here especially on a dry turf course, and comes off a good bullet work. #2 The Connector (8/1) has come up short to The Critical Way in two tries against him, but has won nearly half his races and should be sitting a good trip off the leaders. The outside post might hurt #13 Completed Pass (7/2) a bit, but he has run his best over this track and isn't reliant on a good break to perform well with a versatile running style. Comes off a good win in the King T. Leatherbury in late April, and looks to make it back to back wins at this distance here.
RACE 11 – G3 MARYLAND SPRINT
1-4–8-2
An interesting match-up with plenty of potential winners, but #1 Laki (6/1) has won a third of his starts including two stakes wins at Pimlico – the only with a win over this track. He should be sitting mid pack in what could have three sprinters vying for the early lead, with #4 Frosted Grace (15/1) sitting off the leaders. Frosted Grace is one that has had seconditis in the past, with back to back second place finishes upon stepping up into stakes company. With nearly half of his wins as the next best, he looks like one that will run well and find his way into the money at least at a decent price. #8 Special Reserve (9/2) will have trouble wiring this field with two speeds to his inside, but comes off a strong effort in the Grade III Commonwealth Stakes at Keeneland, and seems to have improved a bit this year. A cutback in distance should prevent him from fading in the stretch this time around.
RACE 12 – G2 DINNER PARTY
5-3-8-6
A solid field is headlined by #5 Sacred Life (7/5), who at the moment seems to be a bit stronger than the rest and the classiest, running in three Grade I races in his last four, and closing strong last time out. Could use some early speed from the inside runner, but should at least close into the money here at this distance. #3 Kuramata (6/1) is the other Chad Brown entry who comes into this one with some upside and should run well despite the step up in class. Might need significant improvement to win, but could get the right stalking trip to hit the board in this field. Another four year old colt who can hit the board at a better number, #8 Bye Bye Melvin (10/1) has finished in the top three in his last five starts, including a narrow loss in the James Murphy at Pimlico in the fall. One who has been bringing his A game consistently, but may prefer a slightly softer surface than here.
RACE 13 – G1 PREAKNESS STAKES
2-10-3-5
#2 Keepmeinmind (15/1) had a rough trip in the Derby but may end up being a benefactor of a quick early pace here and offers good value with a likely closing effort in the right scenario. May not be the most likely winner, but a bit more proven than others as a closer should the top three choices go out too fast. #10 Concert Tour (5/2) could cause fits early for the other front-runners, but will need to prove that he can go this distance which could be a problem here based off of his Arkansas Derby. Will be tough for either Baffert runner to wire this unless early fractions are modest. #3 Medina Spirit (9/5) may have a tougher go of things here with likely more pace pressure in this spot, and could finally crumble in the stretch with three or four runners here looking to close into a solid pace. #5 Midnight Bourbon (5/1) adds the aggressive Irad Ortiz Jr. and looks to be sitting on a huge race here who can win with a stalking trip sitting in third and modest fractions early.
RACE 14 -G1 FOR ARABIANS
10-3-8-12
#10 Paddys Day (8/5) has won his last four, beating a few of these while doing it. The most consistent performer who won this race in October and is good at the distance. #3 Uptown Sandy Girl (4/1) is a winner of her last two, and has finished in the money in all but one of her races the past two years. She may be on the early lead along with #8 Rb Rich Lyke Me (7/2) who inexplicably will be without blinkers here. Rb Rich Lyke Me has had one finish out of the top three, which came in this race last year, where he dropped away from the front end, so keeping up on the pace is vital for this five year old.
LATEST NEWS