PENN NATIONAL: HOT JOCKS AND TRAINERS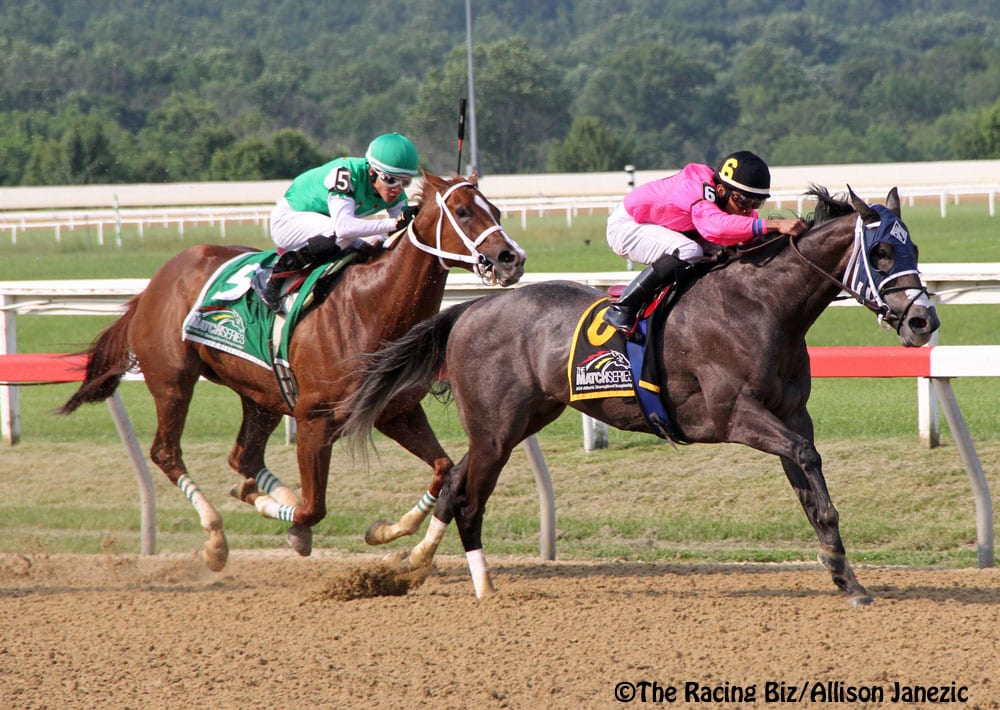 The Biz

April 16, 2021
Which jockeys and trainers at Penn National have been hot? Funny you should ask: we wondered the same thing.
So we created a quick-and-dirty metric for the handicappers among us. The metric includes wins, win percentage, and wagering return on investment in one number. To limit it to who's hot, we've included data from the last 15 live cards, since Feb. 23, 2021.
JOCKEYS EN FUEGO
No surprise that Edwin Gonzalez tops the heat index with a score of 115, but since he's riding at Gulfstream now, we'll focus on the next five.
Julio Hernandez has taken over top dog status, with his 19 wins and 94 starts both tops among local riders. His heat index of 102 is also tops, and he couples his 20% strike rate with a solid -2% wagering ROI, giving him a narrow advantage over Angel Rodriguez (15 wins, 27.&5 strike rate, -6% ROI)..
They're followed by three riders with positive ROIs. Inoel Beato, who has 13 wins, fourth most in the colony during the time period, has a +39% ROI that has him nipping at the heels of the top pair. Behind him are Edilberto Rodriguez (6 wins, 24% win rate, +65% ROI) and Tyler Conner (9 wins, +33% ROI).
Courtney Gilardo leads all riders with at least 10 starts with an ROI of +175%.
The average heat index score for all riders at Penn National with at least one win was 53.5. Twenty-two riders won at least once during the period to qualify.
| | | |
| --- | --- | --- |
| RNK | JOCKEY | PTS |
| 1 | Gonzalez Edwin | 115 |
| 2 | Hernandez Julio A | 102 |
| 3 | Rodriguez Angel R | 97 |
| 4 | Beato Inoel | 96 |
| 5 | Rodriguez Edilberto | 78 |
| 6 | Conner Tyler | 76 |
TRAINERS EN FUEGO
Tim Kreiser, the leading trainer by wins, leads a quartet of conditioners with scores above 100.
Kreiser had 18 wins during the period — seven more than any other trainer — while winning at a strong 29% clip. He's also been breaking even in terms of wagering ROI to get a score of 126.
His nearest competitor is Rachel Sells. Her five wins (from 18 starters) include winners at 14-1, 15-1, and 17-1, and she has a +204% ROI. She's followed by Robert Wolfe (4-for-12, +167% ROI), Jamie Ness (a ridiculous 6-for-10, +45% ROI), and Bernie Houghton (6-for-27, +58% ROI).
The ROI leader at the track among trainers with more than one start is Cody Beattie, who's tied with Houghton for fifth with 99 points. Beattie has won with three of eight starters during the period and has a +389% ROI.
The average heat index score for all trainers at Penn National with at least one win was 43.2. Sixty-four trainers won at least once during the period to qualify.
| | | |
| --- | --- | --- |
| RNK | TRNR | PTS |
| 1 | Kreiser Timothy C | 126 |
| 2 | Sells Rachel | 118 |
| 3 | Wolfe Jr Robert A | 114 |
| 4 | Ness Jamie | 113 |
| 5 | Houghton T Bernard B | 99 |
| 6 | Beattie Cody | 99 |
LATEST NEWS